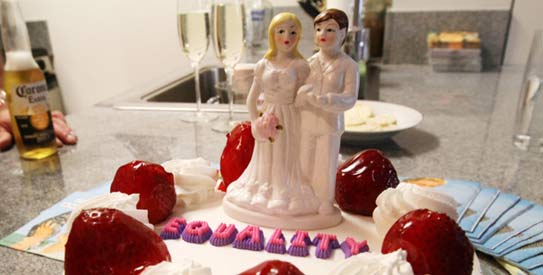 NEW YORK: Reverend Carmen Hernandez, who proudly bills herself as the "First Lesbian" of the tough Bronx neighbourhood in New York, is giddy with excitement about her wedding, which could take place as early as Sunday.
Born on the Spanish-speaking US island of Puerto Rico, Hernandez has lived nearly all of her life in the Bronx and is a well-known local activist in the gay and lesbian community.
"I am the First Lesbian in the Bronx, fighting homophobia in the Latino community, where machismo rules," said Hernandez. "I've even fought against some gay people for selling out to certain politicians."
New York state's gay marriage law goes into effect on Sunday after it was narrowly approved in a nail-biting June 24 vote. With thousands of requests pouring in for a first-day marriage, New York Mayor Michael Bloomberg announced a lottery to select 764 same-sex couples.
Hernandez, 48, applied for a marriage license to marry her partner Doris de Armas, 50. The couple intends to marry in the Bronx.
Hernandez frequently talks to reporters about gay concerns, and her high profile is still something of a struggle for De Armas.
"We met four years ago. We've been together for two years. I'm a private person, and this is a shock for me," she told AFP. "Knowing her, I kind of knew this would happen. But I did not expect this much attention."
Hernandez, a youth pastor at the Methodist Iglesia de la Resureccion (Church of Resurrection), said following the gay marriage law approval was as exciting as when Barack Obama won the 2008 presidential election. "I nearly fell to my knees thanking God," she recalled.
The couple has organised a wedding party at a nearby beach next week, with about 100 people invited so far.
Hernandez said one of the reasons she found De Armas attractive was her children — four daughters, including two adoptees, and five grandchildren.
"I've never had children. I've never had sex with men, but she has," Hernandez said.
"That's on the reasons that made me fall in love with her — I love children."
Like many people, Hernandez carries personal scars.
"My mother is a homophobe, due to her religion. She does not agree with my marriage," she said. "That battle is still ongoing. Not being able to share this with my mother, who I adore, is the only sadness of my life."
Yet Hernandez, who is president of the neighbourhood gay and lesbian chamber of commerce, said she feels loved and appreciated in the Bronx. She was especially touched when, at age 30, she informed the parents of her young parishioners that she was gay.
"When I came out to them, I cried. But they said, 'Carmen, what you do with our children has nothing to do with who you are, or what you do in your personal life.' I was touched. The parents accepted me... and now the children are grown up and they accept me too," she said.
Community support also helps her overcome her fibromyalgia, a chronic disorder characterised by widespread pain, fatigue and stiff muscles.
New York state followed the path of Iowa, New Hampshire, Massachusetts, Connecticut and Vermont in approving gay marriage. Some states like California offer same-sex civil unions, but not marriage rights, meaning the parties have some, but not all of the legal rights of married couples.
In New York, 400 wedding slots were reserved for Manhattan, 112 each for the boroughs of Brooklyn and Queens, 98 for the Bronx and 42 for Staten Island.
The 764 couples expected to be married on Sunday will be the most on any single day in New York's history. The previous records were 621 on Valentine's Day in 2003 and 610 marriages on August 8, 2008 (8/8/08).
A March poll found that 53 per cent of Americans favour legalising gay marriage.