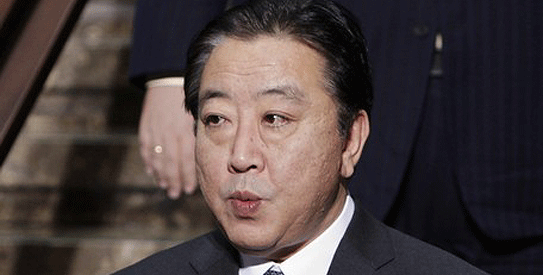 TOKYO: Japanese Finance Minister Yoshihiko Noda has voiced his intention to run for prime minister and lead the nation to recovery from the March 11 disaster, local media said Friday.
Noda, a 54-year-old judo black belt, has told close aides about his plan to succeed Prime Minister Naoto Kan, who currently heads the ruling Democratic Party of Japan, the Sankei Shimbun daily reported.
The Yomiuri Shimbun said Noda would run for the planned DPJ presidential election "if condition permits".
Kan last week defeated a no-confidence motion by pledging to step down from his DPJ presidency and premiership, but without giving a firm date, a move that placated rebels within his own party who had threatened to oust him.
DPJ executives are also considering fielding Noda in the party's presidential election, the mass-circulation daily said, adding that his name was floated because the executives value policy continuity.
Other names being floated to succeed Kan include former foreign minister Seiji Maehara, DPJ Secretary General Katsuya Okada, Farm Minister Michihiko Kano, Chief Cabinet Secretary Yukio Edano, and his deputy Yoshito Sengoku.
Japanese media have been feverishly speculating over Kan's departure date and replacement, with the nation looking for a strong political leader to guide its recovery from the March 11 earthquake, tsunami and nuclear disasters.
Noda is a fiscal hawk who has attempted to cut the industrialised world's biggest public debt and fended off political pressure to stimulate the economy through greater public spending.
He has supported reforms, including publicising all spending by lawmakers and their political groups.
Last autumn, he conducted massive and repeated yen-selling interventions to lower the soaring value of the Japanese currency that hurt the export sector, Japan's main economic engine.
Noda attended the private Matsushita Institute of Government and Management which uses tough workouts and meditation in its programme to forge modern political leaders.