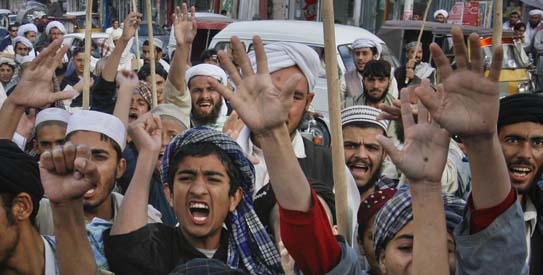 ISLAMABAD/KARACHI: Pakistan's most influential Islamist party urged its followers to hold mass protests on Friday to demand their government withdraw its support of the US war on militancy after US commandos killed Osama bin Laden near Islamabad.
Jamaat-e-Islami (JI), one of the country's biggest religious political parties, said the United States had violated the sovereignty of key ally Pakistan by sending its own forces into the garrison town of Abbottabad to kill the al Qaeda leader.
Pakistan's support is key to US efforts to combat Islamist militants, and also to fighting against the Taliban in neighbouring Afghanistan.
"Even if there was any sympathy for the Americans that would dissipate after the way they crushed and violated our sovereignty and our independence," JI chief Syed Munawar Hasan told Reuters on Thursday.
"We have appealed to everyone to hold peaceful demonstrations on Friday on a very large scale," he said. "Our first demand is Pakistan ... should withdraw from the war on terror."
Anti-American sentiment runs high in Pakistan, despite billions of dollars in aid for the nuclear-armed, impoverished country. Pakistan's religious parties have not traditionally done well at the ballot box, but they wield considerable influence in a country where Islam is becoming more radicalised.
The United States war on militancy is unpopular in Pakistan, because of the perception of high civilian deaths from drone attacks against suspected militants along the Afghan border.
But many people are also critical of al-Qaeda's radical interpretation of Islam and the suicide bombings its followers carry out, and analyst Hasan Askari Rizvi said any protests are likely to be more anti-US than pro-bin Laden.
"I don't think they (religious parties) will attract big crowds in these rallies. These protests will unlikely put any big pressure on the government to change its course," he said.
There have so far been few public protests in Pakistan against bin Laden's killing early on Monday at Abbottabad, 50 km (31 miles) northeast of Islamabad. One of Pakistan's most violent militant groups, Lashkar-e-Taiba, held special prayers for the al Qaeda leader and called his death "martyrdom."
The fact that bin Laden was killed in Pakistan, after having appeared to have lived there for several years, has also embarrassed many people in the government and the country's powerful spy agency.
"Pakistan and its security apparatus have become something of a laughing stock, with the media around the world highlighting the discovery of the world's most wanted man at walking distance from a leading military academy," The News wrote in an editorial on Thursday.
Some Pakistanis said they were too preoccupied with the hardships of living in a country with a troubled economy and chronic power shortages to join in any kind of protests.
"There is no electricity, no petrol, with rising inflation, making ends meet is becoming challenging every single day."
"If our country wasn't mired with economic hardships at this point, perhaps we would demand more answers from the government or the United States, but as of now, I have bigger problems," said Sara Ahmed, a government employee in the port city of Karachi.