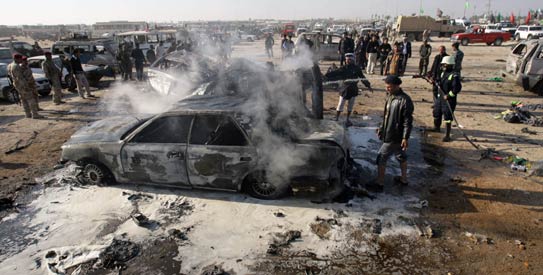 KARBALA: A spate of blasts across Iraq on Thursday killed at least 50 people, most of them in twin suicide car bombings in the Shiite Muslim holy city of Karbala, the third major attack in as many days.
The attacks mostly targeted pilgrims marking a Shiite holy day, and were the latest in a series of bombings that have shattered a relative calm in Iraq following the formation of a new government last month.
Prime Minister Nuri al-Maliki blamed the Karbala attacks on "takfiris," an Islamic term for apostates but used by the premier to mean anti-Shiite Al-Qaeda militants.
In Karbala, home to the shrines of two revered Shiite imams, a pair of suicide bombers detonated vehicles packed with explosives 20 minutes apart, the head of Karbala provincial council Mohammed Hamid al-Mussawi said.
The first attack struck on the northern outskirts at around 3:00 pm (1200 GMT), with the second occurring at around 3:20 pm some 15 kilometres (nine miles) south of the city.
"At least 45 people, including women and children, have been killed and 150 have been wounded," he said.
A medical official at Karbala's Al-Hussein General Hospital said the dead included four children and 20 women. He added that 20 people were killed in the first blast, with the remainder in the second one.
"The victims have been transferred to five hospitals in Karbala," he said.
"We have also received parts of other bodies, so the death toll could still rise further."Earlier on Thursday, a roadside bomb detonated among a crowd of Shiite pilgrims at the Al-Rasheed vegetable market in southern Baghdad, killing one and wounding nine. Another such blast in a central Iraqi town killed one and injured three, an interior ministry official said.
The groups of pilgrims were walking to Karbala, 110 kilometres (70 miles) south of the capital, as part of ceremonies to commemorate Arbaeen, which marks 40 days since the anniversary of the death of the 7th century Imam Hussein, who is revered among Shiite.
More than one million pilgrims are expected to visit Karbala in the coming days for Arbaeen, set to climax on Tuesday.
Also on Thursday, a suicide bomber blew up an explosives-filled car at a police headquarters in the Diyala provincial capital of Baquba, killing two policemen and a female journalist in the third attack on Iraqi security forces in three days.
The suicide bomber detonated his payload at around 10:00 am (0700 GMT), just 200 metres (yards) from the site of a large suicide car bomb against another security agency Wednesday morning.
"I heard a massive blast and suddenly, there was a rain of shrapnel falling from the sky," said Murtada Aiseh, a 47-year-old local government employee who was in a nearby market with his wife and suffered head injuries.
"I woke up in the hospital and found my wife near my bed. She suffered injuries to her right hand."The attack also left 30 people wounded, according to Ahmed Alwan, a doctor at Baquba hospital. An interior ministry official confirmed the toll.
Speaking of the attacks, Maliki said in a statement: "Once again the takfiri terrorists and criminals add a new page to their criminal record, killing women, children and elderly men who were pilgrims of Hussein.
"They seek to fuel divisions and terrorise citizens," he said, adding that the perpetrators would be "brought to justice and punished."The journalist, Wejdan Assad al-Juburi, had been a reporter for the Iraq al-Mustaqal (Independent Iraq) fortnightly newspaper. She was a married mother of four who had worked as a journalist since 2005.
A total of 255 journalists and media workers have been killed in Iraq since the US-led invasion in 2003, according to the Baghdad-based Journalism Freedoms Observatory.
Diyala was an Al-Qaeda stronghold as recently as 2008. While violence has dropped off dramatically since, the province remains one of Iraq's least secure.
Suicide attacks in Diyala killed 16 people on Wednesday, a day after a suicide bomber killed 50 people at a police recruitment centre in Tikrit, north of Baghdad.
At least 116 people have been killed in Iraqi violence in the past three days. By contrast, 151 people were killed throughout December.
The United States said Thursday it is on track to complete the withdrawal of its troops from Iraq by the end of 2011, despite the spike in violent attacks which seem calculated to disrupt that timetable. – AFP