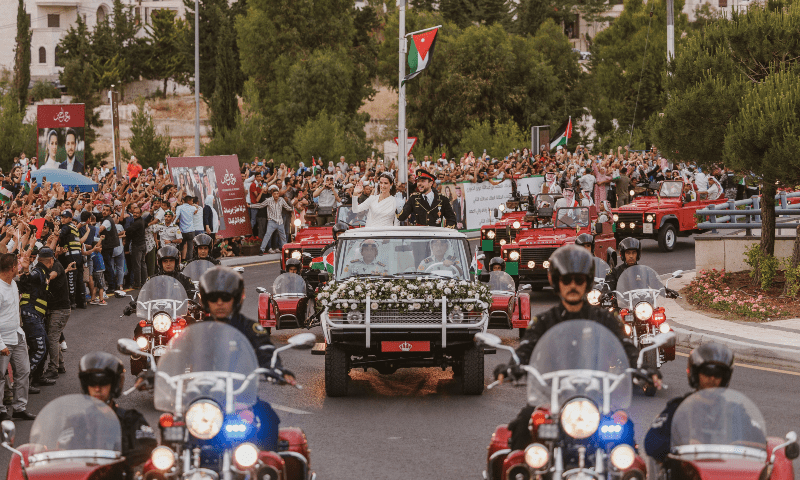 AMMAN: The heir to Jordan's throne married amid much fanfare on Thursday, in a glittering ceremony that the country's leaders, long backed by the West as a stabilising influence in a volatile region, hope will reinforce local and global alliances.
The 28-year-old Prince Hussein, named as heir by his father King Abdullah in 2009, tied the knot with Saudi architect Rajwa Al Saif, 29, who hails from a prominent family with links to her country's ruling dynasty.
Jordan has long relied on Western support to shore up its economy, one of the world's biggest per capita recipients of US and European aid, and observers hope the wedding will also bring it closer to the regional powerhouse on its southern border.
The wedding is also a milestone in Hussein's path towards the monarchy, with officials and insiders saying King Abdullah feels more confident that his country's prized stability will now be cemented. The King had removed his younger half-brother Hamza as heir-designate in 2004.
Hamza was later accused of conspiring to overthrow the monarch in a foreign-inspired plot, but Jordan has not seen the upheavals that toppled neighbouring leaders and escaped relatively unscathed from the turmoil witnessed in the region in the last decade.
In recent years, Hussein, a US-educated graduate of Georgetown and a Sandhurst officer, has increasingly taken on the duties of a future king in the country of 11 million, rubbing shoulders with world leaders including US President Joe Biden.
At the Arab League summit in Jeddah last month, he walked alongside his father to greet Crown Prince Mohammad. The three were photographed together. At home, Hussein is regularly seen chairing meetings of government agencies.
Published in Dawn, June 2nd, 2023