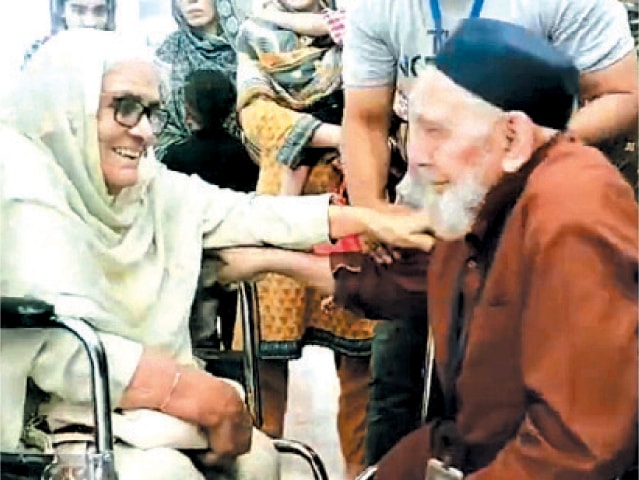 NAROWAL: In a heartwarming event, a man and his sister who were separated 75 years ago finally reunited in Kartarpur, thanks to the power of social media.
Mahendra Kaur, 81, accompanied by her family members, made the journey from India to Gurdwara Darbar Sahib Kartarpur via the Kartarpur Corridor. Similarly, 78-year-old Sheikh Abdul Aziz arrived in Kartarpur with his family from Azad Kashmir. The Kartarpur Corridor, famously known as the Corridor of Love, Peace, and Reunification, brought together these long-lost siblings, both originally from pre-partitioned India. Overwhelmed with emotion, they embraced each other, expressing profound sadness over the loss of their parents.
During the partition in 1947, the family of Sardar Bhajan Singh, who resided in Indian Punjab, was tragically torn apart. Following the Partition, Aziz relocated to Azad Kashmir while his other family members remained in India. Aziz shared that he spent years in distress after being separated from his family. He tirelessly searched for them but couldn't find any leads. He married at a young age but always carried the longing to reunite with his estranged family, including his parents and other relatives.
The family members revealed that they came across a post on social media detailing the separation of a man and his sister during the partition. The two families connected through this post and discovered that Mahendra and Aziz were indeed the estranged siblings. Overwhelmed with joy, Mahendra Kaur repeatedly hugged her brother and kissed his hands. In light of this joyful occasion, the Kartarpur administration adorned both families with garlands and distributed sweets.
The families visited Gurdwara Darbar Sahib Kartarpur together, sitting side by side and sharing a meal. They also exchanged gifts as a symbol of their reunion.
Mahendra expressed her gratitude for the Kartarpur Corridor project, praising the government of Pakistan. She remarked that today, the Kartarpur Corridor has brought together siblings who were separated 75 years ago, exemplifying its power to unite families and bridge long-standing divides.
Published in Dawn, May 22nd, 2023