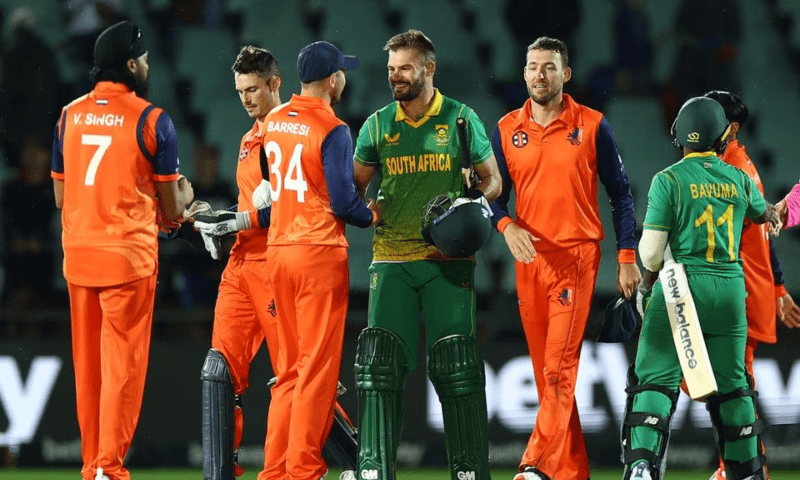 BENONI: Captain Temba Bavuma scored an unbeaten 90 to steer South Africa to an easy eight wicket victory over the Netherlands in their One-day International on Friday and take his side a step closer to automatic World Cup qualification.
Bavumas tally came off 79 balls as South Africa scored 190-2 in reply to the Dutch total of 189.
Aiden Markram contributed 51 not out in a 102-run unbeaten partnership with Bavuma to steer South Africa to victory with 20 overs remaining.
The Dutch were put into bat on an unusually cold day on the Highveld and with the altitude assisting them, got off to a bright start with 58 runs off 66 balls before losing their first wicket.
But Max ODowd's dismissal, as he edged Sisanda Magala to Quinton de Kock, took the momentum away and the Dutch were never able to get a profitable partnership going again.
Opener Vikramjit Singh hit some impressive sixes in his innings of 45 runs off 53 balls while Teja Nidamanuru, in at No 6, top scored for the tourists with 48.
Spinner Tabraiz Shamsi took 3-25, backed up by seamer Magala with 3-37 as the Dutch were bowled out in 46.1 overs.
The victory moved South Africa, who picked up 10 points, into ninth place in the World Cup Super League which determines the eight automatic qualifiers for the World Cup in India later this year.
South Africa's win means Sri Lanka will finish outside the top eight in the standings and will have to compete in a qualifying tournament in Zimbabwe in June, where two more World Cup places are on offer.
If South Africa win their last qualifying ODI against the Dutch at the Wanderers on Sunday, then the West Indies will also drop out of the top eight and be forced to compete in the qualifying tournament.
Only Ireland will then stand a chance of automatic qualification but will need three emphatic wins over Bangladesh when they host the­m at Chelmsford in May to finish above South Africa in the Super League standings.
SCOREBOARD
NETHERLANDS:
V. Singh c Bavuma b Magala 45
M. O'Dowd c de Kock b Magala 18
M. Ahmed c de Kock b Shamsi 17
W. Barresi c Rabada b Nortje 7
S. Edwards c Jansen b Nortje 5
T. Nidamanuru c de Kock b Magala 48
S. Ahmad st †de Kock b Markram 2
A. Dutt c Rabada b Shamsi 12
Ryan Klein c & b Jansen 8
P. van Meekeren st de Kock b Shamsi 7
F. Klaassen not out 0
EXTRAS (B-5, LB-8, W-7) 20
TOTAL (all out, 46.1 overs) 189
FALL OF WICKETS: 1-58 (O'Dowd), 2-71 (Singh), 3-80 (Barresi), 4-94 (Edwards), 5-105 (Musa), 6-127 (S. Ahmad), 7-157 (Dutt), 8-178 (Nidamanuru), 9-187 (van Meekeren)
BOWLING: Kagiso 8-2-33-0 (1w), Jansen 8.1-1-27-1, Magala 8-2-37-3 (1w), Nortje 8-0-24-2, Shamsi 10-1-25-3 (1w), Markram 4-0-30-1 (3w)
SOUTH AFRICA:
Q. de Kock c Klaassen b Dutt 9
T. Bavuma not out 90
R.V.D. Dussen c Musa b Klaassen 31
A. Markram not out 51
EXTRAS (LB-3, W-6) 9
TOTAL (for two wickets, 30 overs) 190
DID NOT BAT: D. Miller, H. Klaasen, M. Jansen, S. Magala, T. Shamsi, K. Rabada, A. Nortje
FALL OF WICKETS: 1-18 (de Kock), 2-88 (van der Dussen)
BOWLING: Klaassen 8-0-51-1 (2w), Dutt 6-1-30-1 (1w), Klein 5-0-41-0, van Meekeren 6-2-26-0 (3w), S. Ahmad 5-0-39-0
RESULT: South Africa won by eight wickets.
Published in Dawn, April 1st, 2023