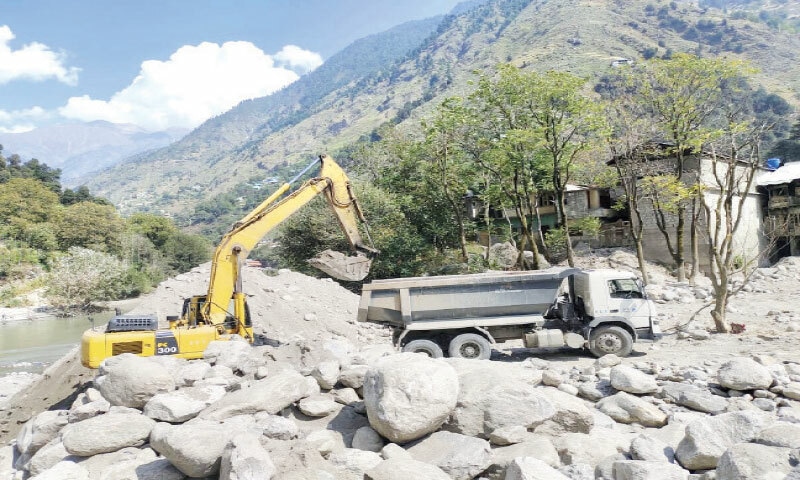 MANSEHRA: Sardar Shah Jahan Yousuf, special assistant to the prime minister, said on Sunday that the National Highway Authority had started work to clear the blockage in Kunhar River creating an artificial lake in Mahandri area of Manoor valley.
"This lake alongside Mansehra-Naran-Jalkhad road could prove dangerous and prompt action is essential to normalise the water flow in Kunhar River," Mr Yousuf said while speaking to mediapersons here in Balakot.
He said that dumpers and excavators had been engaged at the site to remove the blockage caused by recent flash floods.
He said the federal government had been working to address the issues being faced by the affected families of flood-hit Manoor valley of Mansehra district.
The PM's aide said that around 12 micro hydropower projects built by Pakhtunkhwa Energy Development Organisation (Pedo) were also destroyed in the floods.
"We have provided pylons and transformers to restore the power supply in the affected parts of the valley," he said.
Former district councillor Farooq Mughal said Manoor valley was badly affected by floods on Aug 25 this year, but the provincial government was yet to start relief and rehabilitation activities there.
Meanwhile, the provincial government formed committees of different departments to carry out survey of partially and fully damaged houses in five tehsils of the district during the recent floods.
Additional assistant commissioner Mohammad Zia Malik told this correspondent on Sunday that these committees had been constituted in Mansehra, Balakot, Oghi, Darband and Baffa-Pakhal tehsils.
SUICIDE CASE: A 10th grade student has allegedly committed suicide by taking pesticide pills here in Sheikhal Garhi area.
It was learnt that the mother and brother of Abu Baker were summoned by the school administration two days ago after he quarrelled with one of his classmates.
Abu Baker, according to his family, consumed pesticides pills and was shifted to hospital where he breathed his last.
In another incident, an aged woman was killed by her rival group here in Kurmung area.
Police said Asifa Bibi, 52, was grazing her animals in a local forest when Mumtaz and Arshad allegedly shot her dead.
Published in Dawn, September 26th, 2022