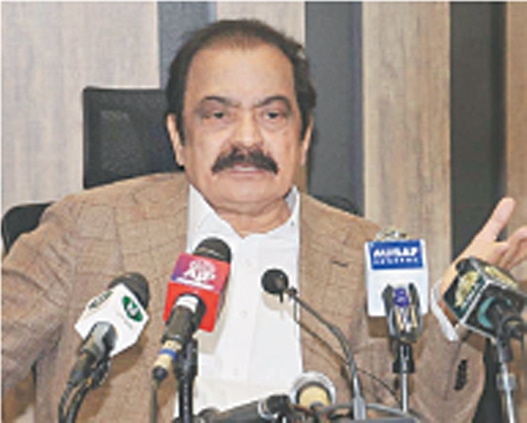 • Rana Sana wants separate FIR against PTI chief for anti-Shuhada campaign
• Fawad clears difference between real threat and legal action
• Police security from Imran's residence withdrawn, Shireen alleges
ISLAMABAD: Former prime minister Imran Khan was booked in a terrorism case on Sunday for "threatening" a female judge and senior police officers in a public rally that drew strong reaction from the federal government with the interior minister declaring that the PTI chief would not be allowed to challenge the writ of the state by inciting rebellion.
Interior Minister Rana Sanaullah said he had already recommended a separate case against Mr Khan for the "derogatory" campaign against Shuhada (martyrs) of Pakistan Army.
However, senior leader of Pakistan Tehreek-i-Insaf Fawad Chaudhry at a presser questioned the government move by screening a video of Mr Sanaullah to draw a comparison between a "real threat" and "taking a legal course of action" against someone.
Also, senior PTI leader Shireen Mazari came up with the claim that the Islamabad police had withdrawn security from Mr Khan and his residence since Saturday evening.
In his address on Saturday evening, Mr Khan had threatened to file cases against Islamabad's inspector general of police and deputy inspector general of police and declared: "We won't spare you." He then warned the judiciary against its "biased" attitude towards his party, saying that it should brace itself for the consequences. He also warned additional district and sessions judge Zeba Chaudhry, who had approved two-day physical remand of Mr Khan's aide Shahbaz Gill's on the request of the capital police, that she would also face dire consequences.
The First Investigation Report (FIR) was registered at the Margalla police station on a complaint of a judicial magistrate, Ali Javed, under Section 7 of the Anti-Terrorism Act.
"Imran's speech spread fear and uncertainty among the police, judges and the nation," the FIR said with the request for legal action against Imran and an "exemplary punishment". It reproduced the PTI chairman's remarks about the female judge and the Islamabad police officials. It was pleaded in the FIR that the public address was meant to "terrorise" top police officials and the judiciary so they could not perform their functions and abstain from pursuing any action against PTI leaders if required to do so.
Earlier in the day, Interior Minister Rana Sanaullah said he had already recommended a separate case against Mr Khan for the "derogatory" campaign against Shuhada (martyrs) of Pakistan Army.
He said he had recommended at a previous meeting of the federal cabinet that a separate FIR should be filed against Mr Khan for bashing of army and Shuhada but at time a committee was formed to decide about it. "I think the next cabinet meeting will make a decision on it as well," he added.
"The government was holding legal consultations with allies on whether to file a separate case against PTI Chairman Imran Khan for his provocative speech a day ago or nominate him in a previous case," he added.
'Orchestrated campaign'
"This is all happening in continuation — from a campaign after Lasbela incident when six army officers were martyred, followed by Gill's attempt to incite army ranks to go against their top command and then Imran threatening a woman judge and police officials for performing their duties as per the law," the minister said. He earlier tweeted, "Imran Niazi will have to face the law for threatening and hurling abuses at the magistrate and police officers. Such acts of brazen thuggery are responsible for instigating extremism in society. You [IK] are not allowed to challenge the writ of the state by inciting rebellion."
Responding to a question about PTI's possible reaction to the FIR against Mr Khan, the interior minister said: "The Constitution has a clear way to deal with law breakers and we will follow the procedure. Taking 10,000 to 12,000 people to Islamabad from Punjab and other places will not be a big deal. We will handle them, if they come."
Evidence
While rejecting the allegation that Mr Gill had been tortured in custody, the interior minister termed it a "drama" just to divert attention from his anti-state remarks made on ARY News and the campaign over Lasbela helicopter crash.
Mr Sanaullah said his ministry had "proof in the form of a telephonic conversation" allegedly revealing Mr Gill's understanding with ARY News workers about uninterrupted 14-minute airtime to be given to him for speaking against the army.
"How could he provoke army officers to disobey the orders of their top command?" he asked.
He said Mr Gill termed a tier of certain officers as patriotic and labelled the "top command as unpatriotic".
The interior minister ruled out the PTI claims that their party leader was assaulted as well as sexually abused during custody. He said Mr Gill remained in police custody from Aug 9-11 and subsequently he was sent on judicial remand for six days till Aug 17. "Not a single complaint was filed by him about torture and his condition deteriorated only after his remand was extended on Aug 17," he said.
He then alleged that Mr Khan, while sitting in the PM Office, had planned torturing of a senior journalist Mohsin Baig, he himself (Rana Sanaullah) and a woman Tayyaba Gul for complaining against former National Accountability Bureau (NAB) chairman Javed Iqbal. "Imran used her video tape to get benefit from NAB and kept the woman in the PM House for over a month illegally," he added.
Later, PTI leader Fawad Chaudhry said the government was labouring under the belief that "closed rooms" could save it from the nation's wrath.
He told a presser in Islamabad that how the interior minister had supposedly made controversial statements in Punjab Assembly and questioned how Mr Sanaullah was being "tolerated".
Mr Chaudhry played down the allegations that the ex-premier had threatened Islamabad police and the woman judge by showing a video clip of the interior minister to "draw a comparison" between what makes a real threat and a legal course of action against someone.
'Security withdrawn'
Another PTI leader Shireen Mazari said the Islamabad police had withdrawn security from Mr Khan and his residence since Saturday evening. "This is against the law but who cares about law in this 'imported' government. Nation should know how conspirators are creating a life threat for Imran Khan," she tweeted.
Earlier while responding to warnings issued by Mr Khan against the police, the Islamabad Capital Territory Police (ICT) stated: "Anyone threatening the police or making false accusations will be dealt with according to the law.
"All officers are rendering their services with complete responsibility and continue to discharge them. The police is an organised institution and we are bound to perform our duties come what may," the ICT police said.
Published in Dawn, August 22nd, 2022