THE WEEK THAT WAS
Habs | Geo TV, Tuesdays 8.00pm
Taking a leaf from classic dramas of the past, writer Aliya Makhdoom and director Musaddiiq Malik give us a taste of quality viewing with this wonderful drama. Habs is a slow-burn, revealing more about each well-written character with every plot turn. This might have been a tough sell for the shorter attention spans of contemporary audiences, but a strong star cast including Feroze Khan, Ushna Shah, Irsa Ghazal, Saba Faisal and Dania Anwar has kept audiences glued.
Both Khan and Shah have surpassed expectations with restrained, authentic portrayals sans the overt glamour and heavy melodrama they have previously been known for. As a story, Habs is nothing new: a contract marriage between two very different people at opposite ends of the socio-economic scale. However, the detailed and fully conceptualised storytelling make this show more entertaining than any of the glossy, easily digested, formulaic stories on air. Can Basit (Feroze) and Ayesha (Ushna) carry the weight of their responsibilities, and overcome their mistrust to form a true relationship? Can such a purely transactional marriage ever be happy or loving?
Mere Humsafar | ARY, Thursdays 8.00pm
This popular serial moves towards a climax as the real villain in Hala's (Hania Aamir) life, her father, finally shows up. There are many absentee parents who love their children but are forced to work long hours away from them because of dire economic conditions. However, Hala's father Nafees is not just an absentee but a cruel, neglectful man who sees Hala as an inconvenient mistake. He has never taken any interest in her welfare except to send a minimal amount of money to his family, and to keep her out of his life.
When the grandmother who raised her dies, Hala has no one left to defend her from her psychopathic mother-in-law except her husband Hamza (Farhan Saeed). Now the grand Hamza-Hala "rescue romance" is also at a low ebb because Hamza has yet to hear his wife out on her past relationship.
The show began as a tale of abuse and neglect, exploring the fate of a child abandoned by an immigrant father. Such cases are, sadly, not rare, and for females often linked to honour culture. The channel has suppressed this angle in favour of a typical love story with a blackmail track, even sinking to the level of recreating scenes from the iconic drama Humsafar, to fill in the gaps.
Bakhtawar | Hum TV, Sundays 8.00pm
Bakhtawar's (Yumna Zaidi) older sister has already been sold off in a forced marriage to pay off her gambler father's (Noor Hasan) debt. When her disabled brother dies, her uncle tries to force Bakhtawar to marry his own mentally challenged son, pushing her to flee to Karachi. Just like their village, the big city is a tough place for two women on their own.
Bakhtawar tries to find employment but is faced with harassment and restrictions at every turn. When she witnesses the murder of her friend Parveen for refusing a marriage proposal, she withdraws in fear from her job as a bus hostess. Desperate to survive, Bakhtawar disguises herself as a man and sets out to make a living. A strong performance from episode one by Yumna Zaidi saves a script that is over-stuffed with villains and terrible men, but has some valid points about the struggles of working class women.
What To Watch Out For (Or Not)
Mushkil | Geo TV, Mon-Sun 9.00pm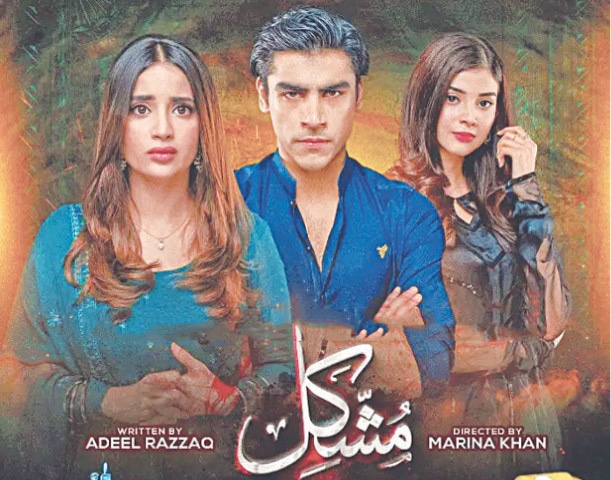 Cautious Sameen (Saboor Aly) and the daring Hareem (Zainab Shabbir) have an unlikely friendship. Then a terrible twist of fate turns their lives upside down, forcing Sameen to marry Faraz (Khushhal Khan), the object of Hareem's obsession..
Published in Dawn, ICON, July 31st, 2022