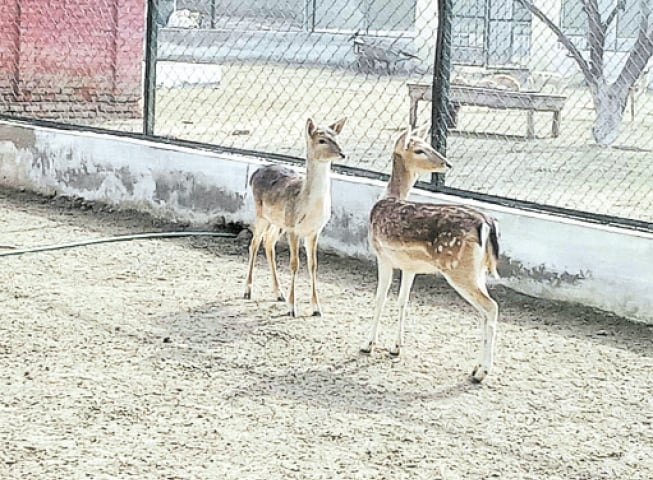 BAHAWALPUR: The wildlife department has added animals and birds costing over Rs3.2m to the zoo and completed several of its uplift projects with Rs7.5m.
Dawn learnt the zoo administration and the wildlife department had acquired many birds on payment while several of them were received under the exchange programme from various zoos across the province.
Wildlife Deputy Director Rai Zahid Ali said special efforts were made for transfer and exchange of wildlife species with a view to enhance breeding potential through proper pairing.
He said 40 species of birds had either been procured or exchanged for the local zoo and they included yellow golden pheasant, red golden pheasant and Lady Amherst's pheasant. He added that with the addition of the new varieties of birds, the visitors would be able to see eight species of pheasant.
Mr Ali claimed 90pc of newly-added species of birds were not available in any other captive facility of Punjab. He said the zoo had also a parrot section with six species while the waterfowl section also had as many species, including Neel Sar, Mandarin duck, black swan and Surkhab (golden pheasant).
He said Mouflon sheep, Afghan urial, hyena, fallow deer, spotted deer, Sambar deer and nilgai (Asian antelope) have also been recently added to the zoo collection.
Regarding the recreation facilities for children, Mr Ali said mechanical animal rides, swings, kiddie ride, battery-operated electric cars, jumping castle (trampoline) and pet photography would be available within a month as their contracts had been approved by the competent authority.
He said that according to estimates, the zoo's revenue would go up from Rs18m to Rs50m by the current closing fiscal year.
CONTAINERS: The Bahawalpur Waste Management Company (BWMC) added 400 waste containers in its equipment for waste collection.
The inaugural ceremony of the new containers was performed by Municipal Corporation administrator/deputy commissioner Irfan Ali Kathiya along with the BWMC Chief Executive Officer (CEO) Naeem Akhtar.
Published in Dawn, February 1st, 2022