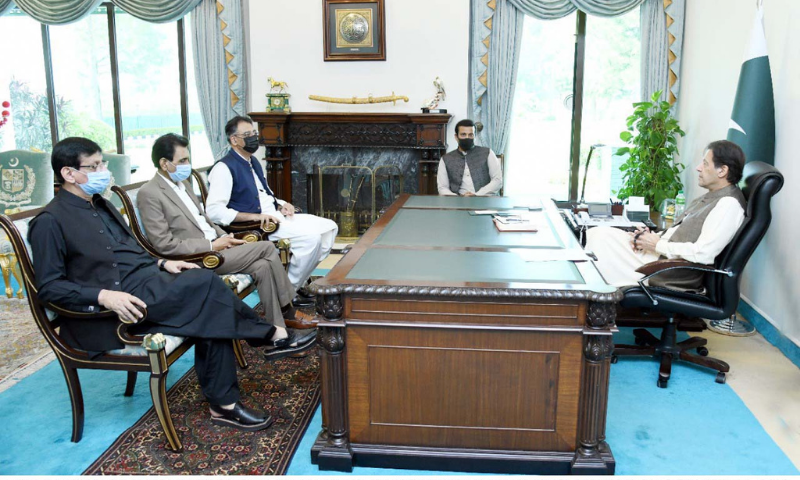 • Pakistan's recent gains towards ending polio come under discussion
• Imran assures MQM leaders of taking stakeholders into confidence over next Karachi census
• App developed to provide subsidised items to the less privileged
ISLAMABAD: Prime Minister Imran Khan has requested Bill and Melinda Gates Foundation's (BMGF) co-chairman Bill Gates for financial assistance for the people of war-torn Afghanistan.
"More than half of the population in Afghanistan is living below the poverty line and in dire need of financial assistance," the prime minister told Mr Gates during phone conversation on Wednesday.
According to the PM Office (PMO), the prime minister requested Mr Gates to consider providing humanitarian assistance to the Afghan people.
Both the prime minister and Mr Gates expressed concern over health crisis in Afghanistan, the only country other than Pakistan that is polio endemic. The two sides underscored importance of resumption of polio campaigns in Afghanistan and measures to protect Pakistan's recent gains towards ending polio.
While discussing Pakistan's continued progress against polio eradication, Prime Minister Khan said only one case of wild poliovirus (WPV) was recorded in the country this year. He appreciated the assistance provided by BMGF in this regard and said the government was committed to make Pakistan polio-free.
Mr Gates praised the premier for the progress and pledged his foundation's continued support to the Pakistan polio programme for ensuring that no child was at risk of paralysis due to poliovirus. He also noted the positive impact of the premier's leadership in convening a meeting with deputy commissioners in high-risk polio districts in August.
Besides, Mr Gates congratulated Mr Khan for Pakistan's Covid-19 vaccine rollout and observed the government-led programmes including Ehsaas was making impressive progress in reducing stunting, and the digitization of the National Savings Programme through Karandaaz.
He offered continued collaboration through the Gates Foundation to improve the health and well-being of Pakistanis.
Mr Khan thanked Mr Gates for his foundation's valuable partnership with Pakistan.
Karachi census
The prime minister in a meeting with a delegation of Muttahida Qaumi Movement (MQM) leaders assured them that all stakeholders would be taken into confidence for next census and explained that all institutions in his government were independent.
Minister for Information Technology Syed Ameen-ul-Haq, Khalid Maqbool Siddiqui and Senator Faisal Sabzwari discussed matters related to census and ongoing federal government projects in Sindh. Minister for Planning Asad Umar was also present.
The delegation emphasised that the government with the support of its allies was playing an effective role in development of Sindh, particularly in Karachi.
The MQM leaders appreciated Mr Khan for federal government projects for improvement of public transport and infrastructure in Karachi.
The prime minister drew their attention to the issue of electronic voting machines and said their use would bring transparency in the electoral process. "There is a need to create awareness about the positive effects of electronic voting machines on electoral process in Pakistan," he added.
Targeted subsidies
Special Assistant to the PM on Poverty Alleviation Dr Sania Nishtar in a meeting with the prime minister apprised him of provision of targeted subsidies to eligible families under the umbrella of Ehsaas programme.
Finance Minister Shaukat Fayaz Tarin, Defence Minister Pervaiz Khattak, Information Minister Fawad Chaudhry, Special Assistant to the PM Dr Shehbaz Gill, State Bank Governor Dr Raza Baqir, National Bank of Pakistan President Arif Usmani and senior officers also attended the meeting.
At the meeting, the premier was apprised that Ehsaas programme had developed a mobile app in collaboration with National Bank of Pakistan, which would be used by vendors to provide subsidised items to eligible Ehsaas beneficiaries. The participants in the meeting were informed that due care had been taken to eliminate chances of misuse of targeted subsidies under the Ehsaas programme.
On the occasion, Mr Khan said the government was aware of the problems being faced by the less privileged due to inflation. He was quoted as saying targeted subsidies for this purpose should be provided to them. He said Kamyab Pakistan, health insurance cards and Ehsaas were the flagship schemes of the government aimed at poverty alleviation and social uplift of the lower segments of society. He said a comprehensive awareness programme be launched to inform the masses about how they could avail targeted subsidies.
Dams
Separately, Water and Power Development Authority (Wapda) Chairman retired Lt-Gen Muzammil Hussain apprised the prime minister of progress in infrastructure and other works on major dams.
Briefing on major dams to the prime minister has become a regular monthly feature.
Published in Dawn, October 7th, 2021