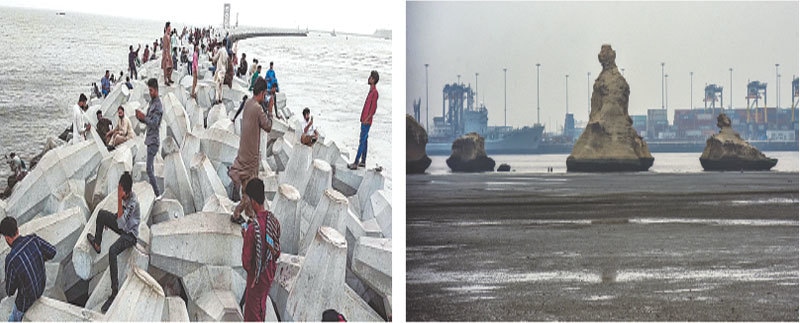 KARACHI: It was back in 2018 when several Karachiites first discovered this new picnic spot at the South Asia Pakistan Terminal (SAPT). But no sooner did social media along with a few newspapers publish its pictures, the hungry-for-outings public thronged the place, which was closed soon after. Well, it has been reopened recently.
This comparatively bare portion of the beach presents a clear and closer view of the breakwater, Oyster Rocks and the tall port cranes and all the cargo ships entering and leave port.
There is also a freshness about the sea breeze. A father had brought with him his two children on his bike here to enjoy the view. They were happily sipping on their box of juices while digging into a bag of potato crisps as they animatedly pointed towards the ships and the fishermen at work before them. Some children are also bathing in the sea.
"We have been coming here regardless of the barriers and closure for our catch," says one of the several fishermen busy sorting out their catch for the day. "But it was closed for the general public as there was plenty of activity at SAPT at the time. Now the Chinese workers seem to have left and this place has been reopened again," he added his observation.
There is all kinds of catch in the pile before them. There is very tiny fish that glitters and shines like small pieces of silver under the bright sun, there are tiny shrimp, which can be used as bait for bigger catch, too, along with different species such as squid. The fishermen are busy separating all the various species from each other and dropping them in baskets.
"Most of the catch from here is used in preparing chicken feed, also for plant fertiliser," says another fisherman. "But we are going to take it all to the Karachi fisheries to sell."
Yet another fisherman informed that they arrive at the place before dawn for the catch.
Dawn tried to call the Karachi Port Trust about the reopening of the China port but was informed that their offices won't be able to respond regarding the matter or for any comments over the weekend.
Published in Dawn, September 27th, 2021