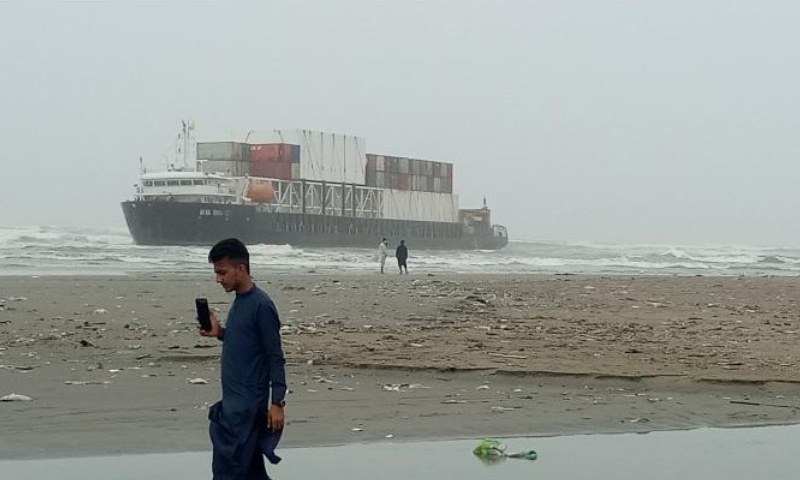 ISLAMABAD: A parliamentary committee on Tuesday showed its concern about the environmental impacts from the cargo ship which ran aground on the beach in Karachi amid bad weather last week.
National Assembly Standing Committee on Maritime Affairs Chairman Mir Amir Ali Khan Magsi and members expressed concern over reports that oil could spill from the ship and cause a disaster in the surroundings of Karachi Port.
The 'Heng Tong 77' cargo ship was en route to Istanbul, Turkey, from Shanghai, China, when it drifted and got stuck in shallow waters on Wednesday last.
As it dragged anchor due to rough weather and got stuck in shallow waters at Karachi's Sea View, the authorities concerned raised fears that the oil being transported in the cargo vessel could spill, and potentially damage the environment.
During the meeting, the committee members learnt that emergency calls were made to the Karachi Port Trust (KPT) and Port Qasim towers, but no immediate action was taken by the two departments. The KPT then alerted the Pakistan Maritime Security Agency (PMSA), which could not provide much help either.
In this regard, the relevant authorities said they were working on plans to refloat the cargo ship.
The committee members were also informed that environmental experts were closely monitoring the situation and contingency plan was in place to handle any emergency.
Officials from KPT stated at the meeting that the stuck vessel did not affect the normal movement of ships in and out of the port located near Karachi.
The 'Heng Tong 77' is 98 metres long and 20 metres wide and has the capacity of 36,000 dead weight tonnage.
As the sea continues to be rough, which was normal during the monsoon, the committee learnt that "salvaging" the vessel was the responsibility of the ship's owners, and that the KPT and PMSA would remain available for any operational and tactical assistance in Pakistan's waters.
Published in Dawn, July 28th, 2021