NOOR Zaheer was on the campus of the Jawaharlal Nehru University in Delhi in December 2019 when she got a phone call from London-based Yavar Abbas.
"I'm in the middle of a protest, it's noisy — can we talk later?" she asked. "Please, can you step away for a few minutes? I need to speak with you," said Yavar. "Will you marry me?"
The setting of this long-distance proposal was unsurprising. For a leftist author, feminist and intellectual like Noor, the JNU protest marked yet another struggle in her life as a fearless and outspoken activist. The thing that raised eyebrows, however, was that her suitor was nearly 100 years old.
A few months later, Noor left India — where she had spent the entirety of her 60 odd years — and moved to London to marry Yavar. Their nuptials in March 2020 made headlines, and their love story brought much-needed cheer at a time when millions across the world were faced with the dreary prospect of isolation and a battery of depressing news.
When I met them last week, a year into their marriage, at their southwest London apartment, Noor and Yavar were the picture of wedded bliss and as in love as ever. There were fresh flowers in a vase that he had brought her — a regular romantic gesture because Noor "cannot recall a time when he went out for something and didn't come back with a small gift". He knows she loves Danish pastries.
They've spent last year going for long walks, reading, writing and watching films. Since Covid-19 restrictions were lifted in the UK, they started to meet friends.
As they talked about their time together, they held hands and looked at one another with an adoration and tenderness that could melt the heart of the frostiest cynic.
It was a remarkable thing to behold in person, though I should have expected it.
Last year, one of their friends had told me over the phone how elated the two were on their wedding day, "more than young couples".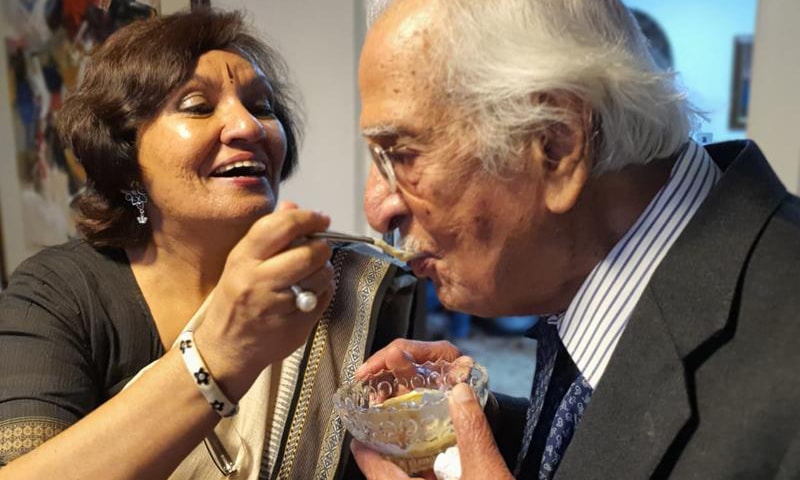 "It was like a fairytale, truly a sight to behold."
I had many questions. What prompted him to marry at his age? More importantly, what was it like for her? Is it hard to be married to a 100-year-old?
A filmmaker and journalist, Yavar Abbas hails from Lucknow in UP. He began his career as a photographer for the British army during World War II, when he was posted to Burma. In 1945, he was among those who documented the surrender in Japan. He has been associated with BBC Urdu intermittently between the 1950s and 2009.
His website documents his prolific career in film and documentary making. "His first film India, My India! had a major impact when it was shown on BBC television in 1966. Since then he has made many other films, among them two series for the BBC: Faces of India and India Called Them. Also shown on the BBC a documentary called Mother Ganges. These have all been distributed worldwide – as have Cricket in India, The Khans of Pakistan, and Mosque in the Park," it says.
Both Noor and Yavar have children of their own. Noor has three children from her civil partnership with Amitabh, who passed away years ago. Yavar's wife died 12 years ago.
Last year Yavar and Noor, both single, first met at a story reading session at Allahabad University where he was one of the speakers. In his speech that day, he talked mostly about Noor's book. They had a chance to chat later.
"I found him very knowledgeable as far as literature is concerned," said Noor. "Criticism is practically absent in Urdu literature… it's borrowed. It has not evolved in South Asia. But he was very original, he knew all the 'isms' of criticism and was open minded enough to compare things. His knowledge of Urdu poetry was also quite impressive."
Though that meeting was short, it was the beginning of a friendship. Emails were occasionally exchanged, and when Yavar visited India, he would always call on Noor. The two really bonded in October 2019 when Noor was invited to speak at the Faiz Aman Mela in London. Before her arrival, Yavar had already informed the organising committee, which was short of funds, that Noor would stay with him. And she did.
"That's when we really got talking. He talked about his films, which I had seen before but not serially. We watched them every night — he would fall asleep watching his films!"
It was this visit that became the basis for Noor accepting his proposal, months later over a phone call as she stood at the JNU campus.
"I genuinely wanted to be with Yavar. In the seven days I spent with him in 2019, I saw him alone. He had so much to tell and share but no partner to share with. It contributed majorly to my accepting his proposal."
They bonded over discussing how much India has changed. "He has been very sad ever since Modi got elected, even his emails were sad, as he would say 'I will not come while Modi is there'," she said.
When Yavar proposed, there was the major question of what she would do in the UK. "I had just retired from Saarc [South Asian Association for Regional Cooperation] as the cultural coordinator. But I did wonder 'how will I permanently adjust in this society'? It really made me think that, maybe for Kashmir, I can do something here [in the UK] that makes people question what's happening."
Over the past year, Noor helped Yavar work on his autobiography. "I told him he needs to really focus on the stories he wants to tell, and list the things he thinks people would be interested in knowing… I knew his love for poetry and films but other things — what he likes and dislikes, what kind of friends he has, what romances he has had… we talked about everything. I really like him as a person," she said.
Noor said Yavar has good health, and is "very alive". "He likes to walk, still drives, and is not at all forgetful."
She also said he has a great sense of humour that was more important to her than "his good looks and good brain". "He could laugh at himself."
We talked about the notion of marriage, and Malala's recent Vogue interview that had triggered an angry reaction in Pakistan, for she had, like most young people, questioned the idea. Noor said: "People would have attacked her no matter what she had said. Even if she had said she wants to get married, the response would have been negative."
On the subject of marriage, Noor said 'good' and 'bad' were words used to describe qorma, not marriage. "A relationship either gives joy or it doesn't."
Yavar, true to his romantic nature, said: "I believe nature conspired to bring us closer together. I wasn't looking to get married. My first wife died years ago, so if I were looking to marry it would have happened earlier. With Noor, I just had to. I am very happy with her," he said. As the couple said goodbye, I couldn't help but think that some years from now, she may be alone. But she has married him knowing that reality. "I have always believed that even if you have one good day to spend, it's worth it."
An earlier version of this story carried the incorrect name of Noor Zaheer's late partner. The error is regretted
Published in Dawn, July 5th, 2021