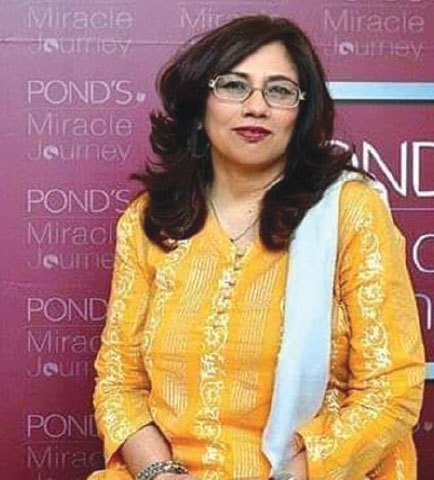 Moniza's distinctive greeting is what will always come to my mind at every mention of her. You would hear her smile when she said hello, before you looked up to see her face. It was a warm hello, trailing off in a cadence. Her personable manner made her look upon everyone with soft eyes and a wide, disarming grin.
I made her acquaintance while I was still at Herald. We would bump into each other in the narrow corridor outside my office, or say hello to each other while passing in and out of the ladies room. At one point, I saw her after a long period of a few months and asked after her long absence. She told me, proudly, she had gone on a journalism fellowship to Singapore.
Little did I expect then that, in the near future, I would be working closely with Moniza in Eos. That is when I would hear more from her and my other colleague Rizwana Naqvi, now retired, about their stint in Singapore. It was clear that both held their memories of the fellowship in great regard. Perhaps their long friendship blossomed during that trip, too. I'd be amused when the two friends regaled me with their adventures there; they would turn into giggly college girls, Rizwana's eyes shone and Moniza would look happier than usual.
Moniza shared her office room with me when I first joined this magazine, before a proper workstation was installed for me. Having worked in Dawn since 2004, she often entertained other senior colleagues from various departments.
She was a generous 'officemate'. Even when I was conscious of overusing her tea stuff or cutlery, she, recalling the words of a former editor of hers at Business Recorder, would say in her carefree way, "Yahaan sab kuchh awaami hai [Here, everything is the people's]." She and I both had a sweet tooth, but Moniza indulged herself every day. She proclaimed she could not have evening tea without a biscuit or dessert to accompany it. So I'd put the kettle on, and out came the biscuits.
Moniza Inam, who looked after the Gallery and Lifestyle sections of this magazine, passed away after a brief illness on June 12. A colleague remembers working with her and how full of life she was
We would chat about random things like the latest period dramas on Netflix, which she really enjoyed. And I would recommend the old ones that she must watch. And she would, too! We recoiled at any recent news that displayed "mullah behaviour" or recollecting our encounters with creepy Pakistani male behaviour in foreign social settings. Our other shared hobby was gardening, and I recall us mulling over photos of Moniza's newest indoor plant, wondering why it wasn't thriving despite sitting in ample sunlight.
When I moved out of her office, my old desk slowly turned into Moniza's indoor garden. There are bottles and jars and vases filled with plants of every kind sitting on it now. We will move them to my office so we can keep taking care of them for her.
Moniza's friends easily outnumber her plants, though. She was on Facebook a lot, kept in touch with the fellows from Singapore, as well as her college mates from Karachi University. I gathered that her friends from the Women's Action Forum (WAF) were particularly important to her. She was the convener for the women's rights organisation. Her associates and friends recall her as dedicated and reliable in that capacity. She would never miss a meeting, unless it was on closing day for the magazine.
She looked after the Gallery and Lifestyle sections of Eos and, till her last day of work — which was closing day, in fact, before the Eid holidays — she would be seen sitting with the pagemakers, with dummies of her pages' layouts in her hand. She would draw a dummy for every issue, without fail. Every time she was absent, I would take over her tasks and her commissioned articles would always be ready for layout well before time. She has left us well before hers, too.
Like most of us, Moniza was restless with the lockdown restricting her activities. I think she loved to move about. Hyderabad was an oft-frequented haunt of hers. When she came back from a party at the Khanabadosh Writers' Café there, it was evident that she had been thrilled at attending the gathering. I remember her telling me about it as if it was just last year. But it was in 2017!
I probably remember it so well because it made perfect sense that she was most herself among such a group of people as those there in Hyderabad; she was among those who loved the romance of an evening out under the stars, those who could lose themselves in the harmony of indigenous music rising up to the open skies, those who could dance with abandon and celebrate this fleeting moment called life.
Moniza's passion for human rights reflected in her social code of 'live and let live'. From her college days — as a member of the Democratic Students Federation — to date, the list of rights-based organisations Moniza actively advocated for are too, too many to list. As a civil rights activist, she was consistent. In any protest ­— from the Pakistani lawyers' movement (2007) to equal rights for minority groups to the newspaper's union protesting pay cuts — she showed up in solidarity, to denounce oppressors, of any kind.
I see her now in my mind's eye, at the Aurat March at Frere Hall, a colourful dupatta — that all the organisers wore — drapes her shoulders, she has her bright lipstick on, her auburn hair is freshly blow-dried, and she shouts slogans of "Laal Salaam! Laal Salaam!" I would like to present the same salute to you, Moniza. Rest in peace.
The writer is a staff member
Published in Dawn, EOS, June 20th, 2021