S.B. John Tu Jo Nahin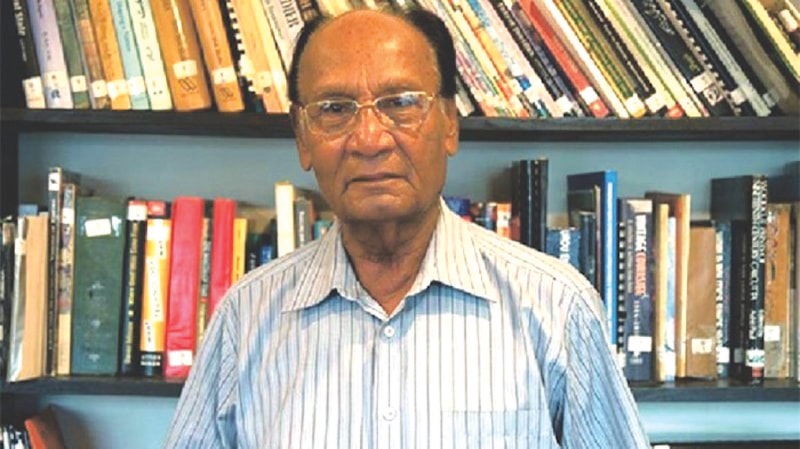 Eminent singer S.B. John passed away on June 5. He was 90. Although he sang many songs for films, radio, TV and on the Karachi stage, he is most remembered for singing the iconic and haunting track Tu jo nahin hai tau kucch bhi nahin hai from the film Savera which was released in 1959. It was composed by Master Manzoor Husain and written by Fayyaz Hashmi. Mr John was also a scholarly figure who had a wide collection of books. May he rest in peace.
The Malala Matter
It was truly a memorable moment for Pakistan and Pakistanis to see Nobel laureate Malala Yousufzai on the cover of British Vogue, accompanied by an interview. But it is disconcerting that her views were blown out of proportion by some trolls, which turned something celebratory into something controversial. The entire interview needed to be read before picking out a comment or two. Besides, she is an educated young girl who knows the consequences of what she says in public. This is one of the reasons she's become who she is: she speaks her mind and never beats about the bush… unlike many of us.
Creative Police
Mumbai's police have filed an FIR against actors Tiger Shroff and his girlfriend Disha Patani for violating Covid-19 norms. When word first got around about the charges in Bollywoodland, no one was sure who was booked because no names were taken. It was the police's witty tweet on its official handle which gave away the actors because it contained in it the titles of the movies that Tiger S and Disha P have worked in. Check it out: "In the ongoing 'War' against the virus, going 'Malang' on the streets of Bandra cost dearly to two actors who have been booked under sections 188, 34 IPC by Bandra Police Station. We request all Mumbaikars to avoid unnecessary 'Heropanti' which can compromise on safety against Covid-19." We think the Mumbai police should try its hand at writing screenplays. They might do a better job than most Bollywood writers.
Shootout at Dramawala
A tragic incident happened last week when a security guard opened fire at a television crew in Karachi, following a verbal showdown about where they should eat. Nine people got injured. Those who received injuries were technicians and not actors. The incident prompted Yasir Hussain, who's playing one of the main characters in the play that was being filmed, to make a pertinent point: "The guard didn't shoot the actors or the producers at the shoot. But those poor workers that are working on set for Rs1,000 per day. They're not the ones sitting in the AC, and eat outside in the parking lot. With the guard, the production house should also be punished. This ugly system should be punished." Spot on. When it comes to protecting staff members, production houses should never let their guard down.
Couple in Tune
Who's the latest girl in Sean Diddy Combs' life? The answer: it's the rapper Yung Miami (real name: Caresha Brownlee) who you may have heard as part of the hip-hop duo JT. Tongues started to wag when Yung M posted her photos on Instagram with Sean DC from a party that took place on June 3 in Atlanta, in which both are holding hands and having a good time. Later in the day he, too, reposted the same photos on his Instagram page, making it amply clear that the two are an item. Cool! Rap it up, you two!
Nervous Cat
One of the memorable moments or sequences from the sitcom Friends is the Smelly Cat song that Phoebe (played by Lisa Kudrow) sings. During the show's recently aired reunion episode, the actress had to sing it with none other than pop star Lady Gaga. Talking to a showbiz website, the actress has confessed that she was nervous singing Smelly Cat with Lady G. To be honest, Lisa K, anyone who's asked to sing alongside her would be nervous, not to mention those who can't sing to save their lives. Well, it's all just between friends anyway, isn't it?
Published in Dawn, ICON, June 13th, 2021