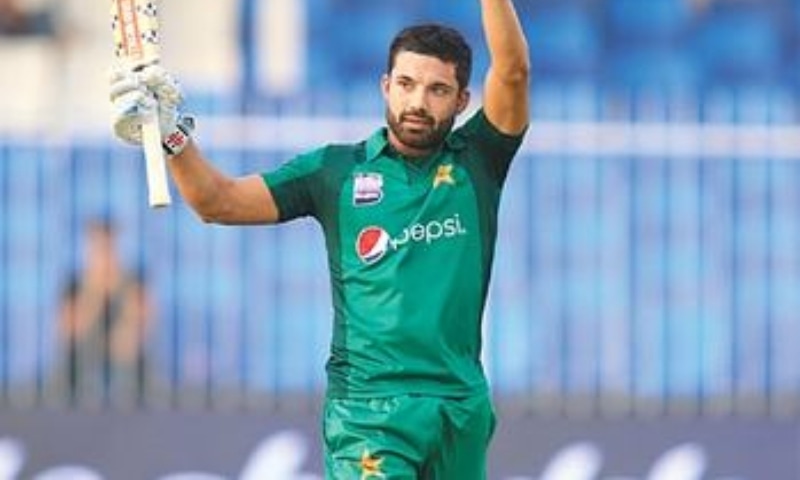 HE has it all. The grit, the endurance, the acumen, the finesse, and the ever-growing will to rise and rise amid adversity. And the man is proudly showcasing these traits on the field across all formats.
Mohammad Rizwan indeed is the newest star on Pakistan's cricket horizon.
The professional way this 28-year-old rock-solid lad from Peshawar in recent times has precisely developed his skill set with his natural never-say-die attitude is exemplary and rare in our part of the world.
Agile as a leopard, the stocky player remains productively active and involved behind the stumps as well as in front of it. Batting however has been his biggest plus while he is part of a batting line-up that normally struggles. A plucky nature backed by the game's acumen have enabled him to adapt to various playing conditions against different opponents with marked success.
So powerful has been Rizwan's willow work of late that the right-hander is now regular facing the new ball with captain Babar Azam in fast white-ball contests.
Bear in mind Rizwan made his ODI, T20 debuts in 2015 and started his Test journey back in 2016 and he remained in and out of the national team several times as Sarfraz Ahmed was the first-choice national wicket-keeper during that period. Two fighting hundreds by Rizwan in a 5-0 ODI whitewash at the hands of Australia in the UAE on the eve of the 2019 World Cup surprisingly could not impress the selectors. But he is a man of steely nerves and genuinely positive character which he superbly displayed during 2020, the renaissance year for him.
And then came the valiant player's meteoric rise to fame — since the New Zealand tour in late 2020 that has stunned as well as pleased fans and the game's experts alike.
"Rizwan is an Adam Gilchrist-like find of Pakistan cricket," former Pakistan captain Asif Iqbal told Dawn when he was asked to comment on the extraordinary performance delivered by the wicket-keeper/batsman in recent contests.
"I can recall that he batted outstandingly [89 at Napier] in the third T20 International on last year's tour to New Zealand and led his team to victory though they had already lost the series 2-0.
"Rizwan then also led in the Test series on the same tour and though the team lost both the Tests, his own batting performance [three half-centuries in four innings] was outstanding. After this magnificent show in New Zealand, he has not looked back," remarked Asif who led Pakistan at the 1975 and 1979 World Cups.
His exploits during Pakistan's England tour last year has also earned him the prestigious Wisden Cricketer of The Year award. The elevated stature of Rizwan was also recognised when he was named the 2020 Test Cricketer of the Year by the PCB.
With Rizwan's transformation, Pakistan's top-order in limited-overs contests suddenly looks quite sturdy. Babar, Fakhar Zaman and Rizwan make a strong combination which can certainly help the green-shirts' cause in this year's T20 World Cup scheduled to be held in India.
However, one feels the team management — on Rizwan's evolution as a world-class player — needs to devise a meticulous strategy to make the best use of this player of outstanding abilities in order to help Pakistan cricket grow and improve on the world stage. The first prerequisite for the management in this regard is to let the tough guy operate in his own way as long as he is delivering the results. Tinkering of any kind with the technique or temperament of this player who heavily relies on flair to outgun the opponent can be fatally counterproductive both for the player and of course the team.
Rizwan, who regularly keeps wickets, is proving equally prolific with the bat in all three formats and is very close to becoming a top gun of Pakistan cricket, and therefore the highly talented player should be kept in full bloom for top-notch contests. The management, batting coach Younis Khan in particular, in this connection is naturally expected to keep an eye on the workload of the player. For instance, playing him as a regular opener in T20s, while giving gloves to Sarfraz can be a fruitful recipe which worked in Harare last Sunday.
According to Asif Iqbal, Pakistan can gain more by giving Rizwan a left-handed opening partner in limited-overs games.
"Rizwan [in T20s] should open alongside a left-hander, say Fakhar or Sharjeel Khan, which would give Pakistan a right-left combination while a solid Babar coming at No.3," he said.
Aggression is Rizwan's forte, which the player has shown in all formats against top-shelf opponents. Now if properly utilised, this brave and intelligent professional can serve Pakistan well for a long time to come.
Published in Dawn, April 27th, 2021