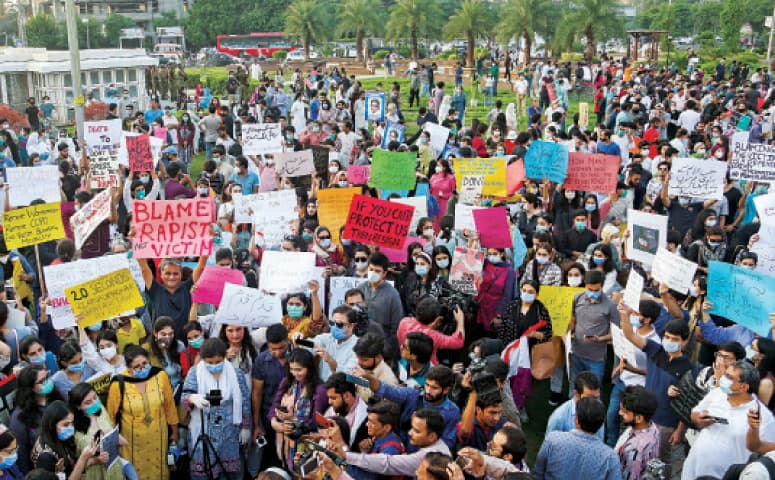 LAHORE: Hundreds of people from different walks of life gathered at the Liberty Roundabout on Saturday to hold a demonstration to demand safety and security for women in the wake of the motorway gang rape and to seek removal of the Lahore capital city police officer for his remarks on the incident.
The demonstration was attended by political parties workers, members of women's rights organisations, on the call of Aurat March, Progressive Students Collective, Women Democratic Front and the Haqooq-i-Khalq Movement.
Pakistan Bar Council Vice Chairman Abid Saqi, who was present at the protest, said the entire nation should get united at one platform against tyranny and cruelty and launch a collective campaign against them.
"The state must hold itself responsible. The citizens have a social contract with the state in the form of constitution. There should be consciousness in the people but it is the state's duty to protect the citizens in every way," he said and added that the incident had exposed the complete failure of the state.
"Rape of women and children is certainly not a new development in our country. But this incident has scared everyone. A woman sitting inside her car with her little children on a motorway that is supposed to be safe is attacked and they blame her for it? I blame the state and the government for failure to provide protection to the woman," said Alia Malik, a lawyer from the AGHS.
"It is a pathetic situation that a woman has been raped and the state blatantly says the CCPO would not be removed while in Pakpattan if a family is not given complete protocol, the DPO is suspended from service," said former chairperson of the Punjab Commission for the Status of Women (PCSW) FauziaViqar.
"Does a woman in the nation consisting of 50pc women has not even so much value that you cannot suspend an officer even as a symbol? The government should be seen standing by women."
Ms Viqar also commented on the two-finger test (TFT) that was in practice, terming it insulting to the rape survivors.
"It (gang rape) was a very scary incident and it had shown that no woman and no child was safe in this country," said lawyer Sabahat Rizvi.
"We need to make this male-dominated state realize that rape is the worst offence and we need narratives like Mera Jism Meri Marzi and Aurat March."
She said the incident had exposed the shameful presence of patriarchy within the state, which continued defending its top law enforcement officials who could say anything and get away with it.
The protesters – both men and women– shouted slogans against the government for its failure to protect women.
Published in Dawn, September 13th, 2020