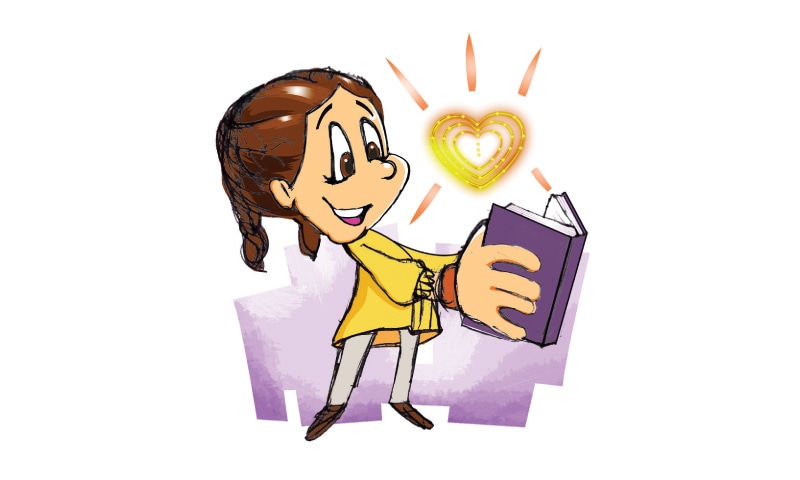 I love reading and can read anything I can lay my hands on — from fairy tales (yes, you read it right, I still love to read fairy tales) to the great classics, thrillers, murder mysteries, historical fiction, travelogues and everything in between. And there is no designated time for reading — be it morning or night, a good book is my best companion.
When I am happy I pick up a book from among the several lying on my shelves and snuggle in a comfortable chair or my bed; when I am depressed, I quietly go to my room pick up
a book and immerse myself in it for a while and emerge light-hearted again. There's no pleasure better than reading while snuggling in your blanket on a cold winter night. I am even guilty of taking books to the beach for reading in between playing around in the water and taking long walks on the sandy beach. And books make boring, traffic-jam filled car rides more endurable.
Books are such delightful companions. You don't need another company if you have books around you. If you love reading, you would know what I mean. Reading is a habit that is not only entertaining, but also has many health benefits. For instance, it helps reduce stress and relaxes you, keeps the mind sharp and can help you sleep better. Some people develop such a strong reading habit that they find it difficult to sleep without reading, even if it's a couple of pages, and at the same time opens up your mind and takes you to worlds you never knew.
It is said that reading is one of the best hobbies. While on the one hand, it is a fun and enriching activity, on the other, it makes one smarter and enables them to see things in a wider perspective. At the same time, reading builds empathy, critical thinking, imagination, and develops literary skills. Books are not only about the present, but they are also a connection to the past and tie us to thousands of years of history and people around the world we'll never meet.
You might have realised that if you are into reading, you never get short of reading material. There are so many books available to suit everyone's interests and newer ones keep coming up that one can never read enough, whether you prefer fiction, humour, mystery travel, or whatever. If you are interested in a series such as Harry Potter or Nancy Drew or Wimpy Kid or prefer to read Roald Dhal, you would see that one book after another in the series keeps coming up. Who knows J. K. Rowling might be thinking of a sequel of Harry Potter?
Are you among those who would prefer to receive books as gifts over anything else? Or when you enter a large bookshop, you lose track of time because you are immersed in browsing through shelves and shelves full of books and can't make up your mind which one to buy or which ones to leave?
If so, you are a true book lover. Most book lovers not only enjoy reading but also prefer giving books as gifts as it not only shows their love of books but also serves as a gesture that the giver intends to inculcate or encourage reading habit in others.
The interesting thing is that with the advent of technology, books, too, have gone digital. If you are unable to find a copy of a book you want to read in the library or local bookshops and have a computer and access to the internet, you can always look for it on the internet and read online or download it. Many are available for free download, though for some you have to pay. You can even download books on a smartphone and read wherever and whenever you want. And the best thing is that you can still share stories of what you have read with your friends as you may be doing after reading physical copies. Though, at the risk of being called a conservative, I would say there's nothing better than the feel of crisp paper in your hand.
If you can't afford to buy new books all the time and don't have easy access to internet, that's no reason why you cannot read much. There must be a library in your school if not a public library in your town, and you can borrow books from there and read to your heart's content. You can also exchange books with your friends so you all can read more books. It would not be a bad idea to form a small library where all your friends can collect their books, and borrow to read and return them for others to read. Along with school friends, you can include your neighbourhood friends as well for a wider collection.
If you don't have a library even at school, which is quite unlikely, there are many second-hand bookshops around the city where you can buy books on a reduced rate and satisfy the reader in you.
I can go on and on about reading and buying books, but let me leave you here so I can go and find a good book to enjoy the Book Lovers' Day tomorrow. But before that, here's a task for all the book lovers reading this: search the internet or visit a library and try to find out when the first book was published and in what form.
---
Book Lovers' Day
Book Lovers' Day is celebrated each year on August 9, to encourage bibliophiles to celebrate reading. If you don't know who a bibliophile is, let me tell you: a bibliophile is an individual who loves to read, admire and collect books. A bibliophile is usually an avid collector of books, and often prefers to collect not just regular books but old, rare or expensive books, first editions, books with special or unusual bindings, autographed copies, etc. The term bibliophilia or bibliophilism means the love of books.
Book collection is a good hobby but it is more useful if you read the books that you collect, and not just collect them because they look good on your shelf or to impress others.
Book Lovers Day is a perfect opportunity to put away your smartphones and switch off your digital devices and pick up a book and escape the hectic routine and pressures of life. So, take a break from all those computer games and appreciate the simplicity of reading.
A unique idea
On your next birthday, rather than have a party with movie or cartoon themes, arrange a themed party where your friends wear costumes of their favourite character from their favourite book — they can come dressed as Alice from Alice in Wonderland, or Dorothy from Wizard of Oz, Captain Hook or Peter Pan, Cinderella, Sleeping Beauty, and, of course, who can forget the young wizard Harry Potter and his friends, and the list can go on and on.
Ask your parents to buy books to be included in goodies bags or have books given to winners of the various games you play that day. I am sure your friends will love the presents and the books can be exchanged amongst your circle so all the friends get to read all the books and not only the ones they got.
Published in Dawn, Young World, August 8th, 2020