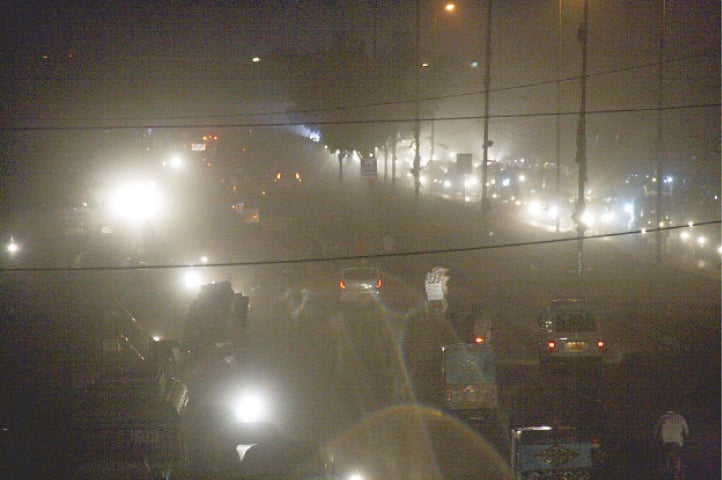 KARACHI: Parts of the city witnessed strong winds with dust, lightning and heavy rain on Wednesday while two deaths were reported late in the evening after hot and humid weather earlier in the day. The Met office said a pre-monsoon system coupled with a westerly trough created the thunderstorm in the metropolis and its suburbs.
The deaths were reported from Gulistan-i-Jauhar Block 13 and Gulshan-i-Maymar in wall collapse incidents, Edhi sources said.
The speedy dust-laden winds uprooted several trees and poles in the city while also damaging rooftops of several structures. Residents of many areas also reported power outages.
Lightning in Surjani Town left several farmhouses in flames with fear of death of several buffaloes in the barn. The traffic movement on roads was abruptly suspended due to visibility problem and strong winds. The Karachi traffic police through its social media platform and radio network appealed to the commuters to stay off the roads and stop driving.
"There was already expectation of pre-monsoon rains from June 3 to 8," said Sardar Sarfaraz of the Met office. "The weather took drastic changes with the addition of a few more developments. There's a westerly trough over northwest and Balochistan which receded and created the dust storm and strong winds. The dust storm always brings drizzle or light shower in parts of the affected areas. The same we witnessed here in Karachi where some isolated places received light showers as well."
The Met office observatory recorded the wind speed at 65 to 70 kilometres per hour which continued to lash Karachi for a considerable period.
Mr Sarfaraz said that it was a short-term phenomenon and one could witness drizzle or light rain in the later part of the night as a follow-up development.
Meanwhile, Sindh Chief Minister Syed Murad Ali Shah made telephonic contact with Karachi Commissioner Iftikhar Shallwani, who briefed him on the damage caused by the storm and efforts of the civic administration for rescue and relief of the affected people.
"The chief minister asked the commissioner to take every possible measure for immediate and successful operation in Surjani Town where a number of farmhouses were on fire," said a statement issued by the CM House. "The CM has also issued directives to mobilise all civic body machinery for rescue of the people and gear up relief operations in all the affected areas of the city."
Published in Dawn, June 4th, 2020