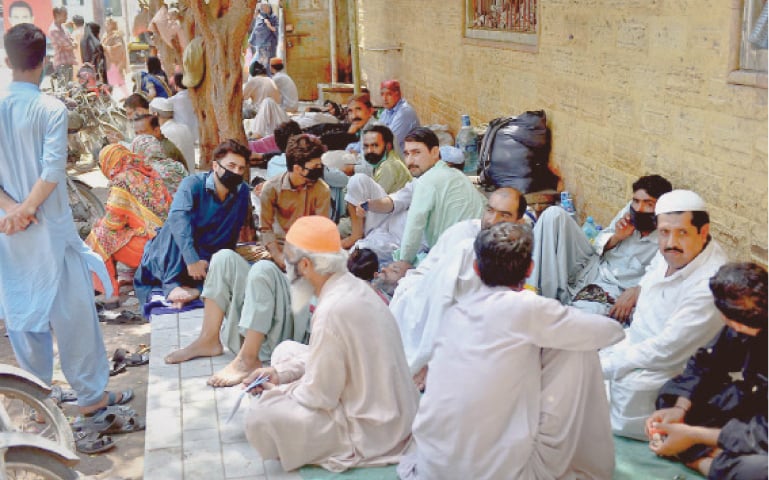 KARACHI: It's hard to imagine that an over 70-year-old man with a cardiac history and in severe pain could not find even one hospital among scores of healthcare units in the sprawling metropolis that would admit him for treatment. But, Mohammad Shahid Saeed went through just such a traumatic experience recently.
He recalled how he took his aged paternal uncle from one private hospital to another in North Nazimabad for emergency treatment earlier this month but in vain. The 74-year-old, who had undergone open-heart surgery some 11 years ago, died at home last week.
"It was midnight on April 6 when he started feeling unwell," he said. "We first took him to one of the largest hospitals in North Nazimabad. They [hospital management] even stopped him getting out of the car and asked us to take him to any government hospital where he would first undergo a coronavirus test and then be referred to any relevant hospital. We begged them to at least check his pulse, blood pressure or carry out an ECG. They didn't listen and we returned home."
With a lockdown in place and hurdles everywhere, he then visited two more hospitals and finally returned home empty-handed.
After two days, he said, the family succeeded in getting an appointment from a cardiologist, who suggested that the patient be immediately admitted to a specialised health facility. But the family was not lucky enough to get him admitted to any public or private hospital for the badly required treatment. All of the hospitals, Mr Saeed said, denied him admission and asked to wait for the situation to normalise.
Private hospitals denying admission, treatment to patients with non-communicable diseases
"Last week he suffered a heart attack and died. The family is in a state of shock and feels guilty for not offering him due care and treatment. But it's not their fault. It's the system which has failed us all," he said.
Focus on Covid-19 pushes health system to its limits
Mr Saeed and his family's experience reflects how the provincial health system, which was expected to add value in its regular capacity and perform more than normal amid the coronavirus challenge, is fast collapsing and has left hundreds of thousands of patients of non-communicable diseases without treatment.
Dozens of critically ill persons have died during the last one month as they all failed to receive highly required advice and medical procedures and intervention, officials and health experts agreed.
Amid growing number of patients of coronavirus, the city is on the verge of another crisis where hundreds of thousands of patients of diseases other than Covid-19 are left without regular treatment as both public and private hospitals have mostly closed their doors for patients, even denying them much-needed admission and suspending their badly required surgeries and procedures.
The Karachiites in every neighbourhood are experiencing a fast-shrinking health system. There are dozens of hospitals in every district where people are being denied medical care. Shaheen Aziz in Korangi had almost the same experience but her teenage daughter was lucky enough to survive despite being denied treatment and admission by three hospitals.
"She has some serious problem for the last one month. The doctor had in early March recommended an endoscopy procedure," she said about her 19-year-old daughter.
"When we planned and made arrangements for her treatment including the endoscopy in line with the doctor's advice, the situation started worsening. It took us three weeks to get the required procedure done. It causes us so much stress and money," she said.
However, the wife of Marghoob Hussain was not so fortunate. She was suggested cardiac surgery in the second week of March but couldn't get any date for the procedure.
"When there was no call from the hospital, finally I met a senior official of the National Institute of Cardiovascular Diseases (NICVD) through a friend's connection. But, I was told that there is no surgery going on in the hospital. On April 17, she suffered a fatal heart attack and died," he said.
Many health facilities, mainly in the private sector, have also suspended their dialysis services leaving the fate of thousands of critical patients in jeopardy. Apart from emergency services and admissions, many hospitals have also rescheduled their due medical procedures and surgeries.
SHCC unaware of situation
The Sindh Healthcare Commission (SHCC) seems satisfied and appears to see "business as usual" in the hospitals across the city.
SHCC chief Dr Minhaj A. Qidwai said: "We have advised private hospitals to keep their OPDs closed. The hospitals have kept their OPDs closed but the other areas of medical services are open as usual. There is no complaint. If any hospital denies treatment or admission to any patient, it is not supposed to do so. But we have not witnessed anything like this. If anyone has any complaint, he or she should contact us and we would take it up in line with the defined rules."
The situation on the ground, however, seems different altogether. It's not only the experience of patients of diseases other than Covid-19 and their families. Health experts and workers also testify to the gravity of the matter.
"Unfortunately, the people are not entertained by private hospitals," Dr Seemin Jamali, the executive director of the Jinnah Postgraduate Medical Centre (JPMC), a major public tertiary care facility in the city, said. "We have experienced that many hospitals are referring patients to the JPMC. We are a public sector hospital and we don't refuse them. I really fear where would all these patients go if we too close our doors to them. We have kept our OPDs open even during the pandemic."
Despite ignorance showed by SHCC and key stakeholders of the health sector, Sindh Chief Minister Syed Murad Ali Shah appears to be aware of the emerging situation.
In an informal chat with a group of journalists at the CM House, he agreed with the concerns shared by media persons that the "stigma" of Covid-19 was keeping doctors and health workers away from their professional duties.
He feared a rise in number of deaths due to non-communicable diseases among the critical and elderly patients if the situation further continued.
Dr Qaiser Sajjad of the Pakistan Medical Association "begged" doctors to show courage and come out of their homes and perform duties. "We have heard that the hospitals are denying treatment and asking people to go through Covid-19 test first before getting admission or treatment. This is not fair."
Published in Dawn, April 22nd, 2020