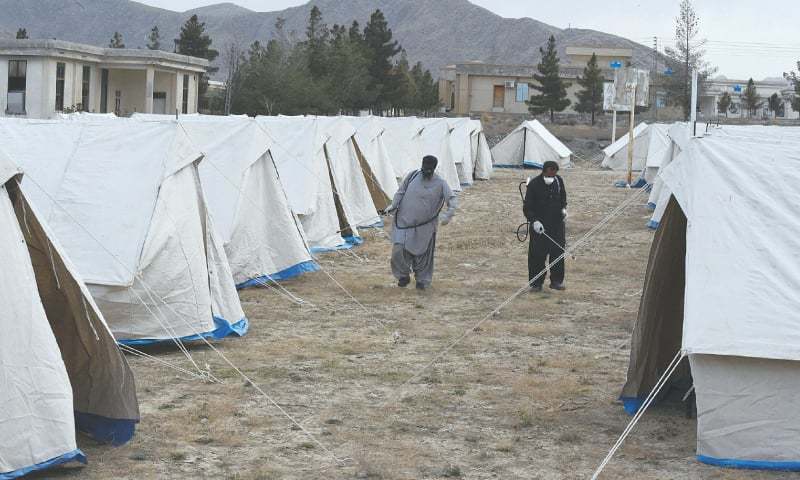 QUETTA: Pilgrims and other people, who had completed their 14-day stay in quarantine in Taftan after returning from Iran, were allowed to leave the border town and go home.
Over 1,800 people — pilgrims and individuals who travelled to Iran for trade — left Taftan in a caravan of 55 buses on Friday morning. Among these people 414 hail from different areas of Balochistan, including Quetta. The rest belongs to other parts of the country.
A large number of personnel from different security agencies, including Frontier Corps, Levies Force and Anti-Terrorist Force, were guarding the caravan. During the journey from Taftan to their respective destinations, the people in the caravan were not allowed to stay in any town and city that came in the way in Balochistan.
Official sources in Taftan said that before allowing these people to leave quarantine, they were screened for coronavirus.
Pilgrims and traders travelled to Iran
Spokesperson for the Balochistan government Liaquat Ali Shahwani while confirming the departure of over 1,800 people from Taftan said that they would be handed over to authorities concerned in their provinces. He said there were still over 2,500 people in quarantine in Taftan, adding that they would also be sent to their areas when they would complete their 14-day stay.
Meanwhile, the Balochistan government has launched an awareness campaign across the province about deadly coronavirus.
Chief Minister Jam Kamal Khan Alyani has asked religious leaders, including imams at mosques, to inform people about precautionary measures for coronavirus during Friday sermons and other prayer timings.
He said those people who had been allowed to leave Taftan on Friday would be handed to authorities in their provinces, adding that those who belonged to Balochistan would be handed over to district administrations in the province.
The chief minister said there was a shortage of medical professionals to deal with the health emergency in the country. Therefore, he added, the government might motivate medical volunteers to play role in the fight against coronavirus.
He said the government would make a mechanism for inviting volunteers for this purpose.
Amid the fear of coronavirus outbreak, entry of visitors has been restricted in the civil secretariat in Quetta as a precautionary measure. A notification issued to all government departments in Balochistan has urged people to avoid physical contact.
According to the notification, no visitors would be allowed to enter premises of prisons across Balochistan.
In all health facilities in the province, only one attendant would be allowed with a patient.
"People should refrain from large gatherings," the chief minister said, adding "they should keep their hands and houses clean".
The chief minister has directed all commissioners and deputy commissioners to disinfect all government offices in the province.
Published in Dawn, March 14th, 2020