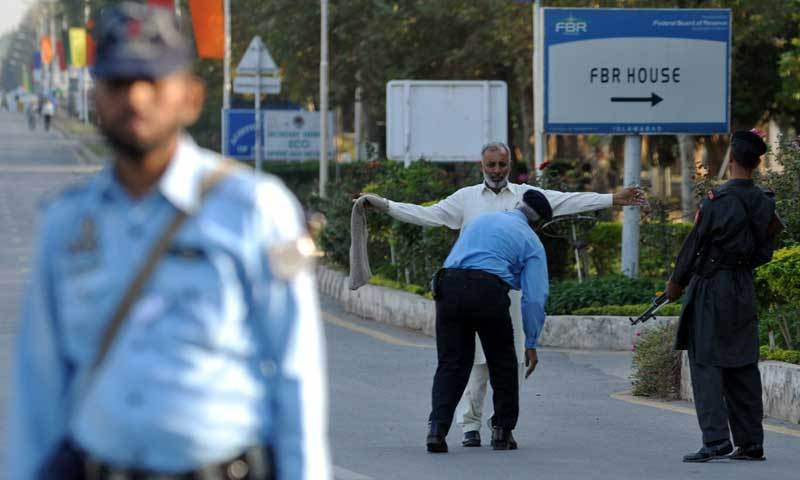 ISLAMABAD: There had been a decrease of 10pc in crime against persons and property between Aug 1, 2018, and Sept 30, 2019, in the federal capital compared to the corresponding period in 2017-18.
In reply to question asked by MNA Maulana Abdul Akbar Chitrali, Minister of Interior Ijaz Ahmad Shah told the National Assembly that murder, kidnapping, hurt dacotiy, robbery, theft, car theft, motorcycle theft and theft decreased from Aug 1, 2018, to Sept 30, 2019. The ratio of crime decreased due to better strategy adopted by the capital police, the written reply added.
The incidents of murder decreased by 14pc — from 121 to 104 during the same period.
Likewise, 117 kidnapping cases were reported from Aug 2018 to Sept 2018 compared to 125 the previous year.
Ratio of crime came down due to better strategy adopted by capital police, says interior minister
Furthermore, incident of dacoity and robbery came down by 13 and 12.5pc, respectively, as there were 31 dacoities and 423 robberies from Aug 2018 to Sept 2019 compared to 36 and 484 such cases in Aug 2017 to Sept 2018.
Moreover, car and motorcycle thefts decreased by five and six per cent, respectively. There were 199 incidents of car theft and 465 motorcycle theft from Aug 2018 to Sept 2019 compared to 210 and 497 cases in the previous year. Theft incidents also decreased by 10.5pc, it added.
The details showed that 29 cases of sexual abuse of children were registered from August 2018 to September 2019. Out of these, an accused was convicted, 24 were under trial and the remaining four were under investigation.
Inspector General of Police (IGP) Mohammad Aamir Zulfiqar Khan had on Thursday told a press conference that Islamabad had been declared as the safest city of Pakistan as per the World Crime Index due to hard work and professional attitude of each policeman.
Earlier, the United Nations (UN) had declared Islamabad as the family station for its staff, the police chief said, adding effective policing measures had resulted in a significant decline in crime in the city.
He rejected social media reports regarding an increase in crime rate in F-10 and F-11.
"Due to successful policing, four criminals' gangs, comprising 16 people, had recently been busted in these areas and the suspects were being investigated," he added.
He said the policy of free registration of crime was implemented and several police officials had to face disciplinary action over delay in registration of cases.
All units of the police, including Islamabad Traffic Police (ITP), Safe City, Criminal Investigation Agency (CIA) and Crime Investigation Department (CID), are working efficiently, he said.
Published in Dawn, December 8th, 2019