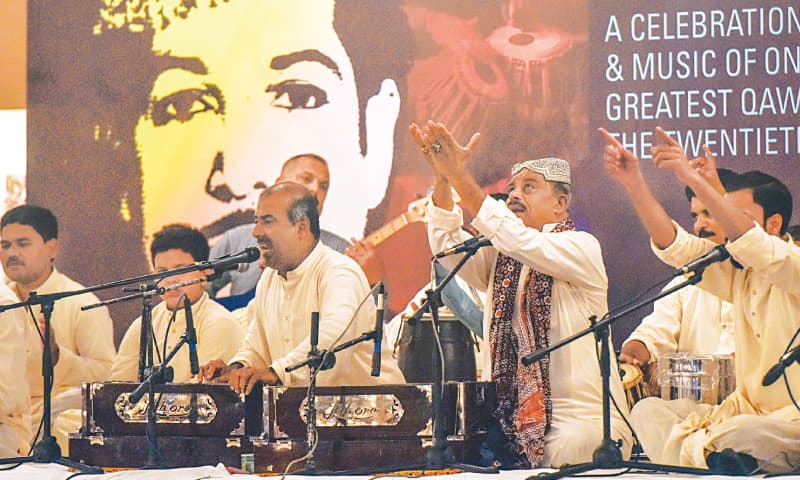 KARACHI: It is always sheer joy listening to the inimitable duo, Farid Ayaz and Abu Mohammad, belt out those unmatched lines penned by Hazrat Amir Khusrau with the kind of disarming fervour that's required for devotional poetry and music.
On Friday night, the brothers' performance at a hotel during the annual event held to pay homage to their late father, Ustad Munshi Raziuddin Ahmed, was equally, if not more, impressive. They kept the audience totally engaged the way a qawwali audience should be — some clapped to the beat, some sang the lines with the musicians, some swayed their bodies in ecstasy and some listened to them quietly with rapt attention.
Every year, the brothers arrange this show in memory of their father, and it's nice to see that most members of their family (men, women and children) accompany them to the venue.
One of the teenagers of the family started proceedings with a soul-stirring naat (without musical instruments). Then all of them got to the stage, and before they performed their first qawwali, Farid Ayaz asked children (six- and seven-year-olds) of the family to sing a tarana by Khusrau. Pakistani music is in safe hands.
Qawwal's sons pay homage to the late Munshi Raziuddin Ahmed every year
Farid Ayaz and Abu Mohammad immediately hit the right note with the famous Qaul, Mann Kunto Maula. The way they embellish the kalaam with Persian, Arabic and Urdu verses putting all their heart and soul into it is something that needs to be experienced. It is impossible not to get moved, spiritually and emotionally, seeing and hearing them immersed in the Qaul.
The second piece that the brothers presented was the beautiful Merey Banney Ki Baat. This got the crowd in a mood where they're transported to a realm that has nothing to do with the material world. Farid Ayaz, as he often does, kept describing the symbolic meaning of some of the profound lines used in the kalaam.
This was followed by the melodically rich Teri Soorat Ke Balhari. Perhaps one has mentioned this before: while praising the siblings as top-notch qawwals of the subcontinent, one tends to overlook the fact that they are tremendous musicians as well. Their understanding of the nuanced modulations in a composition is no less sharp than any practitioner of classical music.
And how could the show not have Chhap Tilak Sub Chheen? The heart-warming thing that the group does before singing the lilting melody is that they ask their young ones (again, six- and seven-year-olds, or older than that) to belt out the prefatory two lines:
Apni chhab banai ke jo main pi ke paas gai
Jab chhab dekhi piyoh ki so main apni bhool gai
[Having my face made-up and adorned, I went to meet my love
When I laid my eyes on him, I forgot who I was]
The kids sang it feelingly. One had nothing to say but, wah!
Published in Dawn, August 25th, 2019