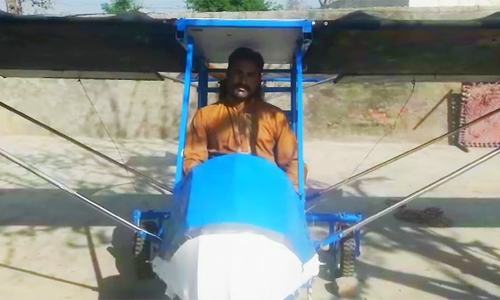 MULTAN: A day after being set at liberty by a Pakpattan court, the man who made a small airplane and flew it using a road as a runway demanded on Tuesday that the government help him get back his prized possession.
The Rang Shah police had lodged an FIR against Muhammad Fayaz, a resident of Chak No32/SP Tabar, on Sunday on the complaint of Sub-Inspector Shaukat Ali who stated that he was informed that at least 500 people had gathered at Chak No50/SP, Wali Pul Rajbah where a man who had invented a mini airplane used the link road as a runway to take off on its maiden flight and took several rounds in the air.
Read more: Can Pakistan be the next Silicon Valley?
Fayaz who was released after paying a fine of Rs3,000 on a court direction told Dawn that it was his childhood dream to become a pilot of a fighter plane.
"When I was in school, I read about the valour of Rashid Minhas and decided to join the air force. I also read the stories of M. M. Alam who became my inspiration," he said. He said he could not continue his studies but his ambition to become a pilot did not die down.
"Around four years ago, I decided to make my own plane and visited Lahore's Chauburji area several times to have a glimpse of a Boeing plane and examine how it looks like and what material and parts have been used. A programme namely 'Air Crash Investigation' at the National Geographic also helped me a lot in this direction and I became familiar with the parts of an airplane and their functioning and started working on my project some one and a half years ago," he said.
He said he did not disclose it to anyone other than his family and even his dear ones would poke fun at him by calling it daydreaming. He said the experience he earned from Saudi Arabia where he worked as an aluminum technician for more than one year came in handy and he prepared wooden wings of the plane and covered them with the cloth used in school bags' making.
"First I purchased an engine and fixed it to the plane and went for a test flight; however the plane could not rise up to six feet and came down due to heavy weight of the engine. I brought changes to the structure besides making efforts to find a lightweight engine in various markets of Lahore but in vain. In the meanwhile one of my friends told me that I could find a lightweight engine from Faisalabad and finally had a used engine at Rs33,000. The price of a new engine was Rs98,000," he said.
He said that for test flights he selected a deserted road where no electricity polls were installed and was away from the population.
"This is an ultra-light aircraft the weight of which is about 92 kilogram and the total amount spent on it is Rs92,000. I planned to fly it on March 23 but was not allowed by the district administration as well as the security agencies I had contacted for permission," he said.
He said he was asked to contact the Civil Aviation Authority to get permission to fly his plane.
"Owing to my limited resources, I was unable to contact the civil aviation officials and finally decided to take test flights without getting permission," he said.
He said his mother first expressed her apprehensions when he was going for a test flight but she allowed him after he convinced her of his achievement.
He demanded that the prime minister and army chief provide him an opportunity to serve the nation as "I can make the planes for the country at a low cost." He also requested the government to help him get back his plane.
Published in Dawn, April 3rd, 2019