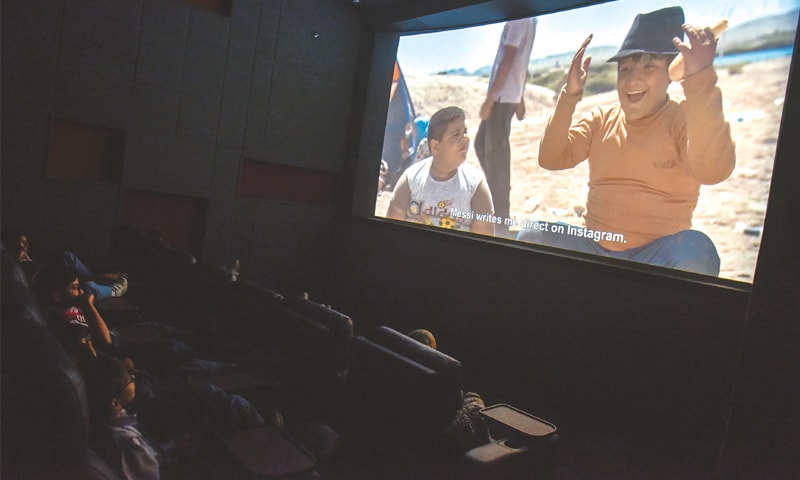 KARACHI: The ongoing International Children's Film Festival Karachi is currently the sight of much activity with students and teachers coming together at a cinema in a mall to view local and international films made for, by and about children and young adults.
Established in 2008, the festival started from Lahore and now has expanded to different cities in Pakistan, including rural and urban centres.
Crediting film as being a very powerful platform, with the capacity of images and stories lingering for longer periods, especially among young children, festival manager Irfan Fayyaz spoke about how the non-profit arts education organisation, The Little Art, is working to promote positive social values through arts among children and young people, especially the marginalised.
"Seventy-two films from 29 countries have been included in this year's festival. The Lahore edition was held in the first week of October; the Karachi festival will end on the 15th and then we will head to Jamshoro. There are three age groups; 4-7, 8-12 and 13-years plus. The films screened were carefully selected by a jury so that they were age appropriate," said Fayyaz.
Different age groups were targeted and the films screened were from different countries and on various subject matter; the thread that tied them all together was that they were made for children specifically.
Young children huddled together, with wide eyes full of excitement in anticipation of the films they were about to see. Those coming out from the cinemas looked a little dazed, though their excitement had not waned a bit. In fact, it seemed that they had bigger dreams to envision.
One child spoke about how he particularly loved the short film of a young boy going to buy a puppy. He explained that the boy liked the puppy without a leg because the boy too did not have a leg. And both were so happy in the end, he said.
There tend to be several challenges attached with coordination with so many teachers and children; not always is there a seamless transition. Even counting heads became a challenge, as on the first count there seemed to be one child missing. The teacher in charge, clearly panicked, quickly took a deep breath and recounted. Thankfully the second time she counted all the children.
Tabinda Jabeen of The Resource Centre, that is responsible for getting schools on board for the festival, shared tales of similar challenges when organising such an event. Having worked on the festival since the first year of its inception, she said that every year the festival has become larger than imagined. "The festival is evolving every year. We had first started doing it at Rangoonwala [Hall] but now due to the turnout we do it at [the] mall. It's an exciting outlet for schools and children and the turnout has been great."
However, there is a need to encourage discussion or activities among the children who come to watch the films and participate in the festival. According to Jabeen this would be a positive addition to the festival and help understand what children think about the movie and what they are taking back.
Published in Dawn, October 11th, 2018