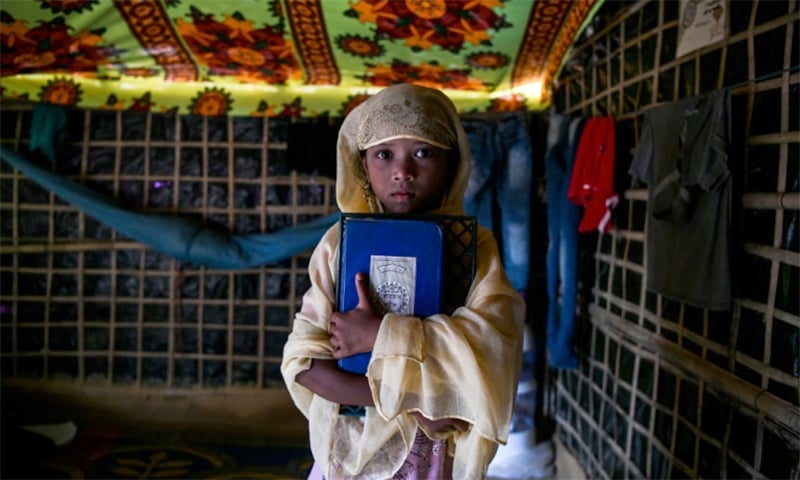 Inside a stifling bamboo shanty, eight-year-old Saleema Khanam throws a bright yellow shawl over her head and steps out into the enormous Bangladesh refugee camp tightly clutching her treasured Quran.
She is the only girl in her local madressah catering to Rohingya children driven from Buddhist-majority Myanmar by a wave of genocidal violence.
Since formal schooling ─ which suggests a permanent presence ─ is not allowed in the camps, for many children the madressahs are the only places to learn.
It is just a short distance from Saleema's family's shack to the school, one of thousands to spring up in the world's largest refugee camp since a massive influx of Rohingya Muslims last year.
She steps carefully through the crowded alleyways in Kutupalong with her blue-bound Quran held tight to her chest, removes her shoes and enters the dimly-lit classroom.
Inside, more than a dozen young boys with white prayer caps rock back and forth, reciting passages from the holy book.
She takes her position in the front, flanked by two brothers, and opens the book.
"I come here to learn the Quran. My mother wants me and my brothers to learn, to become a better person," the young student told AFP.
The Rohingya are a deeply conservative Muslim minority from western Myanmar, where decades of state-sanctioned oppression and violent persecution has forced them out in droves.
An army purge that began in August 2017 has forced more than 700,000 Rohingya over the border into Bangladesh ─ most of them children.
New generation
Islamic schools and houses of worship were torched in the crackdown by Myanmar troops and Buddhist gangs that United Nations fact-finders said amounted to crimes against humanity and genocide against the Rohingya.
"By targeting our madrassas and mosques, they tried erase our culture and religion from Rakhine," said Rohingya activist Rafique bin Habib, referring to Myanmar's westernmost state where the minority dwelled.
"But many of our top madressah teachers survived and fled to Bangladesh, where they have set up schools in the camps so that our new generation can be deeply rooted in our culture and religion."
Bangladesh, which hosts one million of the displaced Muslims in camps near the border, is determined the Rohingya will be returned to Myanmar.
Some of the madrassas are attached to prominent mosques and large enough for 400 students. Others, like Saleema's, cannot fit many more than a dozen children.
Classes are taught not just in the Rohingya language but also in Bengali, Arabic, Urdu and English.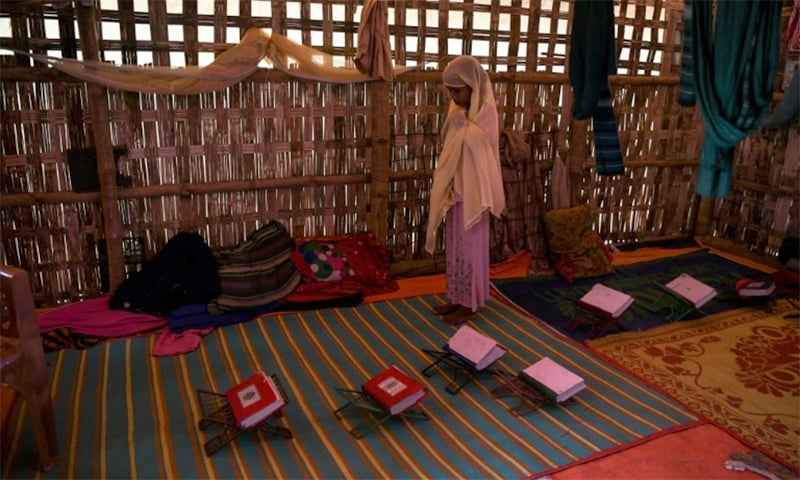 "These madrassas play an essential role in the survival of the Rohingya language," said bin Habib.
As the call to prayer sounds across the camps, the boys in Saleema's class file out to the local mosque to perform their ablutions before the Friday sermon.
Saleema, the lone girl, stays behind.
She finds a quiet spot at the back of the classroom, faces Makkah and, holding her palms to the sky, places her forehead to the ground in solemn prayer, alone.