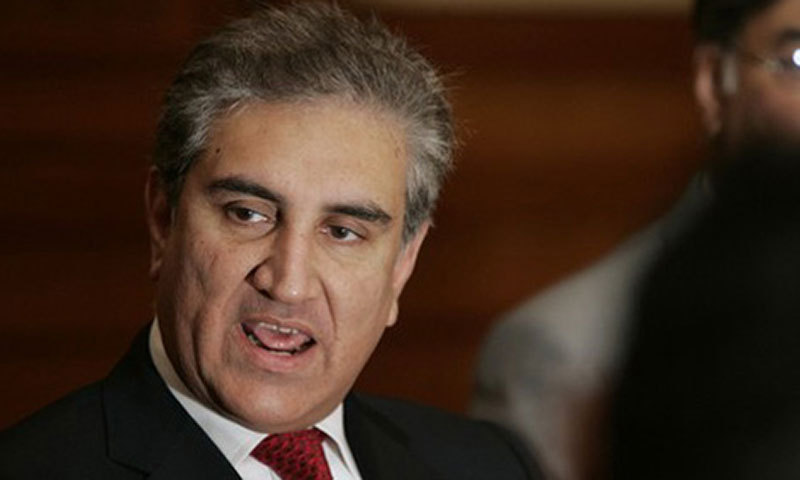 WASHINGTON: The United States and Pakistan re-engage in Washington on Tuesday (today) to explore options for reviving their relations that have been on a downward spiral since 2011.
Three major issues — the situation in Afghanistan, Pakistan's strong economic and political ties with China and tensions between South Asia's two nuclear neighbours — are expected to dominate much of the talks.
Although media reports have also included a possible prisoner-exchange — Dr Shakil Afridi for Aafia Siddiqui — among the tops likely to be discussed, it does not seem to be a top item on the agenda of the either side.
Foreign Minister Shah Mehmood Qureshi, who arrived in Washington late on Sunday, spent Monday at the embassy, preparing for crucial talks that begin on Tuesday.
Media reports suggest agenda of Qureshi's meeting with American officials include Aafia Siddqui's exchange with Shakil Afridi
The White House will be his first stop on Tuesday where he is scheduled to meet National Security Adviser John Bolton for talks on untangling Pakistan's ruffled relations with the United States.
From the White House, he proceeds to the State Department for his second meeting with Secretary of State Michael Pompeo.
The two top diplomats first met in Islamabad early this month as the United States approached the new Pakistani government to hear their views on the key issues that have strained decades-old ties between the two countries.
The United States wants Pakistan to help create a situation conducive to the peaceful withdrawal of American troops from Afghanistan without causing the collapse of the US-backed government in Kabul. It has concerns about China's growing influence in the region, as well.
Pakistanis are willing to play a positive role in Afghanistan, particularly in persuading the Taliban to join the Afghan reconciliation process. But they want the US to address their concerns too, particularly about India's growing influence in Afghanistan.
They also need US help for convincing India to resume peace talks with Pakistan. Islamabad hopes that Washington will also understand the importance of the Chinese economic corridor for Pakistan.
Mr Pompeo, when asked at a recent briefing about the US decision to re-engage Pakistan, said Islamabad elected a new leader this July, and "(We) wanted to get out there at the beginning of his time in an effort to reset the relationship between the two countries."
It was in Islamabad that Mr Pompeo invited the Pakistani foreign minister to visit Washington for further talks.
Zalmay Khalilzad, the new US envoy for Afghanistan, told a US radio this weekend that the Trump administration was ready to learn from the new Pakistani government how they want to address the main issue, Afghanistan.
"Pakistan says now that it wants to turn a new page that it wants to help the US with this objective (Afghan reconciliation) that I outlined. And we'll have to see," he said. Asked how would, two countries overcome the lack of trust that prevents them from rebuilding ties, Mr Khalilzad said: "It's not about trust. I mean, we're talking about international politics... trust is good, but, you know, you have to verify, and that would apply to a lot of states".
Diplomatic observers in Washington see a genuine desire on both sides to rebuild ties but warn them to move "step by step, tackling the major issues first, if they want progress," as one of them said.
And the foremost question before the Pakistani and US negotiators, according to these observers, would be to determine how to reset ties.
"Will it be a repeat of the same, old rhetoric or something new is also on the plate," asked an observer. "If the Americans continue to ask Pakistan to do more and Pakistan insists that it has already done what the Americans want it to do, where will these talks go?"
He was referring to the US position that Pakistan needs to take more concrete steps against those Afghan Taliban — particularly the Haqqani Network — who use its territory for conducting attacks into Afghanistan.
Pakistan says that it has already eradicated all terrorist hideouts from the tribal areas and attacks in Afghanistan do not originate in the Pakistani territory.
The United States also wants Pakistan to persuade the Taliban to join the Afghan reconciliation process. Pakistanis say that they are willing to do so, but there should be a general reconciliation too that improves relations between the United States and Pakistan as well.
"No arm twisting. Normalise relations, expand cooperation and then work together in resolving the Afghan dispute," said a Pakistani expert on US-Pakistan relations who did not want to be identified.
Published in Dawn, October 2nd, 2018