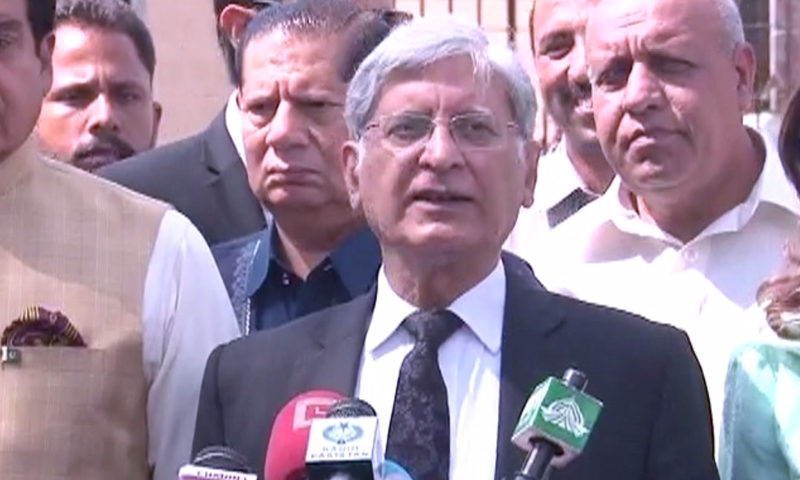 PPP stalwart and candidate for the presidential election Aitzaz Ahsan on Wednesday expressed hope that he would win the Sept 4 contest with the help of "votes of conscience".
Talking to media outside the Election Commission of Pakistan (ECP) after acceptance of his nomination papers for the upcoming presidential elections, Aitzaz said, "The Constitution only binds a lawmaker to vote as per party policy when it comes to voting on the budget, a constitutional amendment, or the election of the prime minister and chief ministers."
"The presidential election is a vote of conscience," he asserted, saying lawmakers are bound to vote for him based on what their conscience tells them.
He expressed hope that members of the Pakistan Tehreek-i-Insaf (PTI) as well as Jamiat Ulema-i-Islam-Fazal (JUI-F) would therefore cast their votes in his favour.
The PPP leader also said he hoped that JUI-F chief Fazlur Rehman would withdraw in his favour.
"Fazlur Rehman is my friend and, as he says that any hasty decision should not be taken as final, I hope that he will withdraw in my favour," he said.
He avoided to comment on a statement made by Fazlur Rehman regarding Independence Day celebrations and said that lawmakers will decide who the fittest candidate for the presidency is.
The nomination papers of Fazlur Rehman and Dr Arif Alvi of PTI have also been accepted after scrutiny, whereas the papers submitted by candidates Imran Ahmed, Mir Afzal, Hilal Rehman, Amjad Afridi and Mohammad Ishfaq have been rejected.
Talking to the media, Dr Alvi said that he would win the election with a significant margin. PML-N leader Ahsan Iqbal regretted that the opposition should have fielded a joint candidate.