THE WEEK THAT WAS
Koi Chand Rakh | ARY Digital, Thursdays 8.00pm
This serial is based on a romantic novel by Nayab Jillani and written for TV by Maha Malik. After her parents' demise Rabail (Ayeza Khan), a young doctor, was brought up by her maternal uncle Asad Niazi (Hashim Butt) and his wife Nafeesa (Sabiha Sumar). The couple's real children Nishal (Areeba Habib) and Umair (Muneeb Butt) are younger than Rabail. Umair has an obsessive crush on Rabail who has looked after him as an elder sister hence the romantic feelings are not mutual. When he expresses his desire to marry her, an enraged Rabail slaps him and throws him out of her room while Umair's mum is devastated by Umair's carrying-on.
At a university picnic Nishal meets Zain (Imran Abbas), an easy-going, girl-chasing young man who instantly falls for her. Later, he meets her again at a varsity blood donation camp and then follows her home to discover that she's his father Abrar Ahmed's (Tanveer Jamal) friend's daughter. Meanwhile, Zain's father visits his friend, meets Rabail and decides that she is the most suitable match for his son. When he discusses with Zain about Niazi's daughter's proposal, Zain assumes it's Nishal and readily agrees. Despite Umair's stand about his love for Rabail, both families head for the engagement. However, Zain's sister feels the couple should meet before the engagement takes place and Zain agrees.
Ghamand | A-Plus, Fridays 8.00pm
Married off with a huge trousseau to a lower-class relative Maqsood (Noman Ijaz), proud and beautiful Shaheena (Sunita Marshall), the only daughter of the wealthy and powerful Seth Sajawal (Munawer Saeed), develops a life-threatening medical condition soon after the wedding. The doctors declare Shahina would never be able to bear children so Maqsood's greedy mum (Afshan Qureshi) sends Shaheena back home, hoping to remarry her son.
Considering Maqsood's mother's greed and his daughter's inclination to settle down with Maqsood, Seth Sajawal buys off Maqsood by offering him a fortune in property on the condition of keeping his daughter happy. This time Shahina decides to give her mum-in-law a taste of her own medicine.
What To Watch Out For
Taawan | Hum TV, Thursdays 8.00pm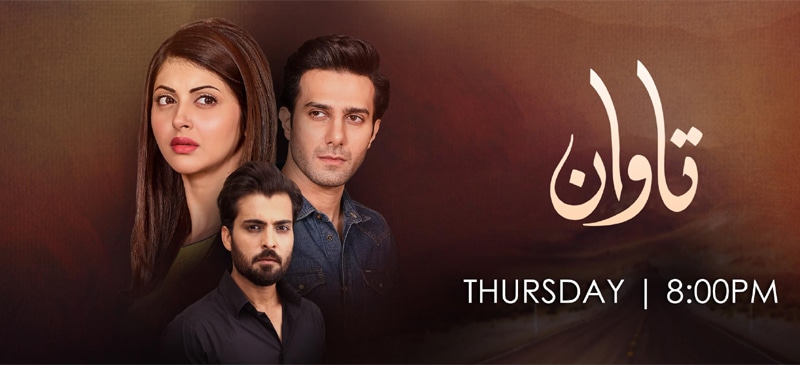 Middle-class couple Mano (Hina Altaf) and Shehroz (Emmad Irfani) are cousins, blissfully in love and about to get married. On the other hand, the relationship between the upper-class couple Maryam (Momal Khalid) and Zamaan (Asad Siddiqui) is problematic as Zamaan comes on strong whereas Maryam wants time to decide whether marriage is for her or not.
After their mayyun ceremony, late at night when the family is asleep, Mano drags Shehroz for a motorbike outing where Zamaan, who is driving Maryam home, runs them over. Mano is killed while Shehroz survives. The hit-and-run accident gives Maryam an excuse to make up her mind about how selfish and careless Zamaan really is. Both their families pull strings to spare Zamaan from being arrested when Shehroz's family begins police investigations of the accident. Maryam suspects some hanky panky is going on but Zamaan continues to lie just to gain her love and trust. Meanwhile, Shehroz resolves to avenge Mano's death.
Published in Dawn, ICON, August 5th, 2018