LAHORE: The Pakistan Muslim League-Nawaz will have no issue in working with the army leadership if it comes into power after July 25 vote, says PML-N media cell chairman Mushahid Hussain Sayed.
"The party will have normal relations with the establishment after winning the polls," Sayed who heads the newly-established cell, told Dawn here on Wednesday.
"If you remember, party president Shahbaz Sharif had undertaken his last visit to (North) Waziristan and had a very good interaction with the army officials there in a congenial atmosphere," said the N League Senator, who had accompanied the then Punjab chief minister to North Waziristan.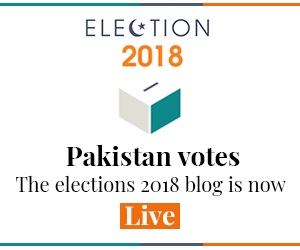 He didn't agree to the proposition that 'non-elected forces' could change the election scene altogether, recalling that in the 1988 poll the IJI (Islami Jamhoori Ittehad) cobbled together by these forces had failed to stop late Benazir Bhutto from getting majority in the parliament and forming the government.
"Much depends on the mood of voters on the voting day and, by the grace of God, the voters are and will be with us. Just look at the public meetings being addressed by the Sharifs. They're being warmly welcomed wherever they go."
Regarding possibility of imprisonment of deposed prime minister Nawaz Sharif in National Accountability Bureau (NAB) references, he said it was only based on assumptions.
Replying to a query, he said as the party remained intact despite all the pressure even after completion of its government's tenure on May 31, no force could now block its victory in the general election. All local and international surveys were also showing PML-N in the lead, he added.
Mr Hussain said three candidates were in the run for the office of prime minister in the July polls – Shahbaz Sharif, Imran Khan and Asif Zardari – and none could deny that of them the PML-N chief was the strongest contestant due to his performance record.
He said the PML-N would formally start its election campaign from July 1 and that it would be "neat and clean, devoid of any personal attacks."
He didn't agree to the suggestion that any political party or institution wanted postponement of the July 25 vote.
About the protest against ignoring merit in the award of tickets for seats reserved for women, he said a review board led by ex-Punjab minister Ms Zakiya Shahnawaz with Khwaja Saad Rafiq, Kiran Dar and Nuzhat Sadiq as its members has been formed and hopefully the issue would be settled soon.
Published in Dawn, June 14th, 2018