April 11, 2018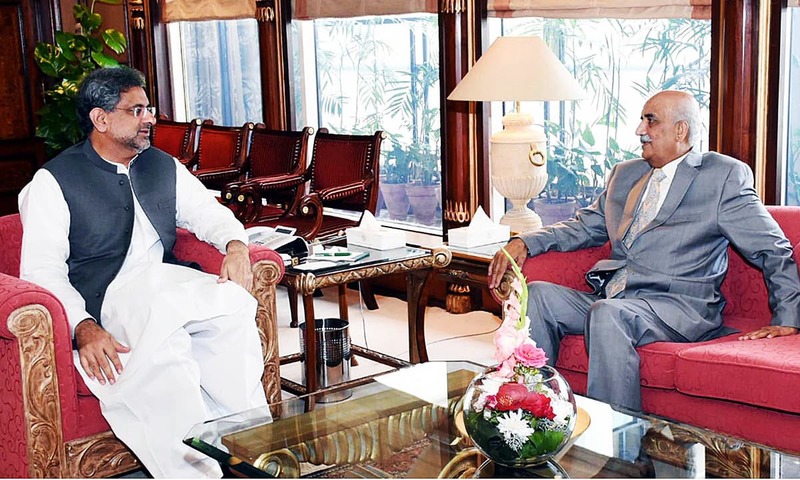 The outgoing PML-N government has no right to present a budget for the entire upcoming fiscal year, Opposition Leader Syed Khursheed Shah told Prime Minister Shahid Khaqan Abbasi in a meeting on Wednesday.
Shah instead asked the prime minister to budget for the next four months only — to cater to the needs of the interim set-up — and give the next government the opportunity to present a budget of its own.
The opposition leader later told the media that he and the prime minister have not yet consulted with their allies on the appointment of a caretaker prime minister.
"The prime minister said that he will propose a name for the caretaker prime minister after taking his allies on board. I also told him that the opposition too will propose a name after consultation," he said.
"We are hoping that a name for the caretaker prime minister will be finalised before May 16."
Shah also admitted that he had suggested the dissolution of the government a day before the end of its tenure.
"If a government completes its tenure, the general elections are to be held within the next 60 days. However, if a government is dissolved even one day before the completion of its tenure, then the elections are supposed to be held within 90 days," he elaborated.
The prime minister, however, had rejected the suggestion and vowed to hold a session of the assembly even on the last day of the government's tenure, Shah said.
Later in the day, Shah called on Pakistan Tehreek-i-Insaf's Shah Mahmood Qureshi, who agreed that there was no logic in the PML-N presenting a budget for an entire fiscal year when its government is set to conclude before June.
On Tuesday, former Senate chairman Raza Rabbani had also expressed reservations over the government's intention to present the federal budget for the next financial year.
By doing so, he had argued, the government would provide an opportunity to the caretaker set-up to prolong its tenure with a year's fiscal budget already in its hands.
He had also wondered which hidden hand was compelling the government to go for this exercise when its term was to expire on May 31.
He had also pointed out that the Constitution provides that the interim government can have a budget for a period of up to four months approved. He said he was at a loss to understand why the PML-N was allowing this sword to permanently hang over the nation's head.