March 01, 2018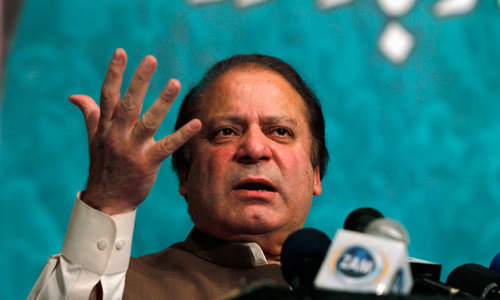 SARGODHA: We will not respect those who ridiculed the mandate of the general public and depriving the PML-N nominees for Senate election of their symbol of lion is pre-poll rigging.
This was stated on Wednesday afternoon by ousted prime minister Nawaz Sharif while talking to party workers in Chak 19-SB Kot Momin, 45km from here. Nawaz was visiting the family of deceased MPA Tahir Mehmood Sindhu to pay his condolences. Strict security arrangements were made on the occasion.
Referring to the Supreme Court bench that announced the Panama case verdict in July 2017, he reiterated his stance that five people had ousted him as the prime minister without any proof of corruption and that he was removed as the head of his party without any justification. He said he would not compromise on principles and the people who refused to accept the verdict of the "five biased people" would not sit idle over such injustice with their elected prime minister.
The former premier said he had launched a movement to regain due respect for the mandate of 220 million people of Pakistan, and called upon the masses to support him in his 'cause', which according to him was imperative to make Pakistan a social welfare state. He added that not only the people of Pakistan, but foreigners, including China, also acknowledged the development under his leadership. He alleged that due to a "biased judgement" the entire process of development had been sabotaged and now a conspiracy was being hatched to keep him out of politics.
Nawaz said that although the PML-N had been deprived of its election symbol, people will vote for the party-backed candidate, and claimed that his party will sweep the Senate polls. He assured the workers that development projects will not be allowed to be hampered by those who did not want to see Pakistan develop and become a self-sufficient country.
He appreciated the role of Prime Minister Shahid Khaqan Abbasi who he said was working in the general interest of Pakistan. He also lauded his younger brother and Chief Minister Shahbaz Sharif for the "tremendous development work" in the province, adding that their opponents were afraid of his commendable job.
Nawaz criticised the election commission, saying his party's nominee had been allotted the symbol of a pick-up van, but they should keep in mind that he will not forget such excesses and fight all "evils" right after coming into power again.
Published in Dawn, March 1st, 2018