BOOMING mobile internet users, a growing economy, better security situation and a lot of young people: these are fair grounds for optimism among start-up entrepreneurs and the IT industry at large.
The number of cellular phone subscribers stands at 143.3 million, around 70pc of the country's population, according to the Pakistan Telecommunication Authority. The number of 3G and 4G users in Pakistan has also jumped nearly 30pc to 47.2m over the last year, and it's only going to grow in 2018.
These numbers mean exciting new apps and transforming brick-and-mortar businesses. Consumers are relying more and more on technology and want everything from paying bills, booking a car to buying groceries through their smartphones.
Sooner or later there will be little room for businesses clinging on to the old ways.
E-commerce going up
One area that is particularly flourishing is e-commerce, whose market size is expected to touch $1 billion by 2020.
Chinese Alibaba Group Holding Ltd signed an agreement with the Trade Development Authority in May to promote Pakistan's worldwide exports by small and medium enterprises through e-commerce.
Around 1.2m transactions valuing Rs9.4bn ($84.9m) were processed through e-commerce in the previous fiscal year, according to the State Bank of Pakistan.
By the end of June 2017, 571 merchants were offering their products online. Major online shopping websites include Daraz, Kaymu and Yayvo.
Adam Dawood, who heads TCS's e-commerce site Yayvo, said the online portal has already crossed the revenue figures it generated during the preceding fiscal year.
According to his calculations, Pakistan's e-commerce market size is already larger than $650m.
One reason why the size of the country's e-commerce remains under-reported is that most people prefer to pay in cash.
This is where fintech and mobile-wallet start-ups come in which are trying to make Pakistan a cash-light economy in the year to come.
The emergence of fintech, or financial technology, has resulted in a variety of apps, websites and services aimed at helping people pay for goods and get loans. Some are even eyeing replacing banks.
Banks too proud to innovate
Shakir Husain, CEO of Creative Chaos, a technology, digital and outsourcing services company, agreed that fintech will gain a foothold this year. "Banks across the globe are buying fintech start-ups because they realise they cannot innovate themselves despite all the resources at their disposal," he said in an emailed response. "The inertia and hubris is far too great at these organisations."
"Globally, banks and traditional financial institutions are not providing what their customers want or need. This has been going on for decades," he said. But fintech start-ups "have not only listened to their customers but they've delivered real value and innovation".
He believed that digital transformation, fintech, machine learning, health tech, and sales automation will see traction in Pakistan this year.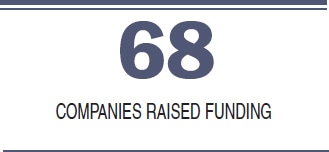 However, he stressed that success or failure of most ideas depends on execution. "Pakistan is a great market with very decent connectivity numbers. It's about providing customers with superior user experiences," he said.
Gaining consumer confidence
"I believe start-ups are entering the stage of maturity," said Sibtain Jiwani, co-founder and CEO of SmartChoice.pk, a site that offers comparison of different services
At the same time, however, just boasting about the huge population and the market size is not enough, and much needs to be done to protect consumer rights to gain their confidence, he said.
"I believe the government must build policies to monitor and empower the end customer if we want to grow."
Another equally major issue is of growth capital, which is creating a huge gap between demand (start-up) and supply (investor), Mr Jiwani said.
"This eventually results in a start-up either giving equity cheap or injecting private own capital which distracts them to focus on profitability instead of scale and innovation," he said.
This year will also be big for ride-hailing services like Uber, Careem and Bykea as competition toughens up.
Careem is already seeking to take its presence to 40 cities from 10 at present over the next three years, according to Bloomberg.
Published in Dawn, The Business and Finance Weekly, January 1st, 2018