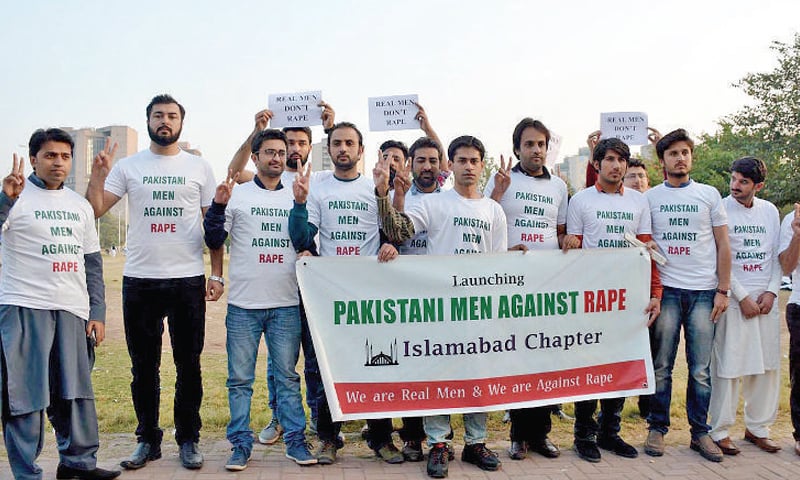 ISLAMABAD: Men gathered outside the National Press Club on Saturday as part of the 'Pakistani Men Against Rape' campaign to show solidarity with rape victims.
The campaign's chief coordinator Haseeb Khawaja told Dawn that according a Human Rights Commission of Pakistan (HRCP) report, a woman is raped every two hours in Pakistan based on reported cases.
"However, the fact is that only 10pc of rapes are reported, because in most cases women do not report to the police, or their families do not allow them to register cases. So actually, in Pakistan a woman is raped [nearly] every 20 minutes," he said.
"After the incident of rape, a woman suffers throughout her life. The media shows the victim rather than the rapist; she becomes news, and no one bothers to criticise the rapist. We need to understand the difference between an affair and rape, and we should hate the rapist rather than the victim," he added.
Discussing the recently released movie Verna, Mr Khawaja said the movie follows a woman who is raped, and the way the system begins to blame her.
"It has become impossible for women to take a stand in case of rape against influential personalities, such as politicians, officials or armed forces and bureaucrats. Men are responsible for disassociating themselves from rapists and showing solidarity with victims."
Speaker to participants of the event, Mr Khawaja said that not all men are rapists, so those who are against the crime should raise their voice against it.
He said Pakistani women have been running a national anti-rape campaign for several years known as the Pakistan Nari Tehreek, but men need a campaign to bridge the existing gap for a Pakistan free of rape, with women and particularly for women.
He said that rape is an ugly societal issue in the country that cannot be eliminated without the engagement of women, and the men's solidarity campaign has been launched to strengthen the women's campaign against rape.
Activist Khalid Hussain said that every citizen should fight against rape and spread the message that society will not tolerate rapists.
A participant of the event, Gul Gohar, said that it is only women and women's alliances who speak properly on this matter, but this time men wanted to show their solidarity with women in such cases of violence and change the perception to show that all men are not against women.
Published in Dawn, November 19th, 2017