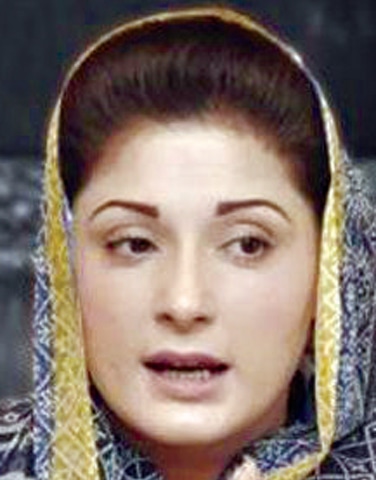 LAHORE: Ousted prime minister Nawaz Sharif's daughter Maryam Nawaz, once again, took a dig at the judiciary and the military establishment following the release of the detailed judgement of the Supreme Court in the Panama Papers case on Tuesday.
Putting to rest the assumption that she would observe restraint while commenting on key institutions, Maryam took to Twitter saying: "This decision (to disqualify her father and open corruption cases against the Sharif family) could only be under immense pressure otherwise such travesty of justice is unimaginable."
She claimed that her name had appeared in the detailed judgment (connecting her to London's Avenfield flats) because she had been vocal in condemning the "injustice" meted out to her family.
On the other hand, Pakistan Tehreek-i-Insaf chairperson Imran Khan was of the view that the detailed judgement had established that Mr Sharif had looted and laundered money to purchase flats in London under the name of his daughter.
Reacting to the detailed judgement, Maryam posted screen grabs of news clips saying: "Qanoon aur insaf bhi sharminda hain (law and justice have been compromised)! That's exactly how minority brings a bad name to the majority! Victim is not Nawaz Sharif but justice itself." She added that there were those on the wrong side of history seeking short term benefits, they would be the "ultimate losers".
Scoffing at the inclusion of her name in the detailed judgement that made her out to be the owner of the Avenfield flats, Maryam said: "It's the same Maryam who didn't even figure in the verdict earlier...Now avenged because she questioned and spoke against injustice. (This is) vendetta."
In another tweet, she said: "The latest decision (detailed judgement) is based more on 'adjectives' than law. First time witnessed seat of justice spewing venom...."
She adopted an aggressive posture towards the judiciary and said: "The decision against Nawaz Sharif was announced the day the judges showed their bias by declaring him the Sicilian mafia and Godfather. The decision was announced the day a judge asked the person (Imran Khan) who lost election to Nawaz Sharif to file a non-maintainable petition in Panama Papers case. The decision was announced the day the judges became lawyers for the petitioner." She regretted that the reputation of the institutions had been put on stake just to seek revenge from Mr Sharif.
Recently, her uncle Shahbaz Sharif and Pakistan Muslim League-Nawaz hawk Saad Rafique had advised her to exercise caution while speaking about the judiciary and the army, and warned her that a clash with national institutions would not bode well for the country or the PML-N. If Tuesday's tweets were any indication, Maryam does not appear to be in the mood to back off.
In response to Maryam's tweets the PTI chief tweeted: "Since Maryam did not have resources to purchase flats in 1993 it is evident Nawaz Sharif bought these flats with money stolen and laundered from Pakistan. The Supreme Court judgement states you can not fool all the people all the time. Maryam's beneficial ownership of Mayfair flats clearly established now and after the detailed judgement, Nawaz now has a definitive answer to his constant cry of 'mujhe kyun nikala' (why was I ousted)."
Published in Dawn, November 8th, 2017