Admiral Zafar Mahmood Abbasi assumed command as Chief of the Naval Staff on Saturday.
Outgoing naval chief Admiral Muhammad Zakaullah formally handed over the command by presenting the traditional scroll to Admiral Abbasi at an eleborate ceremony held at PNS Zafar, Islamabad.
A guard of honour was presented to the outgoing and incoming naval chiefs at the ceremony, a press release issued by the navy said.
In his farewell address, Admiral Zakaullah said he was proud that he was given the honour of defending Pakistan and leading charge of the navy.
He said the naval force of today is fully capable to defend the motherland and thwart nefarious designs against the country.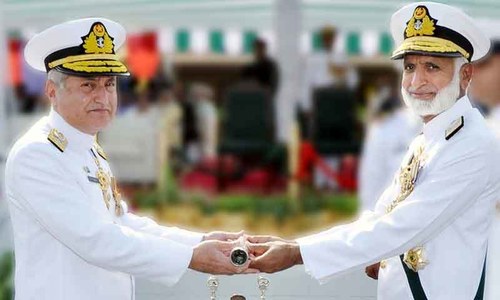 "We cannot remain indifferent to the increasing stockpile of weapons of the traditional rival," he said, in a reference to India.
In order to strengthen the navy, Zakaullah said new missile crafts are being inducted while contracts have been signed to acquire frigates from China and two planes from Holland. He further said the navy is buying eight submarines from China, ATR planes from Germany and Sea King helicopters from Britain.
The outgoing naval chief congratulated Admiral Abbasi on being appointed the new chief of the naval staff.
"Admiral Zafar Mahmood Abbasi is an able officer and I am proud to hand over the command to him," he said.
Who is Admiral Abbasi?
President Mamnoon Hussain promoted then-vice admiral Abbasi to the rank of admiral on Tuesday and appointed him the Pakistan Navy chief.
The appointment was made on the advice of Prime Minister Shahid Khaqan Abbasi.
Admiral Abbasi was commissioned in the navy's operations branch in June 1981. He got training at Britain's Royal Naval College, Dartmouth.
He won the coveted Sword of Honour from the Pakistan Naval Academy after getting his commission.
He has headed a number of organisations, including the Pakistan Naval Academy and the Maritime Security Agency. During his posting in Bahrain, Admiral Abbasi held command of a multi-national combined task force.
His key staff appointments include Assistant Chief of Naval Staff (Plans), Chief Inspector (Navy) and Deputy Chief of the Naval Staff (Operations). At present he is serving as the Chief of Staff at Naval Headquarters.
The flag officer is a graduate of Islamabad's National Defence University and the Royal Australian Navy Staff College.