The provisional census results released thus far appear to be marred by major anomalies and statistical errors.
Post-census activities at the dilapidated offices of the Pakistan Bureau of Statistics (PBS) in Karachi have gone cold since the completion of the census 'enumeration-phase' in May this year.
Even the guard manning the barrier near the building in Sindhi Muslim Society does not seem to care anymore, as the centre financed by the UNFPA for post-census data-processing of Sindh and Balochistan has been shifted to Islamabad.
Meanwhile, the 'Statistics House' in the capital is a different story.
Even the basement meant for parking has been converted into a makeshift area for data-entry operations, pushing the motorbikes and vehicles belonging to employees of Grade-18 and below onto the road.
But this is a huge basement where, besides the data-entry activities, the census forms returned from 32 million-plus households in the country have been dumped.
Recently, an electrical fire in one of the upper-floor offices sent shivers through the employees as none of the sprinklers or other pieces of fire-fighting equipment worked.
Luckily it was doused before it could get out of control.
"But the basement is devoid of any fire-fighting apparatus, and a fire there would have torched the whole place in minutes", quipped one of the employees present that day.
Unfortunately, a spark of another kind of conflagration may have been lit when PBS announced the provisional results of the Sixth Housing and Population Census on Aug 28.
The total population of the country has been counted at 207,774,520 living in 32,205,111 households.
According to PBS, the total population has increased by 63 per cent over the last 19 years, an annual growth rate of 2.4pc, while the nationwide average household size is still hovering around 6.45 persons.
These trends portend disaster for the nation, and need to be addressed on a war footing if we are to avoid being overwhelmed by illiteracy, poverty and disease.
By wasting nine precious years to conduct the sixth decennial census that was due in 2008, the nation may have missed the early warnings of impending disaster.
Intercensal growth rate is important to determine how great a burden would continue to be imposed by the people's need for infrastructure including schools, hospitals, housing, roads, and demand for food, water, electricity and jobs.
However, while rapid population growth of a country can be seen as a threat by its neighbours, under-enumeration within provinces or districts can stoke feelings of exploitation and disaffection.
While the earlier attempt at enumeration in March 2011 was aborted, ostensibly after 'statistical anomalies' were detected during House Listing Operation (HLO), the initial phase of a housing census, the present exercise seems no less flawed, especially where a city like Karachi is concerned.
The provisional census results released thus far appear to be marred by major anomalies and statistical errors, and the final results are certain to further polarise the country.
"Some of the inconsistencies in provincial and district results are impossible to explain," comments a former provincial chief of population census organisation.
"These results will further exacerbate the North-South divide in the country. The issue demands a serious and urgent response from the authorities."
While both government and opposition parties in Sindh have come out guns blazing, the provisional census results have actually promoted feelings of mistrust between them.
"The rest of the Sindh has gained in numbers at the expense of Karachi and Hyderabad. Why is the PPP crying crocodile tears? While it makes noises back home, the Sindh chief minister signs everything [pertaining to the census-gathering, data-processing procedures and even the provisional results] in Islamabad," fumes a political activist in Karachi.
Meanwhile some experts in other provinces too have started raising muted voices of dissent, although for other reasons.
Emotions notwithstanding, it is a worthwhile exercise to take a cold, hard look at the announced provisional results.
According to the figures, 75,584,989 people live in 12,192,314 households in the country's urban areas.
This translates into an average household size of 6.19 persons.
Let us start by examining the released figures for Karachi and Lahore as parallel datasets are readily available for them.
These will also serve to demonstrate the anomalies and errors in the current exercise.
KARACHI AND LAHORE: ANOMALIES GALORE
After the 1998 census, Karachi's population was announced as 9.8 million, of which 9.4m of them lived within 603 square kilometres of 'urban area' out of a total area of 3,557 sq km.
In comparison, 6.3m people were then living in an area of 1,772 sq km of Lahore, among them 5.2m within 312 sq km of 'urban area'.
Just before local government elections in 2015, the Punjab local government department declared all 1,772 sq km of Lahore as 'urban'.
According to some experts, such a move tends to amplify land values for commercial and banking purposes, as urban land can be easily mortgaged etc, although at a punishing cost to agriculture.
For the purposes of the census, however, declaring all of Lahore as 'urban' would mean clubbing the rural and urban populations together, but that alone could not have doubled Lahore's population from 6.3m to 11.1m over the last 19 years.
To solve this riddle, let us first look at the PBS materials designed during the past 10 years for the purpose of training enumerators and surveyors for the sixth decennial census.
According to PBS delimitations notified by the chief statistician Asif Bajwa, the number of households for a census block should range between 200 to 250 households.
Many statisticians and demographers worldwide were therefore using 225 households per census block for calculating the rough population of our cities.
If we look at the number of census blocks for Karachi and Lahore that are on the PBS website under Census 2017 'Field Staff' tables, we find 14,494 census blocks for Karachi and 6,585 for Lahore.
Using an average of 225 households per census block and multiplying them by the average urban household size of 6.2 gives us an estimated population of 20,219,130 for Karachi and 9,186,075 for Lahore.
However, if we work backwards from the totals provided by the provisional results, census-2017 has counted 2,770,074 households in Karachi and 1,757,691 for Lahore, which comes to an average of 191 households per census block in Karachi with a household size of 5.78, but a whopping 267 households per census block in Lahore with an average household size of 6.33.
These figures put the households per census block in Karachi at 21pc below national average and in Lahore at 18pc above.
To ensure rectification of precisely such anomalies, PBS had raised a fresh PC-1 in July 2014 demanding an additional Rs296m.
Subsequent releases against the subject PC-1 are listed in Federal PSDP 2016-17 at serial no. 734.
Voters lists updated till June 30, 2017 by the Election Commission of Pakistan also add to the confusion surrounding the provisional census numbers for Lahore, specifically with regard to the percentage of its residents above 18 years, a demographic value that the 1998 census calculated at 54.25pc.
Although PBS has not yet released that figure, Nadra has verified 4,867,613 registered voters (18 years and above) for Lahore.
This translates to merely 43.74pc of Lahore's population of 11,126,285 as counted by Census 2017.
An epitome of urbanisation in the country, Lahore's quality of life should have improved during the last 19 years, resulting in higher life expectancy.
The census should thus have uncovered a gradually ageing population and a smaller household size, which instead has grown to 6.33 — higher than the national average of 6.19.
Explore: Karachi needs revenues of the size of a country, not of a municipality
ILLEGAL ALIENS IN KARACHI
Let us turn to Karachi in more detail.
One of the reasons that its total population as revealed by the census seems so preposterously low is because unlike Lahore, it has long hosted a large number of illegal aliens and internally displaced people.
They have flocked to settlements such as Bengali para, Arakanabad, Afghan Khaima Basti, Mohala Rahimyar Khan, Janaat Gul Town, Kati Pahari, Mohammad Khan Colony, Mianwali Colony or Landi Kotal colony.
Such localities do not exist in Lahore, nor do half its residents live in katchi abadis — considered 'no-go' areas by the police and law-enforcement agencies — as they do in Karachi.
A 2002 study by the Special Branch of police assessed that there were over two million illegal aliens in the jurisdiction of the city's 105 police stations.
Most of these aliens have come from Bengal, Burma (Rohingyas), Sri Lanka, Iran and Afghanistan. (This took place before the US-led Nato forces entered Afghanistan, which led to an exodus of Afghans into Pakistan, especially Karachi.)
According to a 2006 survey carried out by the Pak Muslim Alliance, an organisation that works for the rights of Bengali migrants in Karachi, the number of Bengalis scattered across the city was around two million.
Meanwhile, a former head of the National Alien Registration Authority says there are up to half a million Rohingyas in the city, their largest concentration outside Myanmar. Rohingyas and Bengalis are mostly involved in menial jobs including the fishing industry.
Their women clean shrimp and fish in makeshift facilities; sometimes they are even forced into prostitution. Most of these communities of illegal migrants survive in the shadows, without any officially acceptable form of identification.
The 2005 UNHCR-sponsored census for Afghan refugees documented 130,746 Afghan refugees in the Jadeed Camp and the Afghan Khaima Basti of Gadap.
But the number of Afghans living in Pakhtun-dominated katchi abadis and lower-income neighbourhoods is far higher.
Most of these illegal aliens live in subhuman conditions, often exploited by their employers and the city's powerful mafias, and fleeced by police and other law-enforcement agencies.
Meaningful results can only be achieved with the trust and collaboration of their community leaders.
According to an official conducting census in Karachi, many people unable to produce CNICs were not only dropped from the count but some were even detained by law enforcement agencies.
In some parts of the city, army enumerators, while filling their 'Form-786' were asking questions that were not even printed on their forms.
These included questions about ethnicity, sectarian identity (Shia, Sunni) and arms licences.
According to him, a protest was even lodged with the authorities suggesting that such questions were scaring away people and resulting in poor public participation in the census. These details were also confirmed by a senior PBS official.
(Incidentally, in a letter addressed to the chief statistician PBS dated Dec 14, 2016, UNFPA urged that "the involvement of the military be well defined and documented, emphasising that operations at the household level will require detailed protocol/SOPs for the two-member enumerator-soldier field teams, with clear roles and responsibilities and training needs/manual.")
Not only illegal migrants, but displaced people from other parts of the country have also swelled Karachi's population.
In 2009, after the chief minister Punjab refused to accept people displaced by military operations against militants in Fata, Swat and other parts of Khyber Pakhtunkhwa, large numbers of IDPs started to gravitate towards Karachi.
The IDP situation became worse after the floods of 2010 and 2011 that ravaged villages across the Indus plains, triggering an exodus from KP, southern Punjab, and all over Sindh towards Karachi.
People from all corners of the country can still be found in Karachi but in Nadra records, their present and permanent residence remains unchanged, meaning they are technically still being counted as residents back home.
On August 28, Chief Census Commissioner Habib Ullah Khattak claimed on a private channel that PBS had only 6.5m CNICs verified by Nadra from the data collected.
The question is: why would PBS even need to have CNICs verified when the possession of CNICs was not a precondition for being counted?
Also, chief statistician PBS Asif Bajwa stated before a Senate Standing Committee that PBS, in collating the provisional results, shifted data for people found living for less than six months back to their places of permanent residence.
How could PBS know the period of an individual's stay at a given place when the question pertaining to internal migration was not part of the questionnaires used for enumeration?
The information about internal migration will be collected through Form 2A as part of the 7.5pc sample survey — if that actually takes place.
If one considers the above factors and the enumerators' training or capacity, it is not difficult to conclude that Karachi's population has been grossly undercounted while it is difficult to explain Lahore's population being as high as 11.1m.
CENSUS AMID INSURGENCY

There is no shortage of stupefying results from other provinces.
In Balochistan especially, population figures seem to have been adjusted for political reasons.
In the run-up to the census, the Baloch were especially agitated about the inclusion of Afghan refugees holding computerised national identity cards in Balochistan's population, fearing that a million Afghans could fall in that category.
If counted as Pakhtuns, they would reduce the Baloch to a minority in their own province.
To the suggestion that their fears were misplaced, they pointed to the example of the Afghan Taliban chief Mullah Mansour, who was killed in a drone strike last year while returning from Iran on a Pakistani passport and a CNIC issued from Quetta.
A divisional bench of the Balochistan High Court also passed an order directing the federal and provincial governments not to include Afghan refugees in the population census.
However, PBS officials privately said they could not reject anyone, even an Afghan, who presents a CNIC.
Shortly before the census, the government appointed a seasoned bureaucrat Dilpasand Khan Buledi as provincial census commissioner.
Interestingly, the Balochistan chief minister and most Baloch politicians have been tight-lipped about the veracity of the census — they are probably waiting for the final verdict.
However, some in the Statistics Division and among Baloch civil society suggest that the Baloch population numbers have been adjusted to maintain the Baloch majority.
As an example one can cite insurgency-struck Kech (Turbat) district where free movement of men and machines has become vastly restricted due to the perilous security situation, yet the enumerators were apparently able to count a population increase of no less than 250pc — up from 413,204 in 1998 to 909,116 today.
For that matter, it is astonishing that a deprived province which has seen a constant exodus of its people since 2005 moving into Karachi and other bordering areas of Sindh and southern Punjab, and even migrating to Iran, Oman and Australia, has seen its total population almost double to over 12m from the 6.5m recorded in the 1998 population census.
Speaking of anomalies, let's take an example from KP as well. According to a Statistics Division insider, the provisional results tabulated on the basis of the heads counted through REN-Forms (census block summaries) initially projected a population of 2.6m for Kohistan district.
However the district had registered a population of merely 472,570 in 1998.
While KP's average household size of over seven persons remains the largest in the country, someone at PBS appeared to have realised that a 550pc increase wouldn't fly with anyone; therefore the numbers were adjusted to 784,711 — similar to those for nearby Shangla.
The problem seems to have arisen due to the generation of 1,651 census blocks for Kohistan.
The enumerators, while sitting at home, generated a population of 2.6m (1651 x 225 x 7 = 2,600,325). However, going by the PBS figures of 784,711 for Kohistan's population including 101,911 households, the number of households per census block drops to a mere 60, whereas Shangla with 89,695 households and 391 census blocks, the average works out at 229 households per census block.
One wonders how PBS will resolve the anomalies between RENs, Form-2s awaiting data processing and Form-786 filled by military enumerators.
WHY DID THE CENSUS EXERCISE GO WRONG?

Barely a month after HLO-2011, the Federal Bureau of Statistics, Population Census Organisation, Agriculture Census Organisation and the Technical Wing of the Statistics Division were merged through the General Statistics (Reorganisation) Act, 2011.
A special provision in the Act increased the retirement age for the chief statistician (executive head) and other functional members of the semi-autonomous PBS from 60 to 65 years.
This enabled the then recently retired federal secretary statistics division Asif Bajwa to take over as the organisation's head. In fact most of the senior functionaries at PBS today are retirees of the Statistics Division and none of them are demographers.
Although Mr Bajwa finally retired from PBS in July this year, he was reappointed by the prime minister as consultant for the census. While the Act makes no provision for officiating charge, yet member, resource management, Mahmood Akhtar, holds the officiating charge of Chief Statistician.
Unfortunately, he too is due to retire in December upon reaching 65 years of age.
Most of this administrative indiscipline arises from the fact that even after six years PBS has failed to frame the rules under the 2011 Act; as a result it believes that it remains free to do as it pleases.
Just before the census, the provincial census commissioner KP, Mumtaz Khan protested in writing with PBS headquarters in Islamabad that though he was responsible for taking the census in the province as per the Act, everything was being micro-managed by the chief census commissioner Habib ullah Khattak from Islamabad.
One factor causing widespread suspicion and heartburn remains that until recently, all the members of the PBS governing council and functional members with executive authority were filled by gentlemen hailing from Punjab.
PBS did not even heed the recommendations made by the UNFPA — that not only supported the census by contributing $12m but also provided much needed technical support — to conduct pre-census pilots and post-census sample verifications.
According to eminent demographer, Dr Mehtab Karim, post-census verifications should be conducted immediately after the census to avoid anomalies in samples due to internal migration.
Probably to make the impending census transparent, the finance minister during a pre-census meeting of the governing council constituted a special committee of eminent demographers and non-governmental members of the council.
At least three members of that committee claimed while speaking to Dawn that none of their recommendations were addressed.
Moreover, the qualifications of some officials closely involved with the census are far from satisfactory.
According to a petition filed in the Islamabad High Court earlier this year by the outgoing member support services, Tariq Malik, the freshly inducted Member Support Services, Sarwar Gondal holds a masters degree in Computer Science from the University of Agriculture Faisalabad and was a former head of AJ&K IT Board, a small government organisation with one grade19 director, two deputy directors and one grade 17 officer.
Mr Gondal happens to be a close relative of a federal secretary who used to be chief secretary AJ&K.
Meanwhile Mr Malik, an alumni of King's College and Birkbeck College, University of London, who has a Masters in Information Technology from the University of East London, failed to get his contract renewed as member, support services (IT head) PBS, earlier this year — at a crucial time when the census was starting.
TECHNICAL QUALITY AND EXPENDITURE

During suo moto proceedings on the census, Chief Justice Anwar Zaheer Jamali, heading a three-Judge bench, rejected the PBS report presented before it on Nov 18, 2016 that a summary sent to the Council of Common Interests proposed the census be held in March/April 2017 on the traditional method subject to availability of the armed forces.
The CJ observed: "If it is the army's job to do everything, then what is the need for these institutions", referring to government institutions. "The government should just say that conducting a census is not its job."
The PBS's report demonstrated two things: firstly, that PBS was opting for a traditional paper census instead of the far more efficient and less expensive 'tablet-based exercise' and secondly that it was ready to conduct the census.
As illustrated below, PBS was far from prepared for this massive exercise. The Windows-based original software for data-processing was sourced and forms printed in 2009 through DSR UK Ltd.
But then the Windows versions changed, many fields were reduced and couple of new fields were added to the forms.
All through 2016, DRS kept offering upgrades that UNFPA agreed to finance. But PBS kept dragging its feet.
When the Supreme Court finally ordered the government to conduct the census, and PBS went back to DRS, the company refused to supply the upgraded software or printed forms at the eleventh hour during Christmas holidays. Mr Bajwa then chose Shirazi Traders to supply the replacement software.
Yet a cursory look at the DRS User Manual shows that their software has hundreds of features which are not available in the software being currently sourced through Shirazi Traders. Moreover, the replacement software only performs ICR (Ink Character Recognition) scanning and gives text data for each form.
It does not prevent any errors or cater for invalid or missing values. It does not offer an inventory nor does it stop multiple scanning of the same form.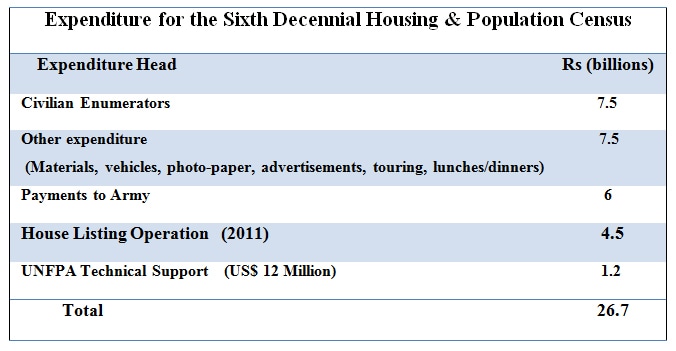 The Statistics Division has already spent over Rs26 billion (about $260m) on the ongoing census even while using ruthlessly truncated 1998 forms for housing and population censuses (Form-1 and Form 2).
The 7.5pc sample survey using Form-2A is yet to be conducted. The scanning of returned forms and data processing has just begun.
It is instructive to compare our census with India's 15th Decennial Housing & Population Census conducted in 2011 (its seventh since independence).
That census cost India some 22 billion in Indian rupees, ($340m).
However, Indian enumerators used two forms with 29 and 35 questions in each about population and housing conditions in India in national as well as umpteen numbers of regional languages.
Meanwhile, the senior citizens responsible for the massively flawed census in Pakistan would be long gone before the exercise is ever completed.
There is precedent for such an outcome.
The aborted 'anomalous' census in 2011 cost the public exchequer Rs 4.5 billion.
No one has yet been held responsible or punished.
---
Published in Dawn, September 19th, 2017.
Header photo by Fahim Siddiqui/White Star.