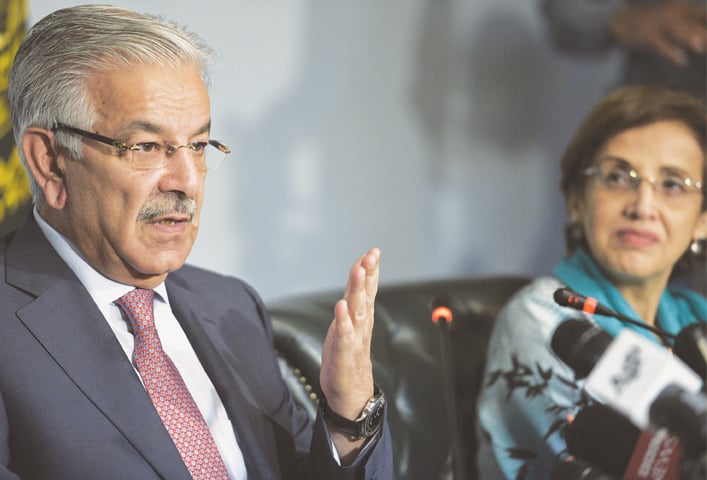 ISLAMABAD: With the government reconsidering a foreign policy priorities, Foreign Minister Khawaja Asif said on Thursday the country's interests would take precedence over other considerations in all external dealings and no one would be allowed to scapegoat Pakistan in future.
Mr Asif was addressing his maiden press conference as foreign minister at the conclusion of the envoys' conference at the Foreign Office. The diplomats' meeting had been convened to assess the challenges faced by the country in the foreign policy domain and suggest changes for dealing with those challenges.
Prime Minister Shahid Khaqan Abbasi chaired the concluding session of the three-day conference that was attended by the country's envoys in key capitals of the world and multilateral institutions.
The recommendations from the envoys' conference would go to the National Security Committee, which is finalising foreign policy changes, and Parliament to develop a consensus on the revamped policy.
Khawaja Asif says Pakistan needs to get rid of burden of dictators' legacy
"A new paradigm" would emerge "keeping in view our relations and conditions and after making necessary adjustments," the foreign minister said while sharing outcome of the deliberations at the diplomats' conference.
He likened the geo-political changes to seismic shifts and stressed that the course correction and adjustments in foreign policy needed to be accordingly swift.
The core problem identified by Mr Asif was that of Pakistan's image in international community and credibility of the country's narrative. He also believed that the challenges facing the country were rooted in the legacy of two dictators — Zia and Musharraf. "A baggage", he said, "the country needs to get rid of".
"We have to correct how the world perceives us. There is a wide gulf between how we look at our sacrifices in the fight against terrorism and the way the world sees it," he said.
One clear direction that emerged from the FM's presser was that Pakistan would come first — a phrase commonly used by former president Musharraf when he was in office. Mr Asif said that on three occasions though in different contexts. "Pakistan's interests come first and safeguarding them is our first obligation," he told a questioner. At another point he said that relations with the US in future would be driven by Pakistan's interests. Separately, he underscored that the government's priority and obligation was to first save the country and its people from terrorism.
On Afghanistan, the FM said, Pakistan would maintain an engagement with it despite all problems because there was no other option, but to keep talking.
The Afghans, he regretted, were taking a very narrow view of the issues because they were finding themselves in a tight spot.
Mr Asif, who soon after the press conference left for China at the start of his regional outreach for consultations on the new US policy on Afghanistan and South Asia, said that the regional problems like the Afghan conflict should be resolved here instead of external elements imposing their solutions. "We have the capability and the intention to resolve the regional problems because they affect us directly," he said adding that regional solutions would be more effective.
After his China visit, Mr Asif would travel to Iran. He is also planning meetings with Russian and Turkish leaders.
Talking about the future of relations with US, the foreign minister said that Pakistan was in favour of continued engagement. Replying a question, he noted that economic dependence on US could be reduced, but not ended.
However, he said, the relationship should be based on "mutual respect" and (from Pakistan's perspective) driven by its own interests.
"We are not going to compromise on our national dignity at any cost," said the foreign minister who would, after the regional tour, visit Washington for bilateral talks with his counterpart Rex Tillerson. Mr Asif said that everyone should be clear that they wouldn't be allowed to make Pakistan a scapegoat.
In his assessment of the situation, Americans have been dismissive of Pakistani sacrifices because they don't have full understanding of the situation here.
Asked why Pakistan has been slow to act against the elements about which other countries have voiced concern, he said that it was a longstanding problem and expecting it to be resolved in a short time was delusional.
"A change in culture is needed," he said and emphasised that Pakistan had taken steps in that direction, though smaller ones.
Published in Dawn, September 8th, 2017