July 17, 2017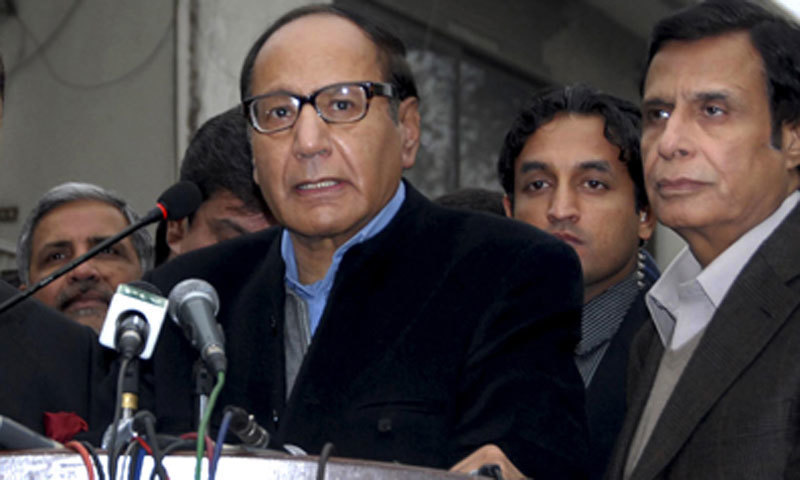 ISLAMABAD: Spurred on by rumours of divisions within the ruling Pakistan Muslim League-Nawaz (PML-N), Chaudhry Shujaat Hussain on Sunday invited all factions of the Muslim League to unite under his leadership so that they could force Prime Minister Nawaz Sharif to resign.
"The opposition is unanimous in its demand for the resignation of Nawaz Sharif. I will visit every province to bring Muslim Leaguers together," the PML-Q chief told a press conference after a meeting with party leaders.
In solidarity with the Supreme Court, the PML-Q leader also announced his intentions to attend today's proceedings.
"The people of Pakistan and its constitutional institutions are the guarantors of democracy, not Nawaz Sharif. We stand with the institutions," he added.
Earlier, PML-Q leaders authorised Chaudhry Shujaat to take any decision on behalf of the party in the prevailing political situation in an effort to bring all factions of the Muslim League together.
PML-Q MNA Chaudhry Per­vaiz Elahi said that their stance had remained unchanged since the beginning of the Panama Papers case; that the prime minister and his family should be held accountable for their wrongdoings.
Govt will take its time before the court, predicts Khursheed Shah
He said that after the Supreme Court verdict, the PML-N first distributed sweets, but later began to malign national institutions.
"In Punjab, they have been in power for the last ten years, but have not done even a single thing for the betterment of the common man and poor people."
He said that there were some good people in the PML-N who would be invited to return to his party. "We have asked them to return home and serve the country together," he added.
The meeting was attended by Tariq Bashir Cheema, Senator Kamil Ali Agha, Chaudhry Wajahat Hussain, Moonis Elahi, Zain Elahi, Mohammad Basharat Raja, Chaudhry Zaheeruddin, Riaz Asghar Chaudhry, Aamir Sultan Cheema, Vickas Hassan Mokal, Ahmad Shah Khagga, Khadeeja Umar and others
Delaying tactics
Meanwhile, Leader of the Opposition in the National Assembly Syed Khursheed Shah predicted that the government would try to take its time before the court in a bid to delay the inevitable, but a decision in the case was required within a week or ten days.
Speaking to reporters at his residence, Mr Shah said the prime minister was now required to tender his resignation and nominate any faithful person as his successor, adding that this would have no effect on the China-Pakistan Economic Corridor.
Mr Shah maintained that his party supported democracy and wanted parliament to complete its tenure, adding that Prime Minister Nawaz Sharif was required to appoint a successor, as their government had done, to protect democracy and parliament.
Separately, speaking to mediapersons after meeting former Sindh chief minister Syed Qaim Ali Shah in Khairpur, Mr Shah recalled that PM Sharif had promised to resigned if proven guilty of corruption.
Shamim Shamsi from Sukkur and Mansoor Mirani from Khairpur also contributed to this report
Published in Dawn, July 17th, 2017