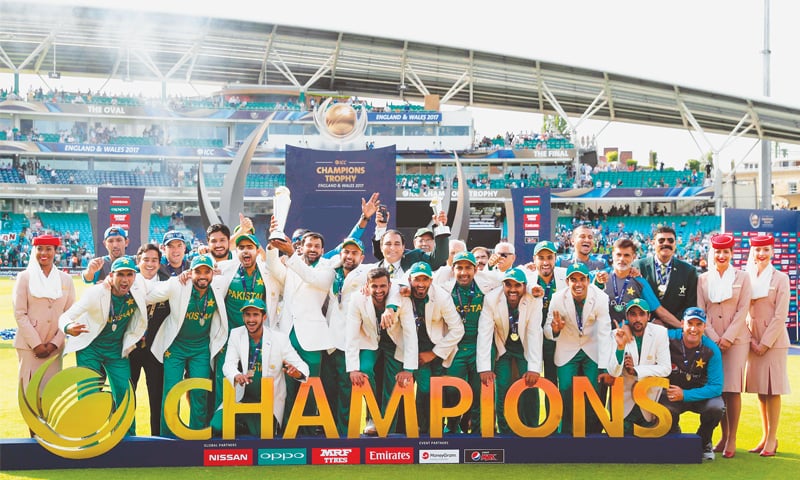 LONDON: Pakistan won the Champions Trophy with a stunning victory over India at The Oval on Sunday, triggering celebrations by their fans. Inciden­tally, Pakistan had defeated England at the same venue last summer to climb to number one slot in the Test rankings.
Put in to bat by Virat Kohli, Pakistan stunned India with a formidable total of 338 for four after in-form batsmen Fakhar Zaman and Azhar Ali gave them an ideal platform with a stand of 128.
Even with that target, India were dangerous, boasting a batting line-up capable of rising to any challenge. But Mohammad Amir produced a memorable spell of fast bowling to destroy India's famed top order and place his side in total control of the final.
• Eighth-ranked team lifts Champions Trophy • Fakhar Zaman scores scintillating century • Amir decapitates Indian batting line-up
First he trapped Rohit Sharma leg before with an inswinger before India had even scored a run. Virat Kohli, the mainstay of Indian batting, arrived at the crease, hoping to bat the full 50 overs. Amir gave him a scare immediately as his delivery whistled past his outside edge.
In his second over, Amir beat Kohli's defence only to see the edge juggled and dropped by Azhar at first slip.
That threatened to be a costly lapse for Pakistan, but luckily the very next ball saw Amir beat Kohli's attacking stroke, inducing a leading edge that whistled sharply into the safe hands of Shadab Khan at point. Amir was delirious and Pakis­tan supporters were in disbelief.
Amir's rampage wasn't finished, though. Shikhar Dhawan threatened to pull India back into the game, but with the score on 33, Amir got a length ball to lift outside the off stump and Sarfraz Ahmed pouched the first of his four catches.
A cricketer called Mohammad Amir was back in action last year after a five-year ban, self-conscious in the spotlight. But a world class bowler by the same name, the player we were expecting to see, returned to the world stage only during this tournament.
India weren't yet quite done. A destructive six-hitting spree by Hardik Pandya threatened a final twist, but when he was left stranded following a mix-up with Ravindra Jadeja, Pakistan scented victory and lifted their game.
Recalling the glory days of Pakistan's one-day cricket, Fakhar and Azhar took the fight fearlessly to their opponents. Fakhar, in particular, demoralised India's bowlers by attacking all and sundry on his way to an exhilarating century, the first by a Pakistani in a major final.
Azhar played his part, outscoring his aggressive partner for much of his half century, before a run out threatened to derail Pakistan's great start. But this was a day on which Pakistan were not to be derailed or denied.
Babar Azam kept up the momentum. Next, Mohammad Hafeez answered his critics with a rapid fifty, lifting Pakistan above the magic score of three hundred.
Earlier, Fakhar had benefited from a second life after scoring just three runs. Replays showed that Jasprit Bumrah had overstepped. In the end, this proved to be a key moment in the game. As if galvanised by his great escape, Fakhar shed early nerves to dominate India's bowlers.
HASAN MAKES HIS MARK: Meanwhile, Hasan Ali, the player of the tournament, almost went unnoticed. But that is not the nature of this exuberant young man. Hasan played his part too with three wickets, including the prized scalp of MS Dhoni and also helped with Pandya's run out.
Fittingly, Hasan was the centre of celebrations as Pakistan danced around the outfield in green kit and white jackets, rehearsing his victory celebrations for Pakistan's ecstatic flag-waving fans.
But it would be wrong to assume that this victory belonged to one man. This was a collective effort by a team in high spirits, and in every word and deed. This was a Pakistan greater than the sum of its parts. And in that realisation there may be a lesson for a euphoric nation.
Scoreboard
PAKISTAN:
Azhar Ali run out 59 Fakhar Zaman c Jadeja b Pandya 114 Babar Azam c Yuvraj b Jadhav 46 Shoaib Malik c Jadhav b Kumar 12 Mohammad Hafeez not out 57 Imad Wasim not out 25
EXTRAS (LB-9, W-13, NB-3) 25
TOTAL (for four wkts, 50 overs) 338
FALL OF WKTS: 1-128, 2-200, 3-247, 4-267.
DID NOT BAT: Sarfraz Ahmed, Mohammad Amir, Shadab Khan, Hasan Ali, Junaid Khan
BOWLING: Kumar 10-2-44-1 (1w); Bumrah 9-0-68-0 (3nb, 5w); Ashwin 10-0-70-0 (4w); Pandya 10-0-53-1 (1w); Jadeja 8-0-67-0; Jadhav 3-0-27-1 (2w).
INDIA:
R.G. Sharma lbw b Amir 0 S. Dhawan c Sarfraz b Amir 21 V. Kohli c Shadab b Amir 5 Yuvraj Singh lbw b Shadab 22 M.S. Dhoni c Imad b Hasan 4 K.M. Jadhav c Sarfraz b Shadab 9 H.H. Pandya run out 76 R.A. Jadeja c Babar b Junaid 15 R. Ashwin c Sarfraz b Hasan 1 B. Kumar not out 1 J.J. Bumrah c Sarfraz b Hasan 1
EXTRAS (LB-2, W-1) 3
TOTAL (all out, 30.3 overs) 158
FALL OF WKTS: 1-0, 2-6, 3-33, 4-54, 5-54, 6-72, 7-152, 8-156, 9-156.
BOWLING: Mohammad Amir 6-2-16-3; Junaid Khan 6-1-20-1 (1w); Mohammad Hafeez 1-0-13-0; Hasan Ali 6.3-1-19-3; Shadab Khan 7-0-60-2; Imad Wasim 0.3-0-3-0; Fakhar Zaman 3.3-0-25-0.
NOTE: Fakhar completed Imad's over.
RESULT: Pakistan won by 180 runs.
UMPIRES: M. Erasmus (South Africa) and R.A. Kettleborough (England).
TV UMPIRE: R.J. Tucker (Australia).
MATCH REFEREE: D.C. Boon (Australia).
MAN-OF-THE-MATCH: Fakhar Zaman.
PLAYER-OF-THE-TOURNAMENT: Hasan Ali.
GOLDEN BAT: Shikhar Dhawan.
GOLDEN BALL: Hasan Ali.
Published in Dawn, June 19th, 2017