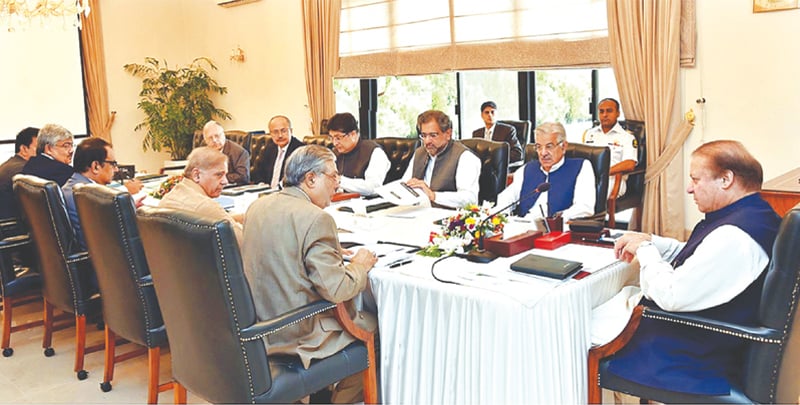 ISLAMABAD: Dissatisfied with the information being provided to him, Prime Minister Nawaz Sharif conducted a real-time cross-check from the field on Monday to verify that the actual duration of power cuts across the country was much higher than the picture presented to him and the media.
Chairing a special meeting of the Cabinet Committee on Energy (CCE), the prime minister told ministers and senior bureaucrats that nowhere in the country were power cuts limited to six to eight hours, adding that in far-flung areas, outages lasted up 16 to 18 hours.
During the meeting, Water and Power Secretary Yousaf Naseem Khokhar talked about load-shedding reported by distribution companies (Discos), but the prime minister was not impressed and expressed his displeasure with the ministry and its attached agencies for presenting "unreliable data".
For example, it was reported that Lahore (urban) experienced four hours of load-shedding. But Punjab Chief Minister Shahbaz Sharif strongly contested the shortfall data for Punjab, saying that on the basis of his own personal experience, the city was facing six to eight hours of power cuts, while those in the rural areas had been left at the mercy of the Almighty as they braved 16 to 18 hours without power.
District commissioners relate longer load-shedding hours than reported by ministry
The PM said it was painful to see that people who were fasting were made to suffer and ordered that immediate steps be taken to improve the situation. He called for third-party verification of power supply, demand, shortfall and load-shedding data.
The prime minister recalled the warning given to all departments concerned in a previous CCE meeting on April 24 that they should be extra vigilant and proactively prepare for Ramazan, but lamented that his orders had fallen on deaf ears.
The directions came after he asked the water and power secretary to call up district administrations to check if his loadshedding numbers matched those on the ground. A few district commissioners were called up during the meeting who reported longer load-shedding hours.
Defending his data, Mr Khokhar said it was based on the readouts from the Supervisory Control and Data Acquisition (SCADA) system, which is based on actual supplies flowing to meters.
But the PM directed the ministries of Finance, Water and Power and Petroleum & Natural Resources to work together and get back to him within 24 hours with a plan to minimise the sufferings of people observing Ramazan amid scorching temperatures.
The prime minister seemed in no mood to be misled by presentations and repeatedly referred to the briefings given to him last year, which painted a rosy picture of two to three hours of power cuts in urban and four to eight hours of cuts in rural areas. Power shortfall on the ground was double what was promised to him last year, the prime minister noted, saying he believed he had been misled in the past.
Once again, he instructed that former power secretary Younas Dagha be called — as a special case — to a follow up CCE meeting today (Tuesday) to prove why power shortfall remained unaffected, despite the fact that a number of new power plants had begun commercial operations.
The official statement noted that the PM "expressed displeasure over the load-shedding schedule currently being followed and directed that minimum load-shedding be carried out during the month of Ramazan".
The statement quoted him as saying that the government was fully cognisant of the problems faced by the masses due to power shortages and would not rest until significant relief was provided.
The re-emergence of circular debt also came under discussion. Payables worth Rs480 billion were reported, including those on account of fuel suppliers, power houses, line losses and K-Electric.
The finance team, led by Finance Minister Ishaq Dar, reported that it was almost impossible to spare more funds in the middle of budget process, since that would send the budget deficit spiralling out of hand.
Published in Dawn, May 30th, 2017