May 19, 2017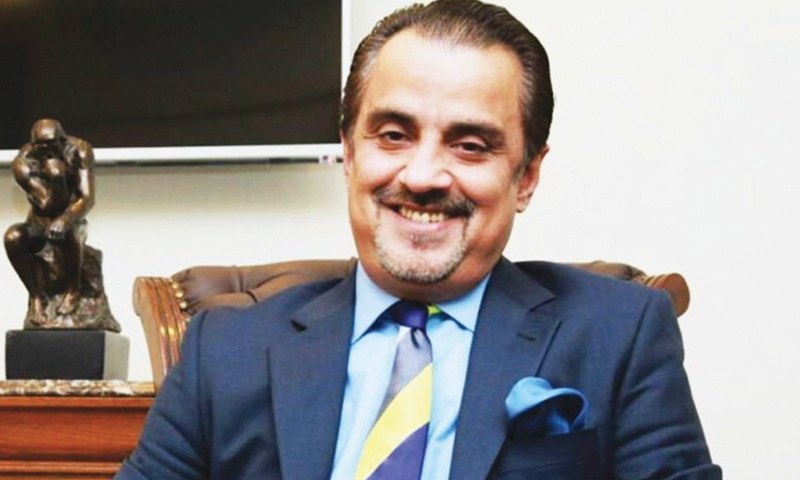 KARACHI: On May 8, without naming the suspect, the Securities and Exchange Commission of Pakistan (SECP) said it had unearthed a cybercrime racket run by an individual who had been caught "red-handed" cheating small investors by abusing his influence on social media.
A day later, SECP Chairman Zafar Hijazi held a press conference to elaborate on the matter and identify the culprit.
He named the suspect as Mir Mohammad Ali Khan — also known to his hundreds of thousands of followers on Facebook as 'Mir MAK' or 'MAK'. The SECP described MAK as a fraud, a "self-styled stock guru" who misled people for his own gains. For some who have been following MAK's 'career', the SECP's announcement was something of an inevitability.
The SECP had announced recently that it had decided to act against individuals who regularly expressed opinions on the stock market's performance on social media.
---
The 'self-styled stock guru' is believed to have misled people for his own gains
---
"Behaving like stock market gurus and making suggestions about investments is illegal. This is a form of manipulation called inducement, which is a crime under the Securities Act, 2015," Yasir Manzoor, head of the SECP's Market Surveillance, Supervision and Enforce­ment Depart­ment, had said on April 25.
Exactly two weeks after that announcement, the SECP said it was seeking criminal charges against Mir Mohammad Ali.
The suspect was defrauding small investors through a 'pump and dump' scheme run from Facebook that netted him close to Rs58 million over the course of six months, the regulator said.
"He would buy a large quantity of shares in a company and then tell his social media followers and friends that the financial prospects of the company had greatly improved. When his social media followers rushed to buy the stocks, he would sell his own holdings.
"He repeated this activity several times. By doing so, the suspect earned a profit of Rs58m within six months," the SECP chairman told journalists.
Mr Hijazi said the SECP had been keeping a close eye on MAK for the past two years as part of an investigation under Section 139 of the Securities Act and had finally caught him red-handed in the act.
No stranger to controversy
MAK has come out swinging against the allegation.
"I challenge the SECP to prove that my mother or I have Rs58m in any of our bank accounts. They can hang me by the neck if they can," he told Dawn.com. "Lies are being circulated in the media against me," he said.
He claimed that the SECP had not provided him a single document of intimation regarding the charges being brought against him.
"I visited the SECP five times during the last year and a half. Some seven months ago, they cleared me and thanked me for my cooperation," he claimed.
This is not the first time MAK has found himself in the middle of a legal storm.
In 2014, a business journalist and entrepreneur, Baqar Abbas Jafri, had sent out a mass email to financial institutions and investors, warning them of MAK's messy 'history'.
Explaining his motivation, Mr Jafri said he had been approached by MAK in 2011 with an offer to arrange a Dubai-based investor for his start-up. However, instead of getting him funding, MAK stole the expanded vision for the company and claimed it as his own, he alleged.
MAK had proceeded to file a case against Mr Jafri and his team for theft of intellectual property and even managed to have him arrested.
However, the court which heard the case, citing lack of sufficient evidence provided by MAK's legal team, exonerated the accused of the charges.
Wall Street fugitive
There was a reason Mr Jafri brought up MAK's history to demonstrate his own innocence.
"Mr Khan is a fugitive from justice in New York, where state prosecutors accused him last spring of stealing millions of dollars from several of his brokerage firm's customers — including some who also happened to be members of the Gambino organised crime family," American financial journalist Diana B. Henriques wrote in The New York Times in January 2000.
Her story said US prosecutors, the United States Securities and Exchange Commission and the New York state attorney's office had filed separate lawsuits against Khan in 1999 on charges of grand larceny and committing securities fraud.
Federal prosecutors in Manhattan had also filed a criminal complaint, she reported, accusing him of committing securities fraud by using lies and exaggerations to entice at least 55 people to invest nearly $3m in his brokerage firm.
When asked by Dawn.com about the outstanding criminal investigations against him in the US, MAK said: "I was the first Muslim who opened a bank in the US, so they behaved with me the same way they treated Agha Hassan Abedi of the Bank of Credit & Commerce International."
This sense of victimisation reflects in MAK's public relations offensive following the SECP announcement. Commenting on the decision to act against him, he said in one video (posted to his Facebook page): "I write against what is wrong, maybe because of that; maybe because I speak the truth. Maybe because I have shut down a lot of people operating in capital markets by giving away free advice."
On the other hand, the SECP seems to believe they have the right man.
"We have modern trading software that can detect and flag irregular trading patterns, which was used extensively in this case," an official said.
If the court found MAK guilty, he would face three years in jail on top of penalties, he said. "The penalties we will seek won't just include the return of the wrongful gains made by him, but also additional fines, which may run into the tens of millions of rupees."
Published in Dawn, May 19th, 2017