KARACHI: There are occasions when an art critic (read: art appreciator in the case of our society) should refrain from interpreting a certain set of paintings and just marvel at the wonders of the creative process. Viewing an exhibition of Aqeel Solangi's latest body of work titled The Sites of Myth at the Koel Art Gallery is one such occasion.
Solangi's oil and acrylic on canvas works are a cerebro-visual treat, simply because they steer clear of the veneer of symbolism that modern-day paintings wear to come across as meaningful and attention worthy. His effort is more in the narrative domain, carrying some delightful, vivid images. There you go, you can't help interpreting creative endeavours. Professional hazard!
The first thing that the viewer will instantly notice about the exhibits on display is the colours. They will identify with them as if the colours naturally correspond with the variety of people and locales that the artist has painted. They do. This is where the impact of the white shade, mostly to show the effects of light, is hard to miss.
But Solangi's real achievement is the use of space. The stories that he's telling cannot be read, understood and felt without taking space into consideration. The distance from where 'The Abandoned Boat' can be viewed, the tightness of frame in 'The Reader' and the standpoint which 'It Was a Dream and You're Part of That' propagates can be enjoyed more in a spatial frame of reference.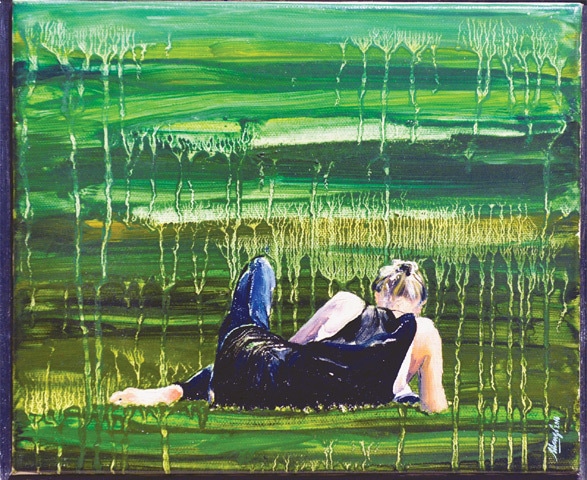 All of this, of course, would've been impossible to absorb had it not been for his clean, unfussy strokes — the hallmark of the artist's work. His dreams are just as clear as his portrayal of the creek-side view of urbanites. As for the 'myth' in the title of the show, well, it's about the myth of sites that the artist has drawn, not his characters.
The exhibition, which began on Tuesday, will run until April 6.
Published in Dawn, March 24th, 2017