Inspector General Sindh AD Khawaja attended the 18th meeting of the Sindh Apex Committee in Karachi Monday, having returned from his 'leave' a day earlier than expected.
The meeting was chaired by Chief Minister Murad Ali Shah to discuss the law and order situation in the province in general.
---
Murad's orders:

Joint police, Rangers operation against drug mafia
Police, Rangers to start taking citizen complaints on helplines
Eradication of street crime
Shift Anti-Terrorism court from Clifton to Central jail
Suggestions for amendments in law to add street crime into ATC's jurisdiction

---
CM Shah directed the IG to make all efforts to eradicate street crime from Karachi after expressing "concern" at the rise of such incidents in the metropolis.
CM Shah also instructed police and Rangers to start taking citizen complaints regarding street crime on their individual helplines.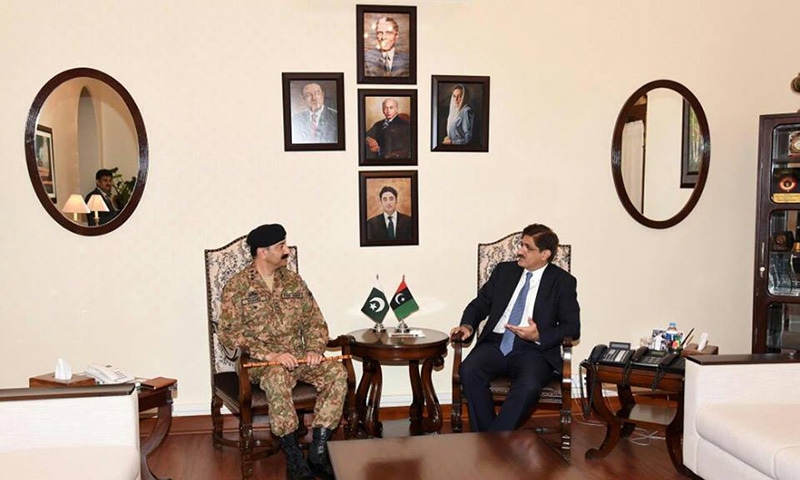 "Give me suggestions for changes in the law for us to be able to present street criminals at the ATC," said the CM.
The IG Sindh and DG Rangers were also instructed to conduct a joint operation against drug mafias and report their progress to the CM on a daily basis.
Home Secretary Shakeel Mangnijo, during his briefing, informed the committee that 19 cases are being heard in military courts at the moment, and that the Sindh legal committee has also cleared nine more cases to be sent to military court, he added.
The CM instructed the home secretary to shift the anti-terrorism courts from Clifton to Central jail in Karachi.
"It is difficult to spare 600 policemen every time a criminal has to be presented in front of the ATC," remarked the CM
The committee also decided to write to the federal government and ask for a crackdown on factories and shops dealing in illegal arms in Pakistan.
It was also decided that Apex Committee meetings will now be held on a monthly basis.
Rumours of tension between state departments should now be put to rest: Chandio
Addressing a press conference after the meeting, adviser on information to the Sindh CM, Moula Bux Chandio, said, "The Sindh Government, Army, Rangers and agencies have all worked together for the betterment of the city."
"There are things that still need to be worked on, like street crime and the eradication of the drug mafia and illegal weapons," he added.
"Our cooperation should give rest of the rumours of tension among the different departments of the state," Chandio concluded.
"40 per cent of the weapons we have recovered have come from illegal local factories and it is up to the federal government to stop the production of these illegal arms," Chandio said while talking about the need for the federal government's cooperation.
"The federal government is not following the National Action Plan properly. They are not providing us the help we need," he said, adding that all areas that need work in Sindh lie under the federal jurisdiction.