In its meeting scheduled to take place on November 14, the Council of Islamic Ideology (CII) is going to debate the subject of Pakistani men's rights and their protection, CII member Sahibzada Zahid M. Qasmi told Dawn.com.
In a letter written to CII Chairman Maulana Mohammad Sheerani, Qasmi, who is also the Secretary General of Pakistan Ulema Council, proposed that a bill be passed for the protection of men's rights.
He had requested Sheerani that the subject of men's protection from women be made part of the agenda during the council's November 14 meeting. Thereafter, debate upon the subject was included in the agenda for the forthcoming meeting.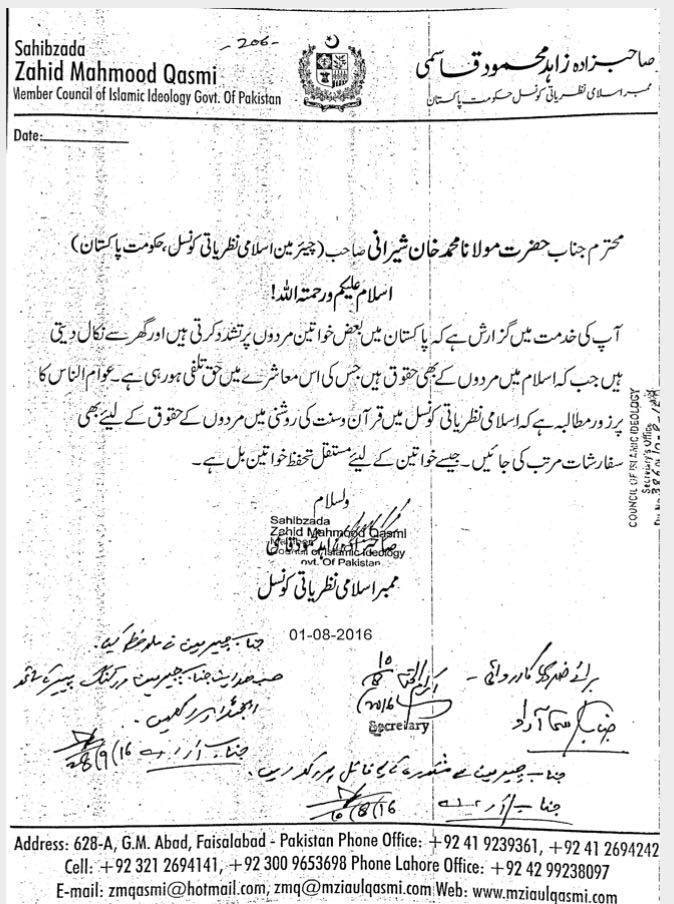 The letter stated that "some women in Pakistan torture men, and force them out of their houses... Islam grants rights to men as well and in this society those rights are being violated."
Qasmi, who is based in Faisalabad, requested that the council discuss the matter and make recommendations for a men's protection bill similar to one for women.
When contacted regarding his motion, Qasmi told Dawn.com that when the women protection bill was passed he was contacted by men who said that while women should be given rights as is permitted in Islam and the Pakistani constitution, men should also be given their due rights.
Defending men's rights, he added that "some women call their brothers, fathers and other relatives to take violent measures against their husbands. In various districts of Punjab, several cases have come forth where men's nails have been pulled out or their hands and feet have been cut off. These cases have been lodged in various police stations."
"If a man forces his wife out of the house, there are shelter homes available for her to go to. But the state has made no such provisions for men."
He further said that as a member of the CII, he had written a letter to the chairman asking that the matter be taken up for debate and recommendations, made keeping in view the Holy Quran and the Sunnah of Prophet Muhammad (PBUH).
"We support the rights of women but men should be granted their rights as well."
Qasmi said after Monday's session, he and other CII members will discuss the subject in their areas of residence so that people come forward.
He said he has not taken assistance from any NGOs, organizations or individuals and added that he was hopeful that the bill for the protection of men's rights will be approved.
Mainstream religious parties belonging to different schools of thought had rejected the women protection bill passed earlier this year by the Punjab Assembly. Religious groups are of the view that the bill had been promulgated by Punjab "only to destroy and distort the family system in the country".
Later during the year, the CII, in a meeting held to discuss its own version of a women protection draft bill, observed that it was justified for men to beat their wives, in what it called 'a light manner'.