Shahlyla Baloch's untimely demise in a car crash on Thursday in Karachi has left a huge void not only for Pakistan football but for Pakistani society as well.
The striker's contribution went far beyond the football pitch as she broke cultural barriers to live the life she wanted, inspiring many other women to start playing the beautiful game.
"Football is the only thing I want to do," Shahlyla told Dawn in an interview in 2014 when asked if she would pursue something different later on in life.
"All I want to be is a professional football player."
She was speaking in reference to her elder sisters, Raheela and Sohaila – both of whom played football only to pursue other choices later in life.
Raheela plunged into football management after pursuing a degree in business management while Sohaila started studying medicine.
Shahlyla only wanted to play, she was an artist on the pitch and arguably the most talented of her sisters.
"I love how I can express myself on the pitch," she said during the interview two years ago. "Football gives me the freedom to do that."
Her coach Tariq Lutfi called her "mini-Maradona" in reference to the Argentine great Diego Maradona.
And the pint-sized dynamo lived up to her nickname, netting goals for Balochistan United.
She was the youngest player – aged just nine – to feature in the inaugural women's football championship, held in 2005.
"I had to put her in with Sohaila and Raheela because she was that good," recalled her mother Rubina Irfan, chairperson of the Pakistan Football Federation (PFF) women's wing and the founder of Balochistan United, in an interview with Dawn in 2014.
"I also put her in the team to inspire other parents to let their daughters play football."
Five years later, Shahlyla made her international debut, being part of the Pakistan women's team during the 2010 South Asian Federation Games Women's Championship.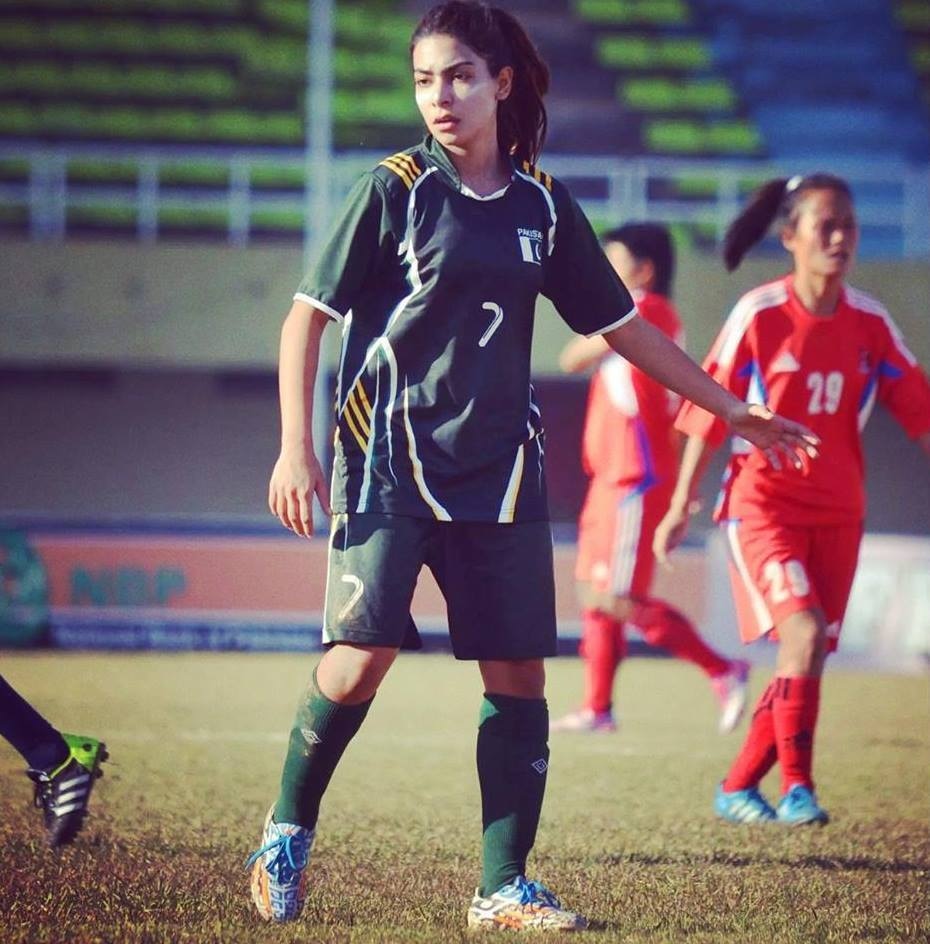 Her mother, being the head of women's football in the country, saw many accusations of favouritsm being hurled on Shahlyla.
"I think I am a target of criticism due to my mother being the PFF women's wing chairperson," she told Dawn after Pakistan suffered its second straight group stage exit in the 2014 SAFF Women's Championship in Islamabad.
But she was determined to be the best. And for coach, she was the best woman player Pakistan has produced.
"There is no doubt she was the best ever," Lutfi told Dawn on Thursday, hours after Shahlyla's death.
Her playing skills saw her – along with fellow national team striker Hajra Khan – earn a contract with Maldives' Sun Hotel and Resorts FC last year, it was one of her aspirations.
Her biggest aspiration, though, was to win a title with the national team. The 2014 SAFF Championship on home soil was a chance missed.
But Shahlyla certainly would've expected she was going to get more chances.
Football was Shahlyla's life and she spent more than half of her 20 years living her life.
Shahlyla wouldn't get another chance. But she inspired so many others to take a chance and play football.
That will be her legacy.