ISLAMABAD: Parliamentarians on Thursday proposed an exponential increase in salaries and perks 'commensurate with their status', bringing their wages to par with those of BS-22 officers, with a monthly allowance of at least Rs470,000.
The set of recommendations presented in the National Assembly (NA) by Acting Chairman of the Standing Committee on Rules of Procedure and Privileges Chaudhry Mehmood Bashir Virk was unanimously adopted as a motion by parliamentarians.
---
Here's the breakup of a lawmaker's proposed average monthly allowance:

Salary: Rs200,000

Transport: Rs50,000

Utilities: Rs50,000

Constituency: Rs70,000

Office maintenance: Rs100,000

Total minimum monthly allowance: Rs470,000

Yearly allowance for travel: Rs300,000 (in encashed vouchers in lieu of 30 business class return plane tickets. Variable allowance not accounted for.)

IT allowance: Rs300,000 (for use over a parliamentarian's tenure.)

Note: Medical allowance has no cap
---
The raise demanded by Senators and MNAs marks a massive increase, as the current monthly remuneration, including benefits stands at around Rs80,000
Salaries of lawmakers
The standing committee recommended a new basic salary of Rs200,000 for all MNAs and senators ─ up from the current amount of Rs36,000.
The proposed salaries for the NA Speaker and Senate Chairman are Rs400,000 each while those of the Deputy Speaker and Deputy Chairman are Rs350,000.
Transport allowance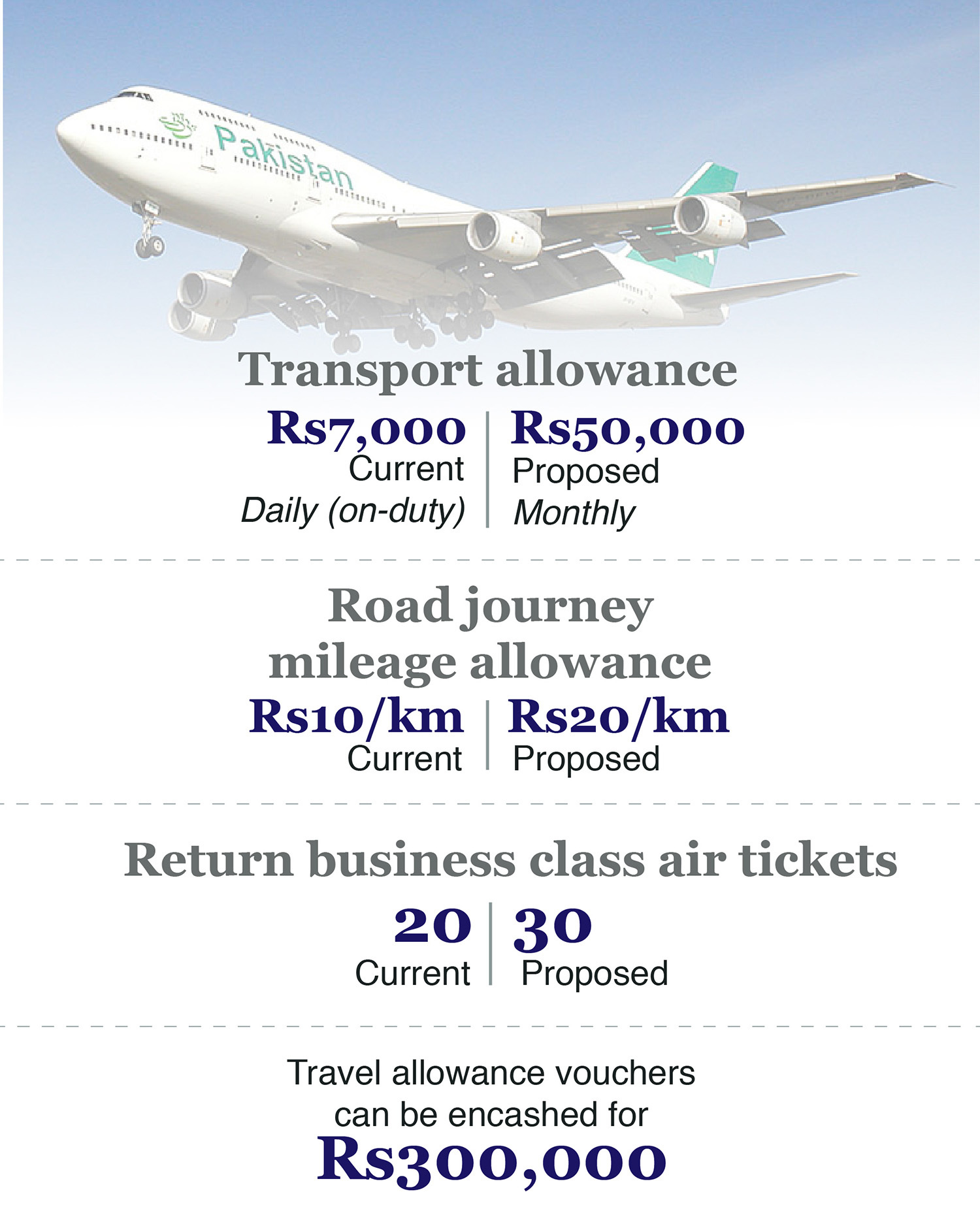 According to the report presented in the NA, lawmakers are currently provided the following amounts per day when on duty:
Rs2,000 daily allowance
Rs2,000 conveyance per day
Rs3,000 housing allowance
However, lawmakers are only eligible to withdraw daily and conveyance allowance when they arrive at or depart from a place of duty. Housing allowance is applicable for each day during any period of residence on duty, according to the Members of Parliament (Salaries and Allowances) Act 1974.
An additional Rs50,000 per month has been proposed as transport allowance, and the recommended per kilometre rate for road travel is now Rs20/km from Rs10/km.
In the recommendations, the number of business class return air tickets has also been increased from 20 to 30 per annum. These tickets can be converted in favour of family members.
Travel vouchers provided to parliamentarians can also be encashed for up to Rs300,000.
Other perks
A monthly utilities allowance, set at Rs50,000, has been introduced in the recommendations.
A monthly constituency allowance of up to Rs70,000 has also been proposed for first the time, intended as a miscellaneous fund that lawmakers may dip into for works in their constituencies.
The monthly office maintenance allowance has been raised from Rs8,000 to Rs100,000 in the proposal.
What is currently a Rs10,000 monthly telephone allowance was scrapped altogether in the recommendations in favour of a Rs300,000 fund for IT installations, which may only be used once per tenure (five years for MNAs and six years for senators).
Medical allowance for lawmakers is provided on an admissible basis and has no specified cap or maximum limit.
---
A document acquired by DawnNews says members of the Pakistan Institute of Parliamentary Services Committee observed that salaries and allowances of MNAs and Senators were on the "lower side" and "did not commensurate with their status".
The proposed amendments to salaries and perks of parliamentarians were put forth keeping in view that even members of the Balochistan provincial assembly earn higher wages than federal lawmakers.
The adopted motion was forwarded to the NA House Business Committee from where, if recommended, it will be forwarded to the Finance Division and then the Ministry of Finance. If there are no objections towards the proposed amendments, the changes will be adopted in the upcoming budget for Parliament.