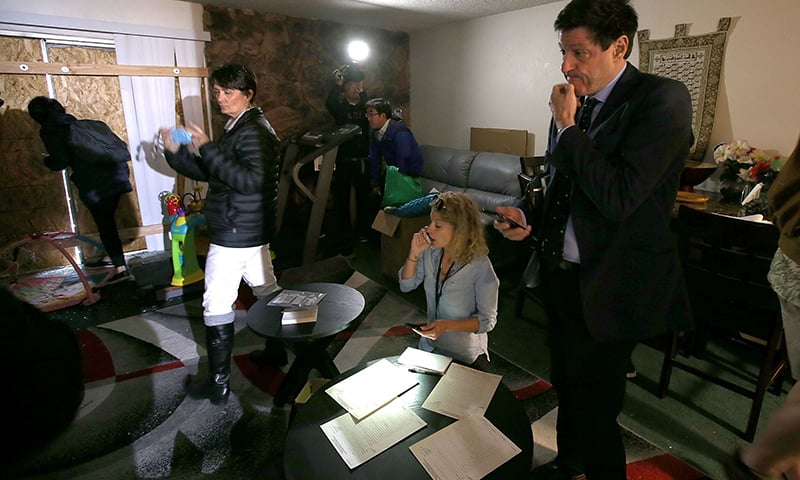 REDLANDS: Baby toys, shredded files, a copy of the holy Quran, computer paraphernalia: the home of the California shooters was bizarrely — and controversially — thrown open to media on Friday, offering a glimpse of the life of the couple behind the carnage.
Two days after US citizen Syed Farook and his Pakistani wife Tashfeen Malik burst into an office party in San Bernardino and shot dead 14 people, media crews were given access by the landlord to the two-storey townhouse where they lived with their six-month-old daughter.
In a surreal scrum, journalists flooded into the home in Redlands, jostling for space as they rifled through children's toys and family photos for clues to what drove the couple to commit mass murder.
The FBI — which is investigating the shooting as an "act of terrorism" — said it had turned the property back over to its owner and no longer controlled access, as experts voiced consternation that media were allowed to disturb the site. A photographer said it was mayhem inside.
"People were touching everything, some reporters were removing pictures out of photo albums and photographing them," she said.
Television crews displayed drivers' licences and social security cards on screen, and what some speculated may be the first known photographs of the 27-year-old Malik.
There was a prayer rug, a copy of the Quran, and a children's guide to Islamic manners.
In the kitchen, dirty dishes littered the sink area. A waste-paper basket was filled with shredded documents, apparently discarded by investigators.
Journalists filed live broadcasts standing beside the baby's crib, which brimmed with stuffed animals and colorful quilts — drawing scathing commentary from some fellow media.
"Nothing says we're journalists bravely uncovering the truth like pawing around a child's bed," tweeted Mary Beth Williams, a writer for Salon.com.
`Contaminated crime scene': Some outlets, including CNN, said they decided not to broadcast close-up footage of objects that could be considered sensitive or identifiable, such as identity cards.
Published in Dawn, December 6th, 2015